3M VetRap Horse Bandage, 4-in
Temporarily Out of Stock
Get notified when this item is back in stock.
---
About This Item
Engineered to stick to itself without the use of pins or tape without adhering to hair or fur.
Help sprained and broken limbs heal by immobilizing them for splints and casts.
Provide support for sprains and strains while preventing your pet from exacerbating their wounds.
Bandages are designed to maintain even compression over time—perfect for improving recovery time.
Lightweight, breathable material makes this an ideal wound dressing to have on hand at all times.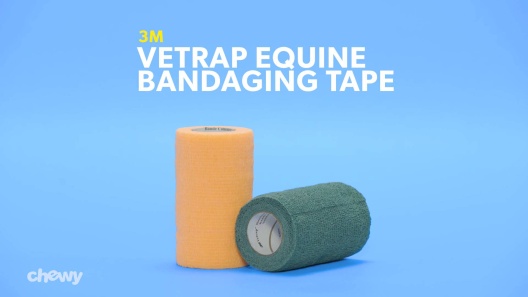 Learn More About 3M From Our Team of Experts
---
---
Questions & Answers
7 Customer Questions
---
So we know this is 4" wide, but how LONG is it? How many feet of tape???
Answer by • Nov 17, 2019
This bandaging tape is approximately 4 inches wide and includes approximately 5 yards of tape.
---
can this be used for covering incisions after spay?
Answer by • Mar 09, 2019
This bandaging tape can be used along with a bandage or gauze.
---
My dog has a chronic wound on his leg about the knee area. Everything I try just slips down when he sits... will this stay on?
Answer by • Aug 12, 2021
This bandage is engineered to stick to itself without the use of pins or tape without adhering to hair or fur.
---
Is this product waterproof?? As in covering a wound while the dog gets in the pool??
Answer by • Jun 14, 2021
This bandage is made of cool, lightweight & porous material. It is not water proof
---
---
---
By woundmaster on May 21, 2021
Best wrap to stay
I've used this type product for over 45 years in my practice. The original product by a different name changed, not for the good and I found this product which works same as the original product used to work. This stays with proper compression as well as proper adhesion to itself. This won't slip or unravel on it's own, a plus. This is great for many animals for wounds as well as equine tail travel wrap and many other things you can use your immagination to develop. Highly recommended.
---
By Babs on May 20, 2021
Great Product
I use these wraps on my Irish Wolfhound, who is the size of a small pony, he has a chronic wound on his leg and these wrap work great to protect it from licking and dirt. Stay in place all day.
---
By Davidg on May 17, 2021
Vet Wrap Bandage
Very pleased Fast delivery I did have a hard time finding the "beginning" of the roll
---
By Nanny on Apr 30, 2021
Good stuff
We use this like crazy!! Better than co flex! Sticks better and more on a roll
---
By Elexina on Mar 30, 2020
just-in-case purchase
I hope to never have to use this, but want to have it on hand just in case -especially in these uncertain times. It is important to have a well-stocked emergency/first aid kit for yourselves, but it is essential to have one for your animals -especially if you have rare/exotic/specialty animals that require special and specific care. This item is just one part of the kit that I have assembled for my rabbits and I highly recommend others consider this as well.
---
By sara on Jan 10, 2020
Great tape
I like the fact that it's wide. I have a large dog and need the extra width for his long legs.
---
By jdstlmo on Mar 8, 2019
Good Product
This wrap came as described and provides a tougher, yet still flexible wrap. Seemed comfortable on the pet.
---
By HungryCats on Dec 6, 2018
Vetwrap purchase
This is a new brand of that vetwrap that I tried. It stayed on great even outside. Used it to cover a wound and helped it heal. I recommend this product.
---
By Pettherapist on Sep 27, 2017
Essential for dog owners
All dog owners should have vet tape and keep it handy at all times. This tape works very well
---