AlphaTRAK 2 Blood Glucose Monitoring System Starter Kit for Dogs & Cats, 50 strips
Frequently Bought Together
---
About This Item
Serves as an easy 3-step process to test your pet's blood sugar levels.
Only requires a small blood sample and allows you to get results in seconds.
Provides accurate results, so you and your veterinarian can stay on top of your pal's health.
Specifically validated and calibrated for both dogs and cats.
Kit contains everything you need to get started—all in one box.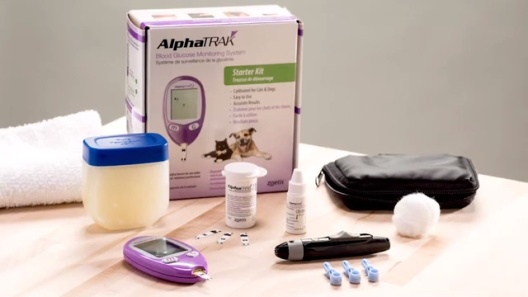 Learn More About AlphaTRAK From Our Team of Experts
---
Compare Similar Items
| | | | | | |
| --- | --- | --- | --- | --- | --- |
| | | | | | |
| Customer Rating | | | | | |
| Price | | | | | |
| Autoship | — | — | — | — | |
| Lifestage | Adult | Adult | — | Adult | Adult |
| Health Feature | Diabetic Support | Diabetic Support | — | Diabetic Support | Diabetic Support |
| Breed Size | — | — | — | Medium Breeds, Large Breeds, Small Breeds | — |
---
Questions & Answers
25 Customer Questions
---
What is the control solution for?
Answer by • Jan 17, 2022
Please click the photo below to reference control solution information and use.
---
My cat was recently diagnosed with diabetes and is insulin dependent. If I get this meter is it the same as a human meter. Where would I access the blood?
Answer by • Jul 18, 2018
Some possible capillary sampling sites for a cat or dog, would be a marginal ear vein or paw pad. For dogs specifically, you can also use the inner lip or elbow callus.
---
How often should you check blood sugar and if your dog has been diagnosed with diabetes, any suggestions. Thanks
Answer by • Sep 13, 2018
It's recommended to reach out to your vet to discuss the ideal number of times you should check your pet's blood sugar level.
---
What other test strips are compatible with AlphaTrak2 blood glucose meter?
Answer by • Apr 01, 2019
Use only AlphaTRAK 2 test strips and AlphaTRAK control solution with this meter. Using previous versions of the AlphaTRAK test strips or other brands of test strips and control solution with the AlphaTRAK 2 meter can produce inaccurate results.
---
---
242 Customer Reviews
---
Filter by reviews that mention
---
By Rachel on Nov 7, 2022
Easy to Use
Our cat was recently diagnosed with diabetes. We were recommended this product by several veterinarians. It is easy to use and reasonably priced. I wished it stayed active for slightly longer once you put the strip in, since it can be difficult to get a sample that quickly. However, it's overall an easy to use device and has made our glucose monitoring at home easy and convenient.
---
By Kitou on Nov 16, 2022
Great product
Takes a little practice to poke the ear but the testing part is super easy. A little drop of blood is enough to run the test. They have videos to show how to do every step
---
By Jenn on Aug 18, 2022
Does not work
This was a frustrating experience for me and painful for my yorkie. The lancet is really bad. I tried so hard. Even trying to squeeze blood and nothing. The lancet is loud which frightened my dog every time. The lancet does not make enough of a cut to get any sort of a decent sample. I do not recommend. Both Abbott products I've tried have been really awful. I recommend having your vet do a curve test instead. Despite the bad experience with the product, I would recommend Chewy for 3 reasons: 1. The shipping was very fast 2. They follow up with you to make sure you're happy with your purchase 3. They offered me a refund when I asked to return it which I really appreciated. I would buy from them again because they provide quality customer service.
---
By Manders on Nov 3, 2022
Lifesaving tool that has helped so much!
I've used this product on my lab for over two years and it has been a lifesaver, literally! As long as you read the instructions and use it properly, it's a reliable tool!
---
By Bella on Sep 14, 2022
Will drive you crazy
First off the lancet pen is useless, just poke them with the needle. The pen makes a loud sound your animal will hate and the needle doesn't really deep enough to get blood. Second the strips are inconstant. The same amount of blood will give you an error 1 (not enough blood) then sometimes it's enough. Broke down and contacted aphaltrack directly because I got reading of 36 and then one 2 minutes later of 440. 36 is very low even for a healthy dog while 440 is more normal for my dog, still very high for a normal for healthy dog but it was where my dog was at that time. What suck the most is I will buy more strips to test my dog knowing about 1/2 will give me an error reading. It's not chewys fault they're great it's just is what it is. My vet uses alphatrack at the office but they use a different needle/lancet so they a good amount of blood for every reading. Side note the only send you 30 needles and 50 strips, it's like they know you're not actually going to 50 test of out this kit.
---
By Michael on Nov 6, 2022
Junk does not work
Worked one time then that was it useless! But the alarm still goes off five times a day. I spent $60 for an alarm clock and tortured my cat for no reason.
---
By AlphaTrak on Jul 4, 2022
Almost unusable
This was recommended to us by our vet but when we took it in for them to show us how to use it, they also had a very difficult time getting a reading. At home, I've so far wasted multiple lancets and strips trying to get a single reading and enough blood to do so. My cat has been pretty patient but it seems the tools themselves are to blame. I'll keep trying as it's important to get home readings so his numbers aren't skewed by stress at the vet, but I have watched YouTube videos, tried different depths and places on ear/paw, and so far not been able to get a single home reading and just feel bad for poking my cat and wasting single-use items that I'll just have to rebuy.
---
By Lucy on Jul 12, 2022
Terrible lancing device!
This kit was easy enough to set up and use but the lancing pen was awful. It almost never produced an adequate blood sample even on the deepest setting, so I'd have to repeatedly stick my poor dog. I would even use a warm compress first and that only helped some of the time. Within days, I bought a different kit and have much more success with the included vacuum-type lancing device. Chewy was wonderful as always and issued me an immediate refund.
---
By MomOfSugarKitty on Jun 25, 2022
Like it, but not good enough to keep it
Bought for my diabetic cat per Vet's recommendation. I like it, but quickly found out after use it's not sustainable for me and way too expensive to continue to use. Switched to human meter/strips that are more affordable and similar user friendly. (Variation is vet approved) My recommendation: Research initial cost and continued costs before purchase. But I did like it and it worked consistently, but I regret the purchase.
---
By Jazzy on Aug 14, 2022
Helpfull Tool
My 5 yr.old Yorkie was diagnosed with diabetes.It was 250.00 every time I had to bring him to the vet to have his levels checked.Buying this has saved me a lot of money and it's so easy to use.
---