Aqua Terra Aquarium & Terrarium Sand, 5-lb bag
---
About This Item
Premium-quality, 100% natural substrate adds fun and beauty to your finned or scaly friends' environment.
Looks great in both indoor tanks and outdoor ponds; provides ample living space for beneficial microbes and anchoring for plants.
Aids the filtering process of aquatic tanks by increasing the surface area available for nitrifying bacteria to colonize.
Non-toxic, 100% acrylic colorfast coating won't foul your water or impact your water chemistry and is safe for reptiles.
Available in two vibrant colors; can also be used to beautify potted plants, vases and more.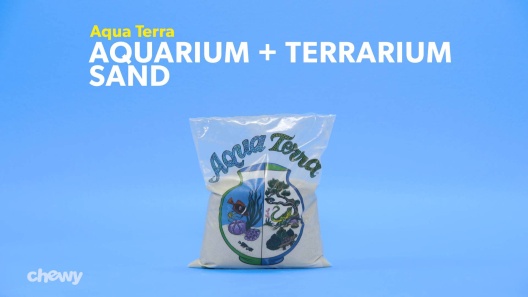 Learn More About Aqua Terra From Our Team of Experts
---
Compare Similar Items
| | | | | | |
| --- | --- | --- | --- | --- | --- |
| | | | | | |
| Customer Rating | | | — | | |
| Price | | | | | |
| Fish Type | Tropical Freshwater, Betta, Cichlid, Goldfish, Marine Fish | Tropical Freshwater, Marine Fish | Tropical Freshwater | Tropical Freshwater | Tropical Freshwater |
| Aquarium Type | Pond, Freshwater, Saltwater | Freshwater, Saltwater | Freshwater | Freshwater | Freshwater |
| Material | N/A | N/A | Stone | Stone | Stone |
---
Questions & Answers
42 Customer Questions
---
How are you supposed to clean it like you would the gravel?
Answer by • Jul 14, 2019
To remove surface debris with a gravel siphon, lower your siphon until it is about ½ inch above the sand's surface. Move the siphon in a back-and-forth pattern, holding the depth level, as you pick up debris and dirt. You can expect for the siphon to pick up some sand particles with this method. You can then re-rinse those particles and re-introduce them to the tank or you can throw them out. It is often a good idea to add in new sand every few weeks anyway.
---
Is this sand ok for a bearded dragon? Needs to not be calcium sand basically
Answer by • May 28, 2019
This sand is not calcium based and is suitable for a Bearded Dragon.
---
can i use this sand in my water turtle tank
Answer by • Nov 05, 2019
This sand is safe for aquatic turtles.
---
Can I use this in a desert terrarium for a lizard? Or is it exclusively for aquatic habitats?
Answer by • Apr 15, 2018
This is suitable for a reptile terrarium.
---
---
---
By DrCF on May 19, 2022
Very fine grained sand
This sand has much smaller grains than I desired, though the description did not list a grain size range so I can't fault anyone. The average grain size is 0.25-0.75mm, and definitely a lot of even smaller grains. If that matters to anyone.
---
By Play on Jan 11, 2022
Appears like play sand
Typically as a regular Chewy shopper I am very impressed with the quality of product Chewy provides but in this case I was very disappointment. This is not aquarium sand. Seems to be a good product for reptiles but would never recommend for aquariums. After rinsing sand for hours I put in my tank & 5 days later after frequent filter cleanings & a water change water is still very cloudy. This is very similar to using play sand in a aquarium. Now after spending $80 on sand it is non returnable because it has technically been used already. I now have to spend hours removing all the sand from aquarium, totally drain the aquarium & start fresh with recycling & purchasing actual aquarium sand. Would not recommend for any fresh water aquarium
---
By ShannonS on Jan 21, 2022
Cloudy water for days
This sand looks nice in my shrimp/ember tetra nano tank...BUT it's super fine, super silty, and caused a major sediment cloud in my tank that has persisted for days. If you plan on having this in a tank, I'd say put it in, let it settle, then add your fish after everything has settled...I couldn't do that since it was an established tank with breeding neocardinas shrimp and a school of ember tetras.
---
By Nick on Dec 20, 2021
Horrible Product
I read all of the positive reviews and numerous recommendations on this sand. I was convinced this was the best sand on the market. I followed YouTube tutorials on how to wash the sand before Inserting into the aquarium and I washed for hours!!!! Water never cleared! I realized it wasn't dirty it was literally the sand itself floating in the water. So I proceeded thinking that it has to be clean enough. I put it in the aquarium and used a flat item to not disturb the water while filling. It Did not matter the water was instantly cloudy and Sandy. I waited for 5 days, still cloudy! I changed the water at 50% 3 times! Still cloudy! Then finally after leaving only 1 gallon of water in the tank it cleared! A miracle, so I refilled the tank and it was clear! Now time to turn on the filter Within 5 minutes the water was cloudy!!! I witnessed the sand on the bottom of the aquarium moving while the water was flowing from the filter!!! This sand is so fine and light that it will always float in your water!!!! Do not buy the recommendation or positive reviews! This stuff is horrible!!!!
---
By TomF on Feb 3, 2022
better than gravel
Looks better than gravel and easier to keep clean. Wash it thoroughly before adding to the aquarium and even then the water may appear cloudy. Let the filter do its job. Mine cleared up in a couple of hours. Also added clarifier in addition to conditioner.
---
By Flower on Apr 2, 2022
Great for a sand bath
My hamster Flower loves her sand bath and this is the best that I have found. No dust and she enjoys digging as well.
---
By Julinoe on Jan 15, 2022
pretty but clean first
I admit, this sand is pretty but no way no how dump it directly into an aquarium. I suggest you clean it in a bucket first.
---
By Elliot on Feb 7, 2022
Great Product, great price
3 bags was perfect for my 15 gallon tank, made water cloudy so I recommend washing sand first.
---
By BuddysMom on Sep 14, 2021
Doesn't cloud the water at all, just be careful to keep the sand still!
This is a 20 gallons tank, I have 5 bags of sand in there, so 25lbs. I took the after pic immediately after filling the tank with water and there's zero dust cloud. 1: Wash the sand in a big pot a few times until the water is relatively clear. Same process as washing rice, YouTube will have videos if you need an example. 2. After you dump the clean sand into the tank, cover it with something to prevent the water from disturbing it too much. I used a couple flimsy plastic cutting boards. I also used a glass pan which is where I aimed the water as it filled (further prevents disturbing the sand). 3. Remove your cutting boards and pan and stand in amazement at how clear your water is. That's literally it lol. We're waiting for the water to heat up so we can move the fish over tonight. More hassle than preparing gravel but it wasn't that difficult, and I think the fishies will like the sand much more than the gavel :)
---
By BR22 on Sep 10, 2021
Good Sand to get
Added it today. Rinsed out my tank, put the sand in (I didn't wash it) dry, laid the bag on top of it, stuck the water hose in, and filled it up. It wasn't even cloudy like people exaggerate it to be. Or they just dump water in there. Of course it's going to be cloudy if you do that.
---