Aqueon Mini Aquarium Heater, 2-gal, 5 watt
Frequently Bought Together
---
About This Item
Specifically designed for desktop aquariums that can hold between half a gallon to two gallons of water.
Fully submersible mini heater helps keep water warm.
Easy to install—use the included suction cups to place the heater vertically or horizontally.
Shatterproof heater is especially perfect for small tropical fish.
Measures 1.1"L x .875"W x 3.1"H.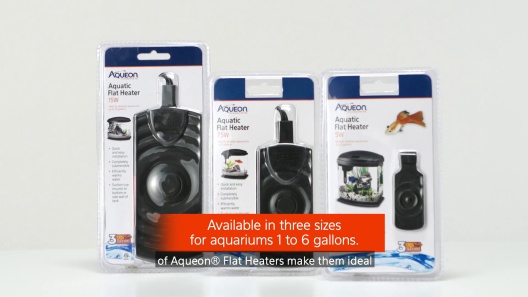 Learn More About Aqueon From Our Team of Experts
---
Compare Similar Items
| | | | | |
| --- | --- | --- | --- | --- |
| | | | | |
| Customer Rating | | | | |
| Price | | | | |
| Fish Type | Marine Fish, Tropical Freshwater | Marine Invertebrate, Marine Fish | Tropical Freshwater, Betta, Cichlid, Goldfish, Marine Fish | Tropical Freshwater |
| Aquarium Type | Saltwater, Freshwater | Freshwater | Freshwater, Saltwater | Saltwater |
| Material | Plastic | N/A | Plastic | Plastic |
| Capacity (Max) | 2-gal | N/A | N/A | N/A |
---
Questions & Answers
15 Customer Questions
---
Does this device need to be plugged into electric socket?
Answer by • Aug 16, 2019
This mini heater does need to be plugged into an electrical socket.
---
Does the heater automatically shut off when water is right temperature
Answer by • Sep 21, 2020
This heater does not have a preset temperature. It will keep your tank around 6 to 8 degrees above room-temperature.
---
Can this be used in an acrylic tank?
Answer by • Jul 17, 2019
This heater is suitable for glass and acrylic tanks.
---
How do I know its on? There is no light.
Answer by • Sep 06, 2020
As a precaution, we always recommend using a thermometer to check your water temperature. The unit is equipped with a thermal cut-off safety fuse that will turn the heater off automatically if the unit overheats such as by being left out of the aquarium.
---
---
---
By SoCalGamerGirl on Jun 22, 2022
Caution When Using
I purchased this from a physical store for a new 2.5 gallon tank. I was wary because of reviews. 3 days after setting it up, I had to unplug it. The temperature in the water had hit 88 degrees. Thankfully no fish were In the tank since I am cycling it. After about 6 hours the water temp had dropped, and I plugged it back in. Unplugged it again the next day as the water temp jumped up to 88 again. The heater is clearly not shutting off when it should. I live in a warm climate, and thankfully I do not need to use it right now, since the room temperature is keeping the water temp where it needs to be.
---
By JansM on Jan 17, 2022
Works as expected.
I read a bunch of reviews of this before buying which seemed to be hit-or-miss. I'm using it on a planted 1-gallon shrimp jar in Wisconsin, January. No filter or other circulation. Took it from about 68 to about 80 in about 10 hours. Seems to hover there fairly consistently. Fluctuates a few degrees based on ambient room temp. Works well so far but I've only had it a week.
---
By Jayda on Dec 23, 2021
Do not get !!!!
it has been plugged in for hours and no sign of temperature change, you cannot tell if it is working due to it not having a light or anything to tell if it is on or not. My betta fish, Cap, is new to my family and I noticed the water was cold and causing him to not eat. So I bought this heater in order to warm him up and it has not changed the temperature at all.
---
By DrFauci on Dec 8, 2021
Heater needed
We needed a little heater asap for my daughters 2 gallon desk tank. We got her a betta as a "Hurray!" gift for getting her vaccine and didn't realize how cold the water got in the tank after a few hours. Bettas like warm water so we went online and purchased one that night. We got the heater within 24 hours and warmed the tank up within 30 minutes of getting it.
---
By haley on Nov 7, 2021
Don't buy it.
I bought three heaters for my three betta fish. But every one of the thermometers is below the safe range. My fish don't like to move anymore. I have to buy the new heater again. Don't waste your money.
---
By Hardak1973 on Aug 21, 2021
DO NOT BUY, PLEASE
I bought heater from different store.. The heater does not work right. I have to unplug it after a couple of hours because it shoots the temp up to almost 86 degrees. For bettas, this is way too high. Regretting purchase. Please, do not put your fish through the stress, find a better heater that you can adjust to right temp.
---
By Kaela on Jun 10, 2021
works good for a very short timeframe
Was great when we first bought it. Worked well enough to keep the bowl just warm enough. Our betta passed away 2 months ago so we didn't use it for awhile l. However we got a new betta and now the heater doesn't even work even tho it was only being actively used for a month total. It was great while it lasted but it definitely not a long term heater. You get what you pay for. Pros: warms up decent quickly, very small so fits in the smallest tank you could get, cheap but works Cons: only way to turn on is to plug it in, no indicator button so only way to know if it works is to actually put your hand on it, doesn't last long at all If you need something in a bind this is for you, if you need something long term I recommend looking into a different heater.
---
By Whitney on Jul 3, 2021
Does Not Work!!!
I have two of these one for a 1.5 gal and one for a 2 gal tank neither of them work. They have no switch or light so you never can till if it is working and they never feel warm.
---
By Aiden on Jul 10, 2021
Pretty good
It's not perfect, but it gets the job done. The suction cup doesn't really work, I ended up just taping it to the side of the aquarium.
---
By aves on Apr 23, 2021
idk if it's working
i just got it today and i plugged it in and out it in the tank. it's been in the tank for 8 hours and the temp hasn't changed. am i doing something wrong ?
---