Aqueon Pro Aquarium Heater
Frequently Bought Together
---
About This Item
Perfect for easily maintaining the ideal water temperature for both healthy salt and freshwater community fish tanks.
Available in a wide range of the most common wattage sizes to provide a custom heating experience for any aquarium.
Precise temperature dial from 68 to 88 °F allows for complete control of aquatic climate within a 1-degree difference.
Durable shatter-resistant heater construction allows for completely submersible and safe aquarium temperature control.
LED indicator lights up red when heating or green when not heating, and auto shut-off feature prevents overheating.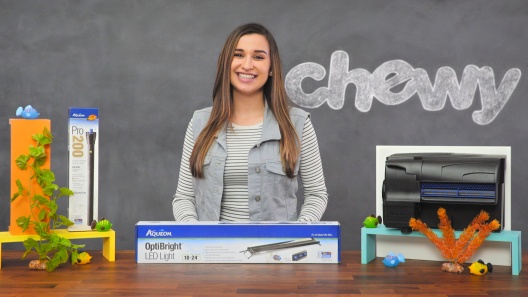 Learn More About Aqueon From Our Team of Experts
---
Compare Similar Items
| | | | | | |
| --- | --- | --- | --- | --- | --- |
| | | | | | |
| Customer Rating | | | | | |
| Price | | | | | |
| Fish Type | Tropical Freshwater, Marine Fish | Marine Fish, Tropical Freshwater | Tropical Freshwater, Betta, Cichlid, Goldfish, Marine Fish | Marine Fish, Tropical Freshwater | Tropical Freshwater, Marine Fish |
| Aquarium Type | Freshwater, Saltwater | Freshwater, Saltwater | Freshwater, Saltwater | Freshwater | Freshwater |
| Material | Plastic | Plastic | Plastic | Plastic | Polypropylene, Plastic |
---
Questions & Answers
17 Customer Questions
---
How many watts will i need for a 75 gallon tank?
Answer by • Mar 26, 2019
The wattage needed will depend on how many degrees you need to increase above room temperature (68-72 degrees fahrenheit). For increasing a 75 gallon aquarium 5-10 degrees fahrenheit, choose the 200 watt heater. If increasing the 75 gallon aquarium by 15 degrees fahrenheit, choose the 300 watt heater. Please see the image attached for the Heater Guidelines.
---
Is this heater good for red eared sliders? Also up to what degree does heater go up to cuz I'm looking for heater that can go up to 88-92 degrees. Also what does the 3rd bullet point mean when it says "complete control of aquatic climate within a 1-degree difference"?
Answer by • Jan 22, 2020
This Pro Heater wouldn't be suitable for a red eared slider turtle as they need a temperature gradient (95°F for the warm end/basking area and 75°F for the cool end/water). This heater has a precise temperature dial from 68-88°F and allows for complete control of aquatic climate within a 1-degree difference. This 1-degree difference is added for safety and precision.
---
how long is the 300watt and can you put it horizontal
Answer by • Mar 28, 2019
This heater can be placed vertically or horizontally. The 300 watt heater is 3.5 x 1.5 x 15.25 inches.
---
I have had the aqueon pro adjustable heater in a 3-gallon aquarium and I noticed that it is forming small air bubbles around the outside of the heater. Is this normal?
Answer by • Sep 25, 2019
Air bubbles are normal when using an aquarium heater. Cold water is capable of holding more oxygen than warm water. If cold water suddenly becomes warmer, the oxygen has to be released and occurs in the form of air bubbles. We always recommend checking that the heater is working properly by using a thermometer with your fish tank.
---
---
---
By Macgeiver on Jul 12, 2022
Do not purchase
No matter how i set the thermostat the water temp stays at 74'
---
By Beck on Dec 21, 2021
Better than the Tetra brand!
After having issues with 3 Tetra pre set heaters I decided to buy 2 of these. None of the Tetra heaters reached a temperature of 75°. The Aqueon brand I bought a 50 and the 100. The 50 worked fine when set at 76° it reached the proper temperature. The 100 when set at 76° did not. In order to reach that temperature it needed to be set higher. No problem though because it can be adjusted. I will never purchase a pre set heater again.
---
By Bentley on Feb 28, 2022
Works great
Bought the 150 watt Aqueon heater for my 36gal tank and got it to temp fairly quick and so far no problems the 3 weeks it's been in there.
---
By dough on Nov 27, 2021
Inaccurate
I purchased this for a 20g aquarium but found not only the dial to set the temperature was inaccurate but after a few months I had to keep bumping the temperature setting up to maintain the correct temperature. To have water at 78 deg, I had to set the heater at 81. After a few months, I had to change it to 82deg to maintain. Then eventually, 84. I didn't trust it anymore and figured it would over heat the water.
---
By Bill on Dec 17, 2021
Reliable, Dependable, Affordable
I have found the Aqueon submersible and Pro heaters to be accurate and dependable. I've used other brands and at some point had problems. I have a 50W, 100W and 150W and never a problem in 2 years.
---
By Nope on Feb 21, 2022
Don't buy this product
This heater broke within 2 weeks. Very disappointed. Our frogs are stuck in cold water now.
---
By Geri on May 27, 2021
Great Aquarium Heater
I bought this plastic heater because I recently lost over 12 fish in my big show tank filled with my beautiful male Cichlid breeders! I had a glass heater in this tank and some of the males must have been chasing each other and they broke the glass on the heater. I lost the 12 fish due to them being electrified! I'll never ever use a glass heater again!!! This wonderful heater works perfectly and I never have to worry about electrocution again!!! Thanks Aqueon!!!
---
By Nene on Jul 26, 2021
Working well!
So far the heater is keeping temps steady. Plus I like the total black color as it makes the heater disappear against the tank background.
---
By Daniel on Mar 23, 2021
Excellent New Heater!
I got this 50w adjustable heater after my 10 gal tank came down with a horrible case of ich. As soon as I got this, I put it in a pitcher of water for 24-48 hrs to test for safe temps/functioning and after putting in the tank, I did find that mine had a 1 degree difference between the setting on the knob on the top (82F) vs the thermometer in the tank (81F), but, no problem as Aqueon advises that this can happen. 4-5 days after running this heater at 81F and both of my fish are feeling a LOT better. (More energy, normal appetite again, and cysts are entirely gone!) This DOES have a lot higher up line on it for the minimum water line, so, take care when doing water changes, even 1/3 tank changes. (I had to unplug it during them vs the fixed temp 50w Aqueon one I had before with a water line lower on the heater.)
---
By Idahogator on Feb 28, 2021
New aquarium heater
Perfect size for my 125 gallon aquarium and with the exact temperature on the top it was easy to start and a little tweaking allowed me to get just what I wanted. Living in Idaho I thought I would struggle with temperature control but it all worked fine
---