Arm & Hammer Litter Clump & Seal Multi-Cat Scented Clumping Clay Cat Litter
---
About This Item
Proprietary blend of moisture-activated micro-granules form a tight seal around odors while baking soda destroys sealed-in odors on contact.
Complete odor-sealing litter is specially formulated for 7-day odor protection for multi-cat households.
Creates rock-solid clumps for easy removal and reduces tracking—so litter stays where it needs to be and not scattered throughout your home.
Ultra-low dust litter helps you and your feline friend to breathe easy in the comfort of your home.
Made with micro-particles for a softer feel that your feline friend will love.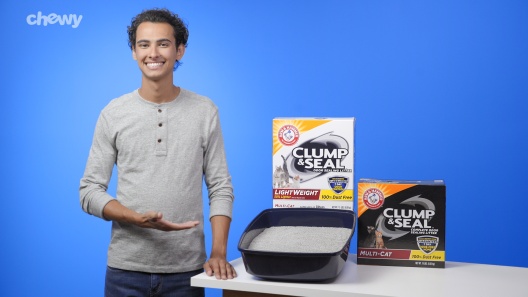 Learn More About Arm & Hammer Litter From Our Team of Experts
---
Compare Similar Items
| | | | | | |
| --- | --- | --- | --- | --- | --- |
| | | | | | |
| Customer Rating | | | | | |
| Price | | | | | |
| Autoship | — | | — | — | |
| Litter Feature | Clumping, Odor Control, Scented, Multi-Cat, Dust Free | Clumping, Odor Control, Scented | Unscented, Odor Control, Clumping, Low Tracking | Clumping, Odor Control, Scented, Multi-Cat | Clumping, Odor Control, Scented, Dust Free |
| Packaging Type | Box | Box | Box | Box | Box |
| Lifestage | Adult | Adult | Adult | Adult | Adult |
| Potty Feature | N/A | N/A | — | N/A | N/A |
| Litter Box Type | N/A | N/A | — | N/A | N/A |
| Top Ingredients | — | — | N/A | — | — |
---
Questions & Answers
28 Customer Questions
---
Do you have lightweight litter?
Answer by • Nov 27, 2017
While this litter isn't formulated to be lightweight, the Arm & Hammer Litter Clump & Seal LightWeight Multi-Cat Litter is available.
---
Is this dust free
Answer by • Oct 12, 2017
While this formula isn't 100% dust free, it is ultra-low dust with minimal tracking.
---
Does the box come with a handle? Last one I bought did not, and it was very hard to pour and handle
Answer by • Aug 15, 2021
This litter includes a new opening - a tear strip instead of the pour spout. Using a tear strip can help reduce the package & materials needed to get the litter you and your cat love. The new packaging is only available online at this time. The 19 pound option still includes the handle.
---
How many boxes are in a case?
Answer by • Sep 17, 2018
At this time, this product is only available as individual boxes. The sizes available as a 14 pound, 19 pound and 28 pound box.
---
---
---
By 13652 on Jun 22, 2022
Best Buy for the Group
Arm and hammer clump and seal multi cat has been my go to for years especially after acquiring 6 rescues. I find it low dust, minimal tracking, no odor and more affordable in the large box. The strap handle on top makes it much easier to carry. I noticed some of the reviews under Clump n Seal multi-cat refer to SLIDE. Unless they mention the specific product in the review I would not be confident it was in the right place especially if it talked about low litter performance Like some of you I've had an issue with the packing, resulting in damaged boxes & leaking litter. My suggestion is don't complain in a review if you haven't given Customer Service a call. EVERYTIME I've called they've made everything right immediately with no hassle. They are quick to send a replacement and tell you to donate what you can't use to a shelter. They've also made sure replacements were rec'd the next day.
---
By zathrus on Jun 21, 2022
no dust and seems softer than other litters
First litter listed as low dust (or no dust) that actually was. Have tried many but I have had to keep an air filter next to the litter pan to keep the dust out of the room. This liter also seems finer than others. This doesn't matter to my cat. but the finer texture seems easier to scoop. All in all a very superior product at a very good price. I don't give many 5 star reviews but this product deserves it.
---
By Fenrison on Jun 22, 2022
Something changed
Something is off. This used to be the exact same thing I ordered - I had clicked on my previous orders and chose the litter to make sure I got the right thing. But the box is different and there is odor blasters now? I cant find the cats usual litter on A&H's site, so I assume something has changed. Cats are not a big fan which great, because I just bought three boxes.
---
By kfritter99 on Jun 21, 2022
The only litter for me!
After trying several silica litters I decided to switch to something else because I think my cat was too sensitive to the silica. Tried and disliked several types of litter until finding this. Smaller granules for my petite cat, excellent odor control and tight clumps that aren't gummy or stick to box. Done wasting money on other litters. I'll stick with this.
---
By KScott on Jun 4, 2022
Good litter, bad delivery
I've used this litter ever since I got my cat 2 years ago. Smells fine, no excessive dust that i notice, and my cat doesn't seem to mind it. However, I'm not sure if the boxes have gotten weaker or what but when I get them delivered the boxes are slightly broken and there's litter everywhere. I may just have to start buying them in person instead if the boxes have gotten weaker and are going to break every time I order them from Chewy.
---
By KateD on Jun 16, 2022
I know it is fine but my cat won't let me empty the box
I have used this litter before. It works great. But my cat has taken up residence on top of the box and I don't want to ruin her fun. Luckily I don't need the litter quite yet. But Dot the cat is a big fan of the box. The litter too, but definitely the shipping box.
---
By keir on Jun 21, 2022
don't but this!!!
The litter is only getting a 2 star bc it doesn't track like other litters. But the headaches were insane. The smell is soooo bad my entire apartment stinks like the litter. I clean the litter once maybe twice a day and it still has this god awful smell to it.
---
By Adksbo on May 29, 2022
Kitties love it!
We have been a Dr. Elsey litter family for decades but in recent months it seemed to generate much more dust. This is what led us to try this Arm & Hammer product and we love it! There is no dust and it's much easier to scoop because it's such a fine grain. Three of our kitties instantly took to it and we are slowly convincing the other two that it's the way to go!
---
By none on Jun 12, 2022
The product is great but the packing talent is lacking
When you buy 3 boxes of 14 lb cat littler, they should not pack in a 4-box shipping container with paper packing to prevent 'slipping'. The three boxes smashed all over each other in the air space and loose litter was evident. For gosh shake, make a smaller, tighter shipping container.
---
By Robin1960 on Jun 4, 2022
Main Coon Mom
I've been using this litter now going on 11 years. I'm never going to switch. Easy scooping, no dust (unless you hold it up in the air and pour) and absolutely no odor. This is my first time ordering it through Chewy, so I'm a little concerned about receiving the box damage free. But this is an amazing litter.
---