Arm & Hammer Swivel Bin & Rake Backyard Waste Pickup
By Arm & Hammer
---
About This Item
Large capacity swivel bin is great for quick and fast multi-waste pickup, perfect for multiple pet households.
Ideal for all surfaces — concrete, grass, etc. — so it's ideal for cleaning up your entire outdoor area.
Extends to over 32 inches
Two bonus waste bags included that are infused with activated baking soda to neutralize odors and leave a fresh scent. Compatible with Arm & Hammer heavy duty waste bags.
The bags hook to either side of the swivel bin so you never have to touch waste or debris, a completely sanitary solution to ridding your environment of waste.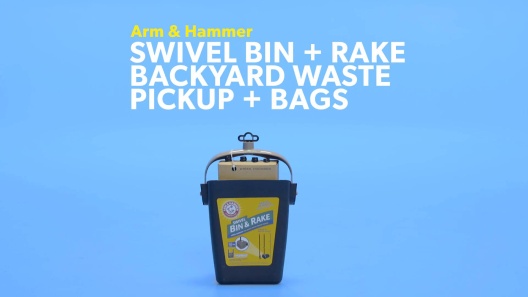 Learn More About Arm & Hammer From Our Team of Experts
---
---
Questions & Answers
12 Customer Questions
---
Will the grocery store plastic bags work for this item?
Answer by • Oct 09, 2017
It is recommended to use the Arm & Hammer Swivel Bin Waste Bags (item 70669). They are 2x stronger than standard grocery bags.
---
Does this come In a Larger size???
Answer by • Feb 18, 2018
At this time, this product is only available in one size, 36 inches long (fully extended handle) x 8 inches wide x 4.5 inches high.
---
Does this come in a larger size? The only fault I have found w/ it is that if one has several dogs it fills up so fast one is frequently having to put in a new bag way before the one that fits this relatively small size bin is actually full.
Answer by • Feb 18, 2018
The Swivel Bin does not come in a larger size for larger pick ups.
---
what size are the bags?
Answer by • Feb 26, 2019
The Swivel Bin Waste Bags are approximately 12 inches x 7 inches x 22 inches and .9 millimeters thick.
---
---
---
By ocdog on May 18, 2022
Arm & Hammer scooper
Wanted to replace our old scooper that was falling apart. I liked this scooper because it is all plastic so won't rust outdoors and like the fact I can hang it up. My only negative comment is that you do have to wrestle with the bag a bit to get in the scoop and on the bin clips. All in all a good scooper.
---
By Doxielover on Mar 20, 2022
This thing really works!
I was a bit skeptical about spending money on yet another what might be gimmick, but this really works well. I have bad arthritis so it is hard to make multiple trips to pick up waste and then walk back to empty a pan in a bucket. This thing makes it so easy. The bag stays on well and when full, it is easily removed without messing my hands. The only negative is that the handle pieces unscrew by themselves easily so I need to tighten them a few times while using it. I'm afraid to tighten them too much for fear they will break. This being said, I would still highly recommend it.
---
By Cinmin8 on Apr 26, 2022
Chewy doesn't sell the bag refills
I bought this and it came with only 2 bags. Went back to chewy to purchase more and found what I thought were bags for this product. But the bags chewy has are not near big enough. The scooper is useless without bags. Might as well buy the metal scooper that doesn't require bags.
---
By Marthamae on Apr 19, 2022
Best. Thing ever!
I have only had this for a couple of weeks but it works great for me. I find that used grocery bags work just fine and I don't have to purchase bags. So I am very happy scoping instead of bending.
---
By Luna on Apr 11, 2022
Makes the job 10x easier
I would definitely recommend this, super easy to put together and use. It makes the dirty chore much faster and cleaner. The dust pan portion has tabs on the side to attach your bag so it doesn't get lost in the poop.
---
By Bruin on Apr 17, 2022
Convenient
Easy to assemble. Comes with two bags, little tricky to get them on but not terrible. Really convenient to use, no more bending over in my backyard to pick up Bruin's mess!
---
By Fast on Feb 27, 2022
Easy pick up
I just purchased this and used it today. It was so great to be able to get everything up on the first try. The long handles make it so easy. Being in my 70's this was much easier on my back and I got done quickly
---
By MNHuskyMama on Mar 5, 2022
hoping this works better in the summer
Definitely way too wimpy for frozen poopcicles but I think it'll be great for summer. Hoping to make this our camper scooper since the bin is so convenient and holds a bag and everything.
---
By Mbippy on Jan 26, 2022
Handy yard pick up
Yes, this is the best I've used, as it is cheap, lightweight, efficient and rinses off easily. It actually comes with 3 part handles, one each for fork and receptacle, which doesn't show in the listing, so everything you need except more bags. I just use the one bag it comes with over and over, it stays on.
---
By Elissa on Jan 5, 2022
recommend this
Works great and it's nice not having to keep bending over when cleaning up the yard. The arm and hammer bags are to expensive to keep buying for this so we use different handled poop bags and it still works just fine even though the bags don't reach the bag handle holders. We also use a bag to cover the rake part to keep it nice and clean and less messy. The price for this scooper is worth it and not overpriced.
---