The Aviator Bird Harness & Leash
Frequently Bought Together
---
About This Item
Safe and comfortable harness and leash that's made to be escape-proof—prepared without buckles, clips, or loose stitches that your birdie can remove.
The elastic leash adjusts from chest to back as your birdie climbs and flies, and won't pull back suddenly when he reaches the end of the leash.
Comfort-fitting, t-shirt-like collar design feels like a cozy hug around their neck, avoids their wings, and lays so comfortably they can walk or fly as they please.
Efficient design has fewer pressure contact points on your feathered friend, allowing for movement and comfort.
Not just for feathered friends—this duo is perfect size to lead other small animals on adventures, such as rabbits, ferrets, and some reptiles.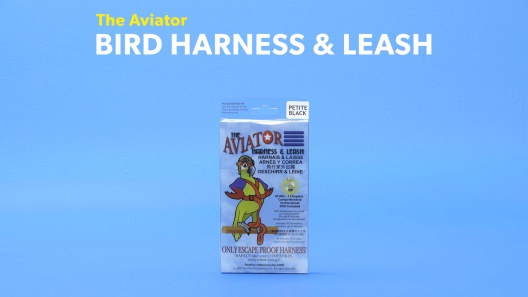 Learn More About The Aviator From Our Team of Experts
---
---
Questions & Answers
9 Customer Questions
---
I have three Coturnix Quail that weigh in at the XX-Small category, but I was wondering if the leash under their belly will effect their walking?
Answer by • Sep 18, 2018
The collar is designed like a comfort-fitting shirt that hugs the neck, stays on the shoulders, and lays comfortably around the edge of the crop so your bird can safely walk or fly in style.
---
Does this fit ducks
Answer by • Aug 08, 2018
The XX-Large option may be suitable for a duck as this size is used for larger birds and geese.
---
Is this harness good for chickens
Answer by • Dec 10, 2019
This harness can be used on chickens.
---
Can it be used for a budgie?
Answer by • Jul 14, 2022
This may be used for a budgie. The sizing chart may be located by clicking the "Size" tab, on the product page. Most small cockatoo's would wear size Small, however it is best to size by weight.
---
---
---
By 999oooDrf on Jun 26, 2022
Loki aabout town
This is a wonderful product. I worked with Loki daily to get her used to the harness. It took about 2 weeks. Today I took her out for a walk and visit. She picked at it a.little but for the most part is gettig used to it. The thing to remember is it is not 1 and done. It takes time. She was very opposed to to the harness to begin with. She still needs a little convincing but will willingly put her head in. She is a cockatiel if the harnesses for larger birds are the same material I can see where it can be chewed thru quickly, but for a small bird it is great.
---
By Horrible on Jun 30, 2022
who has the patience for this? Not Me!
it's quite obvious why they use a stuffed bird in the instructional video because it would take 3xs as long if they used a real bird. It's nearly impossible to get on and off. As for chew proof, Ha ha ha ha!!
---
By Birdlite on Apr 29, 2022
Bird hates it
My bird did not want me to put it on her. When we finally got her to put it on, she hated it. This harness doesn't have any quick release or way to adjust where it sits between neck and shoulders, just a body strap that can be adjusted. It also requires a very clam bird willing to be handled a lot or willing to step into it.
---
By Amelia on Dec 22, 2021
Best harness I've had!
I got this for my 11lbs chicken and it fits great, is super sturdy, and way more comfortable than a vest style harness. My chicken has had a vest harness in the past and she would not move the second I put it on her but this harness is much more comfortable for her and she is always very happy to be out in the grass with it on.
---
By Burdman on Jul 29, 2021
Don't waste the money
I bought this and prepared for a month just taking it on and off my African Grey. She literally wore it 2 times to go out with me and chewed it in half. Seemed like good quality but it's not. Not worth your bird getting away. Not worth buying. Find a different product.
---
By Lisa on Jun 1, 2021
does not fit
I ordered the petite size for my cockatiel. The head hole is way too small. It hurt him to put it on. I don't know if they packaged the wrong size but I'm very disappointed and so is my bird.
---
By Delci on May 19, 2021
Worst product ever!
This is the worst product I have ever purchased it did not fit my bird properly ,i ordered the right size for my parrot that was recommended, it so difficult to even try to put on I need actually send it back.
---
By Kath on May 5, 2021
Best Harness
Seems to be good quality, good presentation in the packaging, and comes with a long leash for optional flight. Is it easy to use? Yes but you have to be patient with your bird to put it on and not everyone is up to that task.
---
By Hank on Jun 9, 2021
to lite for big bird
harnes was to lite for Hank had 1 day it had come a part. next elastic snaped . so wouldn't get for a big bird.
---
By Mango on Mar 27, 2021
Total waste of money
I was really not happy with this product. I trained my bird for months to put his head through the head loop and to put it on. he was fine getting the harness on. Taking it off was the hard part. Especially with the xxsmall. It was way too hard for me to untighten the harness. It just stressed out my bird and It was not worth losing his bond and trust that took so long to build. The hardest needs to be easier to get on and off.
---