Bark Potty Natural Disposable Dog Potty Pad
---
About This Item
Lasts up to 1 month and replaces up to 60 pee pads.
Naturally neutralizes odors to help prevent stinky smells.
Made with natural bark fibers that absorb liquids and break them down.
Includes a free roll of poo bags.
Available in 2 sizes.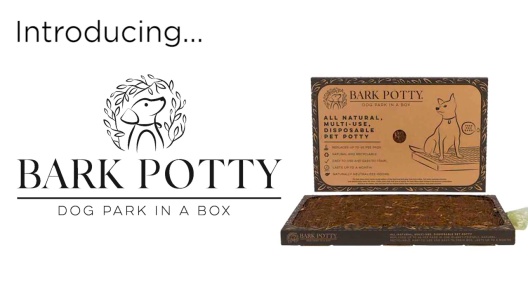 Learn More About Bark Potty From Our Team of Experts
---
Compare Similar Items
| | | | | | |
| --- | --- | --- | --- | --- | --- |
| | | | | | |
| Customer Rating | | | | | |
| Price | | | | | |
| Autoship | — | | | | |
| Breed Size | Small Breeds | All Breeds | Small Breeds | All Breeds | Extra Small & Toy Breeds, Small Breeds |
| Material | Wood | Plastic | Plastic | — | Plastic |
| Lifestage | — | Adult, Puppy | Adult, Puppy | Adult, Puppy | Adult, Puppy |
| Potty Feature | — | — | — | Pheromone Attractant, Scented | Unscented |
---
Questions & Answers
10 Customer Questions
---
It looks like there is some sort of mesh on top of the bark. What is the mesh made of? I see the length and width measurements, but how high is the actual cardboard box? Thanks.
Answer by • Feb 17, 2022
The mesh netting is plastic and the height is 2-3 inches on both the Standard and Large sizes.
---
Can I use this for my cat?
Answer by • Mar 04, 2022
Bark Potty is suitable for cats as an alternative to using litter. To help with the transition, we recommend placing the Bark Potty where you would normally have your litter box or even inside the box if its fits. You can sprinkle a little litter on top of the unit until your cat confidently uses it on their own without it.
---
If my puppy eats any others bark, is it safe?
Answer by • Jul 23, 2022
The wood used in Bark Potty is 100% FSC certified natural bark from Northern California and is not treated with any chemicals. Of course, dogs still shouldn't eat any part of the unit. The bark is non-toxic and not dangerous in that way. However, it is not processed as food, so safety protocols around food handling are not in place during the production process. It is out of abundance of caution that we recommend not letting your dog eat the potty. To help deter this behavior, we recommend using a bitter spray on the potty. That way, the next time your dog gets anything in their mouth, it will be sour and gross and help deter them from wanting to do it again.
---
How do you dispose of this at the end of the month? Can the entire thing be placed in the recycle bin as-is?
Answer by • Jul 20, 2022
Each tray is disposable and recyclable, so when it gets too soiled to use, another clean one is ready to replace it. All you have to do is pick up solids as you would on a walk or at the dog park. Each one typically lasts up to a month depending on the amount of usage. Disposal depends on what you have available in your area. With that said, we suggest cutting the netting and dumping the bark into a green bin / yard waste collection, if available. The rest of the unit can be recycled. The bark can also simply go into the regular trash. If doing that, it's best to not put the bark in a sealed trash bag, as that prevents it from naturally biodegrading.
---
---
---
By Locococo on Jul 29, 2022
Great for when its too hot and ground burns there paws!!
Now a believer. I was a little hesitant because I wasn't sure if I needed to train Coco to use this and if she'd understand it. But she's smart so I should have known that'd she'd understand what to do, lol. I opened it up and set it down, she smelled it and went right on it. This is going to come in handy when the heat goes up and it gets too hot to walk her. She had some minor burns on her paws a few weeks ago so now we're being cautious about walking her in the day. Now that we have this I'm really pleased that she can relieve herself somewhere.
---
By ChrissyC on Aug 1, 2022
Doesn't smell and really works
I've had this for about two weeks now and this is pretty cool. You replace it about every month. We are using it during the night because one of our neighbors got assulted last month and I don't feel like its safe to be out at night anymore. Its just like cat litter but for dogs and this is using mulch I guess? Anways it doesn't smell and the dog uses it. It doesn't smell so yeah I'm pretty happy about it.
---
By Gregory on Jul 29, 2022
Overall good
The training instructions didn't work for my dog. Instead, I put a fresh pee pad on top of the bark party every day for a week. My dog figured out what to do by himself. Now he uses it just fine. I'm not sure how to tell when I need to replace the bark potty with a new one.
---
By ChloesMom1 on May 4, 2022
Great product !!
My doggo and I are going over the road trucking this summer. I wanted to have a potty that she could use right outside of (or even inside of) the truck when we are in an area I can't walk her at night. I liked these because they are shelf stable - I can carry a few of them with me. So I bought one as a trial. Chloe hates to potty on wet ground and it's been a hard few days as the snow is melting here and she won't potty in the soggy fenced in courtyard. Yesterday, I set out the bark potty and showed it to her and told her "potty". I figured it would take a few days. This morning she rang her Tinkle Bells to go out. Lately she has been just standing on the step and I have to carry her out to a clean snowy spot to potty. This morning she walked right over to the Bark Potty and used it !!!!!
---
By Zero on Jul 23, 2022
ZERO STAR RATING
Thumbs down -- don't waste your money!!! We got the largest size. Our furbaby disliked everything about it! The spray etc didn't help. Would NOT suggest to buy
---
By Resa on Apr 27, 2022
Better than pee pads
Although these are more expensive than a pack of pee pads I'll chose these every single time. I have 3 senior dogs and these have been a life changer while I'm at work. The bark helps the urine dry out and the smell doesn't get bad until like a month of use. I love these so much I have bought them for friends and family members to try for themselves. 10/10 highly recommend!
---
By FrenchieKanela on Apr 5, 2022
10 stars Chewy!
Great experience with our purchase of Bark Potty. Our frenchie, Kanela, loved it immediately. We are a working family with kids and sometimes our busy schedules don't allow for routine potty walks and this is a great alternative. My husband and I are tired of costly pads, moping around pad leaks and having to use gloves and disinfectants to cleanup after our pup. Kanela would also tear and try to eat the pads. We are excited about this product. Great presentation and fast delivery!
---
By Rexy on Apr 28, 2022
Keeps on lasting
I was really impressed with this product in comparison to buying real grass and fake grass and pee pads. I have a small patio space only so no yard. It did take some time and patience to get my dog trained on it (as with any training of dogs to learn something new) so be prepared with lots of treats and be patient. I have two youngish dogs that are 3 and 4 and who are used to going outside. Within a short time, like 2-3 weeks they began to use it. I actually had no idea they were using it so much until I went to pick it up and could feel that it was heavier with liquid so they were using it quite frequently. The bottom of the box was still fine and there was NO leaking which impressed me. It safely lasted me a month with no issues and NO smell even with 2 dogs. Just be patient and keep at it because with the training when they get it, it's so much worth it and worked out better than the other alternatives. There was no smell and disposing of it was easy.
---
By MaryS on Apr 28, 2022
Works better than I thought
We use this for our small granddog. When he first gets a new pad, he is focused on trying to pull the bark out. As he uses it, that starts to abate. He is 5 months old and this is the only area he uses to potty. Even on walks, he still waits to come home to his potty pad. So, I guess it's pretty effective.
---
By Jojo on Apr 14, 2022
Impressed and works great
My dog has a some bladder issues she's dealing with right now so we got this for her since she can't hold it in very well. I'm amazed at how this doesn't smell. There's a tray or somerhting in there so no leaks and the bark is real so she smells it like when she goes outside and goes on it. I put a little bit of her pee on it and she understood what to do.
---