Bark Potty Natural Disposable Dog Potty Pad
---
---
Try This Similar Item By Chewy
---
Frequently Bought Together
---
About This Item
Lasts up to 1 month and replaces up to 60 pee pads.
Naturally neutralizes odors to help prevent stinky smells.
Made with natural bark fibers that absorb liquids and break them down.
Includes a free roll of poo bags.
Available in 2 sizes.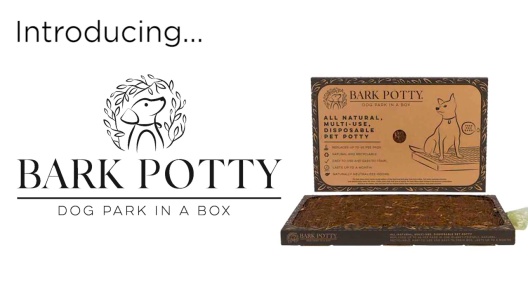 Learn More About Bark Potty From Our Team of Experts
---
Compare Similar Items
| | | | | | |
| --- | --- | --- | --- | --- | --- |
| | | | | | |
| Customer Rating | | | | | |
| Price | | | | | |
| Autoship | — | | | | |
| Breed Size | Small Breeds | Giant Breeds | Extra Small Breeds, Small Breeds | Extra Small Breeds, Small Breeds, Medium Breeds | All Breeds |
| Material | Wood | Cardboard / Paper | Plastic | Polyester, Synthetic Fabric | Cardboard / Paper |
| Lifestage | — | — | Adult | Adult, Puppy | Adult, Puppy |
| Potty Feature | — | — | Pheromone Attractant, Unscented | Washable, Unscented, Non-Skid Bottom | Unscented |
---
Questions & Answers
11 Customer Questions
---
How do you dispose of this at the end of the month? Can the entire thing be placed in the recycle bin as-is?
Answer by • Jul 20, 2022
Each tray is disposable and recyclable, so when it gets too soiled to use, another clean one is ready to replace it. All you have to do is pick up solids as you would on a walk or at the dog park. Each one typically lasts up to a month depending on the amount of usage. Disposal depends on what you have available in your area. With that said, we suggest cutting the netting and dumping the bark into a green bin / yard waste collection, if available. The rest of the unit can be recycled. The bark can also simply go into the regular trash. If doing that, it's best to not put the bark in a sealed trash bag, as that prevents it from naturally biodegrading.
---
If my puppy eats any others bark, is it safe?
Answer by • Jul 23, 2022
The wood used in Bark Potty is 100% FSC certified natural bark from Northern California and is not treated with any chemicals. Of course, dogs still shouldn't eat any part of the unit. The bark is non-toxic and not dangerous in that way. However, it is not processed as food, so safety protocols around food handling are not in place during the production process. It is out of abundance of caution that we recommend not letting your dog eat the potty. To help deter this behavior, we recommend using a bitter spray on the potty. That way, the next time your dog gets anything in their mouth, it will be sour and gross and help deter them from wanting to do it again.
---
It looks like there is some sort of mesh on top of the bark. What is the mesh made of? I see the length and width measurements, but how high is the actual cardboard box? Thanks.
Answer by • Feb 17, 2022
The mesh netting is plastic and the height is 2-3 inches on both the Standard and Large sizes.
---
Can I use this for my cat?
Answer by • Mar 04, 2022
Bark Potty is suitable for cats as an alternative to using litter. To help with the transition, we recommend placing the Bark Potty where you would normally have your litter box or even inside the box if its fits. You can sprinkle a little litter on top of the unit until your cat confidently uses it on their own without it.
---
---
23 Customer Reviews
---
Filter by reviews that mention
---
By Gabriella on Oct 6, 2022
My dog used it right away and no smell!
What an amazing product! My 14lb Poodle is used to going potty outside only but she took to this Bark Potty right away! We just moved to an apartment and I don't always feel safe walking her alone at night. I'm SO happy we can use this for late night potty breaks now. She wouldn't go anywhere near the pee pads or fake grass I tried because i don't think she knew it was to pee on. But since this smells like outside, she used it! I like that this is eco-friendly and also I don't have to change it out or clean it. AND IT DOESN'T SMELL IN MY SMALL APARTMENT!!
---
By mikaela97 on Oct 6, 2022
Changed my life!
I never leave reviews, BUT I've had such an amazing experience with Bark Potty that I want everyone to experience it too!! It's truly the best invention ever. I've been telling everyone I know because I love it so much and I honestly don't know why dog owners would use anything else. I was so amazed that it doesn't smell at ALL! And I have a tiny apartment. I'm also a nurse and work long hours so I was always worried about my dog having to hold it while I'm gone, but now I don't worry at all because she LOVES it. Plus its eco-friendly!! Stop using plastic pee pads and please buy a Bark Potty - I promise you won't regret it and you're saving the planet :))
---
By Crystal on Oct 25, 2022
Best Investment!
I was skeptical about my dog using Barkpotty but she took right to it. I was able to train her easily and it doesn't smell. Living in an apartment can be a hassle especially for late night potty breaks and this was perfect!
---
By JStallings on Oct 4, 2022
Works perfect with our puppy.
At first I had my doubts but it works well once our new female Chihuahua puppy. Our male elderly dog doesn't mind it either. No territorial issues or any leakage from the pee. Simple clean up and no urine smell. Buying it again.
---
By cg92 on Sep 17, 2022
Not for chewers
We tried this with our 10-week old puppy, but he immediately started chewing on the bark. There's a bit of plastic mesh on top of the bark to keep it in, but it's still possible to get the bark out, so we gave up. Seemed like it would work well if you had a pet that isn't as interested in chewing everything though.
---
By Bomi on Sep 18, 2022
Started smelling too fast
The bark potty works well until the ammonia smell becomes unbearable. I have a very healthy 9lb dog - he peed on it 2x a day. Within 2 days the smell is so bad I have to toss it.
---
By Gregory on Jul 29, 2022
Overall good
The training instructions didn't work for my dog. Instead, I put a fresh pee pad on top of the bark party every day for a week. My dog figured out what to do by himself. Now he uses it just fine. I'm not sure how to tell when I need to replace the bark potty with a new one.
---
By Locococo on Jul 29, 2022
Great for when its too hot and ground burns there paws!!
Now a believer. I was a little hesitant because I wasn't sure if I needed to train Coco to use this and if she'd understand it. But she's smart so I should have known that'd she'd understand what to do, lol. I opened it up and set it down, she smelled it and went right on it. This is going to come in handy when the heat goes up and it gets too hot to walk her. She had some minor burns on her paws a few weeks ago so now we're being cautious about walking her in the day. Now that we have this I'm really pleased that she can relieve herself somewhere.
---
By ChrissyC on Aug 1, 2022
Doesn't smell and really works
I've had this for about two weeks now and this is pretty cool. You replace it about every month. We are using it during the night because one of our neighbors got assulted last month and I don't feel like its safe to be out at night anymore. Its just like cat litter but for dogs and this is using mulch I guess? Anways it doesn't smell and the dog uses it. It doesn't smell so yeah I'm pretty happy about it.
---
By Zero on Jul 23, 2022
ZERO STAR RATING
Thumbs down -- don't waste your money!!! We got the largest size. Our furbaby disliked everything about it! The spray etc didn't help. Would NOT suggest to buy
---