Baskerville Ultra Dog Muzzle
---
About This Item
Soft and lightweight for a comfortable fit and has a treat-friendly design so you can feed your dog while he's wearing his muzzle.
Tough and durable malleable thermal plastic rubber provides protection and can even be heated with hot water and shaped for a customized fit.
Great for behavior modification programs.
Ergonomically designed safety strapping keeps the muzzle secure and features two points of attachment, a loop for your dog's collar and a removable over-head safety strap.
Fully adjustable head and neck straps with added comfort from neoprene padded lining.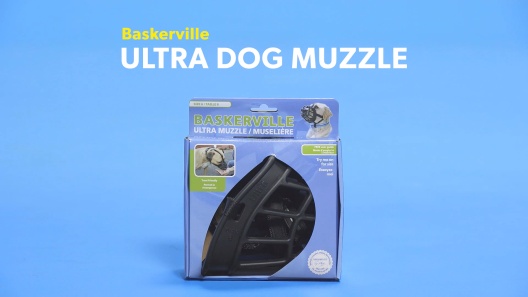 Learn More About Baskerville From Our Team of Experts
---
Compare Similar Items
| | | | | | |
| --- | --- | --- | --- | --- | --- |
| | | | | | |
| Customer Rating | | | | | |
| Price | | | | | |
| Material | Rubber | Plastic, Leather, Natural Fabric | Leather, Natural Fabric | Leather, Natural Fabric | Leather, Natural Fabric |
| Breed Size | Medium Breeds, Large Breeds | Medium Breeds | Large Breeds | Large Breeds | Large Breeds |
| Pattern | Solid | Solid | Solid | Solid | Solid |
| Closure Type | Buckle | Buckle | Buckle | Buckle | Buckle |
| Lifestage | Adult | Adult | Adult | Adult | Adult |
| Collar Type | — | — | Standard | Standard | Standard |
---
Questions & Answers
25 Customer Questions
---
I read that you have to undo the dogs collar and put it through the muzzle but what if you only have a Martingale collar that doesnt open Will I not be able to use the collar?
Answer by • Oct 04, 2017
The collar does have to be put through the loop at the front of the muzzle. However, if you have a martingale collar is recommended to have the 'D' ring portion facing the back of the dog's neck.
---
Is this type of muzzle safe for dogs to sleep in? We are fostering a dog we are worried may be violent while we are asleep, but we also don't want to put her in any danger.
Answer by • Feb 20, 2020
It's not recommended for dogs to use this muzzle overnight. It's designed for walks and training sessions, but not intended for single-extended or unsupervised use.
---
My dog cannot wear a neck collar (due to throat problems). Instead he wears a shoulder harness with the D-ring between his shoulder blades. Will this muzzle stay ON if I do NOT thread the bottom of the muzzle through a neck collar as it is supposed to be done?
Answer by • Jan 09, 2019
While the muzzle can be worn without attaching it to the collar, it won't be as secure and may fall off if the dog shakes enough.
---
Can a dog get a drink of water while wearing this muzzle?
Answer by • Nov 23, 2018
This muzzle will allow the dog to drink, be given treats or food and to pant.
---
---
---
By Snucka on Sep 16, 2022
Not the right muzzle
These muzzles are not the baskervilles with the buckle as advertised. They are all, black or tan, the muzzles with the new clip designs that do not work well for shelter use. I only recommend these muzzles for private use with your resident dog, but these do not work well for shelter use as the fitting mechanisms are a pain to refit to every dog.
---
By Michelle on Aug 7, 2022
Baskerville dog muzzle
I have never used a dog muzzle before. My dog is only ok with dogs she knows or is introduced slowly. I watched Cesar Millan and there was a dog like mine and he used a muzzle. The muzzle was the right size and I followed the directions of only putting it over her nose while she grabbed a treat. I did that a few times then put it all the way on for a few seconds. I did this a few times a day. It took about 3-4 days. We went on vacation with my son's dog and used the muzzle. It only took a day and we took the muzzle off. It was worth it by not having to worry about her lashing out and I could relax.
---
By Cassie on Aug 16, 2022
Good Product but hard to get on
Good product. The dog can pant, drink and eat small amounts of food. It's difficult to get on the dog without getting bitten. I'm training the dog to accept it now by giving him treats through the hole in the bottom. I've managed to get the strap over his head but he shakes it off as soon as he grabs the treat. This is going to be a long, slow process to get him to accept the muzzle without getting bitten. I'm working with a newly adopted beagle.
---
By Henry on Jul 25, 2022
Preventive measure!
I think this is working great, although my dog absolutely hates it. I got it because if I let him go run in the backyard, he spends all his time trying to chase and kill small animals (chipmunks especially and the occasional baby bird). This is behavior I do not condone. So I got the muzzle since I am too lazy to take him out on a leash. Now he runs in the backyard and digs, so he gets exercise, but I'm hoping no dead animals.
---
By Muzzle on Aug 18, 2022
Lifesaver, literally
Our big boy doesn't do well with the vet. We want it to be less stressful for everyone involved. We've been doing the conditioning and he LOVES it! I put PB in the muzzle and give him lots of treats. So now when I say "Let's muzzle up" he is pumped! We go to the vet next week. I'll update the review if I can with how it goes
---
By Marty on Aug 12, 2022
High quality, durable muzzle
After a couple weeks of muzzle training, we're getting very close to being able to strap this muzzle onto our dog and him being ready to wear it when needed. The rubber feels very durable, slightly flexible, and the locking clip is a nice addition. Solid black with green logo.
---
By BradythewildBassador on Aug 31, 2022
muzzle didn't fit
thought this muzzle would be a good alternitive for the soft muzzle, my dog took it offand chewed on the plastic before I could fit it to his face. :(
---
By esebro on Jun 21, 2022
muzzle review
This review is not ready for prime time. I've been working with my dog to adjust to it following the instructions. So far he seems to tolerate the muzzle going on short walks. The real test will be when I have guests at the house. My dog is a heeler and nips heels of strangers. Ask me in 6 weeks.
---
By My3dogs on Aug 6, 2022
Great muzzle!
I like the fact that the dog collar slips through this. Gives an extra sense of security knowing that they aren't going to slip out of it!
---
By Emily on May 17, 2022
Pretty Good
Overall it's a pretty good muzzle. My main complaint is that the strap that is under your dogs chin that you run the collar through, is way too long. When I put it on him it folds in half and makes his muzzle sit at a really funny angle, but if your dog has more space between his throat and jaw then you should be fine. It's also very hard to reshape fyi. The water needs to be boiling.
---