Benebone Bacon Flavor Wishbone Tough Dog Chew Toy
---
About This Item
Features a dog-friendly ergonomic design, so your pup can get a good grip every time.
Delivers a wag-worthy flavor from real bacon that's fused all the way through the chew.
Made in the USA, including all packaging, tooling and all material and ingredient sourcing.
With your purchase you'll also be supporting animal welfare nationwide as a portion of all Benebone sales are donated to animal support organizations!
Helps satisfy your pup's natural urge to chew, promoting relaxation and discouraging chewing on your favorite furniture or shoes.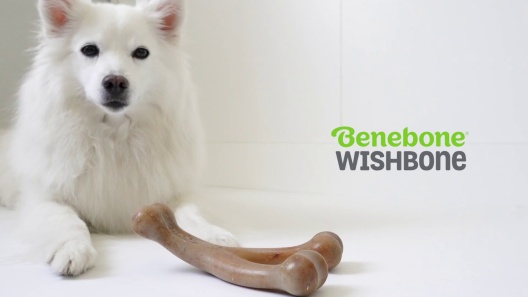 Learn More About Benebone From Our Team of Experts
---
Questions & Answers
13 Customer Questions
---
Is this toy edible? My dogs chews them down to smaller and smaller sizes.
Answer by • Jan 09, 2018
Benebones are not edible.
---
Can she play with this on carpet or is it messy?
Answer by • Dec 19, 2017
This product does not stain carpets.
---
Hi, I just bought Benebone dog chew for my pomeranian last week, she is a "super power chewer", and I saw that she chewed some small pieces out of it, will it be harmful for dogs if they eaten some pieces of it? Thanks.
Answer by • Jun 28, 2020
If pieces the size of rice or smaller fall off the Benebone, these generally do not cause a problem. If the product has lost more than a sugar cube's worth of volume, it's time to replace.
---
how big is regular
Answer by • May 27, 2020
The Small size is 5.3 by 3.8 inches. The Medium size is 7 by 4.8 inches. The Large size is 8.3 by 5.5 inches.
---
---
---
By Vesperstoys on Sep 10, 2022
Mixed reaction
I think this is actually a very good chew toy in general, but the size was a factor in my dog's response as far as playing with it went. My dog is an 8 lb, one year old with the chewing strength of an at least 20 lb dog, so it's challenging to find the right toys with the appropriate combination of being small enough for her to hold onto, yet sturdy enough that she doesn't destroy it in the first 5 minutes of play. I had originally purchased the extra small size of this same wishbone, ( at another seller, because now I'm pretty sure Chewy doesn't carry that size ), and due to it's very sturdy material, she chewed on it eagerly without being able to wreck it. Another small dog we know also liked it so much that I gave that one away to her, and purchased this "Small" size toy to replace my dog's bone. When it arrived is when I realized that the small is not Chihuahua-sized, like the one I gave away. This one is almost like a Nylabone Medium size. So my dog doesn't care for it because it's too hard for her to hold. I found out that the XS only comes in a two-pack "Puppy" size set, which I got elsewhere. Hopefully Chewy will carry that set sometime too.
---
By TripleA96 on Sep 23, 2022
A MUST HAVE for chewers
This is PERFECT for my husky. She doesn't chew furniture but will chew anything my toddler leaves out and boxes or bags. She gnawed on this thing for 4 hours while I cleaned the house (can't leave her out because it's way too hot and she digs) and let me tell you, this thing REALLY holds up. Great for chewers and keeps them busy. I got her the medium size
---
By Priscilla on Sep 12, 2022
pups favorite chew
We are way beyond the replace stage but she still loves this chew. I think the shape is especially pleasing because she can prop it up between her paws and go to town. Puppy will grab it out of her crate to chew on it multiple times a day. I'm pretty sure this one crumbles into little pieces so they can pass it through if they swallow anything.
---
By MichiS on Aug 31, 2022
Benebones are amazing!
Benebones are a wonderful non-rawhide chew bone that lasts a really long time. This same bone has lasted for about a year with three dogs taking turns chewing on it. Now that I purchased the tiny sizes for my two little ones I figure this will keep my big guy happy because he doesn't have to share. Highly recommended and they are definitely a safe choice.
---
By KBMinneapolis on Aug 17, 2022
Best Toy for Aggressive Chewer
Our 3-year old mini-dachshund loves to chew, but is quite particular re: chew toys. He cracked several teeth on some of the harder (i.e. Nylabone) type chews--ugh. Benebones were recommended by our vet and he loves them! They hold up well to his aggressive style of chewing and he seeks them out to chew on during the day (a new behavior). We're on our 3rd or 4th iteration. So thankful we found them!
---
By AMHope on Sep 9, 2022
worth every penny!
My dog LOVES his bone. He chews it for hours, I have to take it from him to give him a break. It keeps him occupied and it makes me feel better knowing he's chewing something healthy and not raw hide.
---
By Zan1217 on Jun 26, 2022
These are a lifesaver!
We have a 10 month old American bully mix and a 6 month old Great Dane/lab mix. I'm currently ordering our third and forth ones of these. The first one was chewed down to about half it's size by the first pup during teething stage and then disappeared (I believe the couch ate it!) She was an aggressive chewer, nothing lasted long with her, she destroyed the "indestructible" toys. But she will chew on these for long periods of time and they don't come apart in small, unsafe pieces. The second chew has been the cause of constant stealing and wrestling back and forth between the two pups of who gets to chew on it at that moment. It's less than half it's original size and only about a month old, but it has been very heavily chewed. I've bought other shaped Nylabones, but for some reason this particular shape is the winner with my two pups.
---
By mamapuppy3 on Jul 23, 2022
Fork in the Road
Love, love, love this chew for my baby girl puppy! She's a chewer and is frequently bored, just like a toddler, so this always will occupy her multiple times a day. I bought a medium for our 23lb Bichon Mix girl and although it initially seemed large, it turned out to be the perfect size. You gotta get one of these!
---
By Muten on Jun 24, 2022
Very durable for heavy chewers
So I originally thought this was an edible tuff bone/toy but have since read the info again. It's not edible, BUT it still stands up to my pup who mercilessly destroys all her toys lol. My only real gripe is the pieces that do end up coming off are very small and cling to everything (carpet, sheets, socks etc.) like velcro. I will probably still get her another still because she likes it and it keeps her busy.
---
By SgtMike on Jul 25, 2022
Benebone chew toys a durable "favorite" toy.
I bought 4 of these for my two bullmastiffs. They work in them for a few hours everyday. They love them. A few are showing some wear at the ends but all are still very serviceable. I highly recommend these toys for anyone who has a dog that needs a durable "favorite" chew toy.
---