---
About This Item
Rear support wheelchair made from a lightweight and adjustable non-rust aluminum frame. Easy assembly!
Features all-terrain pneumatic wheels and waterproof Swiss bearings for a smooth and steady ride.
Easy, clip-on rear harness and triple-thronged adjustable shoulder harness provide comfort and support.
Use for assisted walking or full rear leg support with zero rear leg weight bearing. Allows for bathroom use.
For conditions including hip dysplasia, arthritis, neurological problems, fractured spine or back, rear amputation or injury.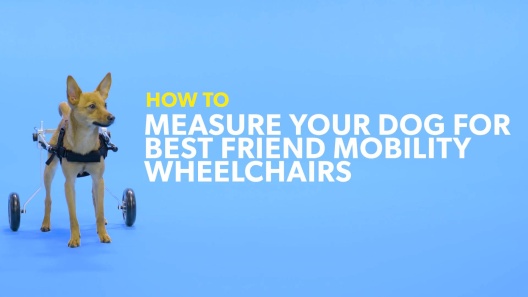 Learn More About Best Friend Mobility From Our Team of Experts
---
---
Questions & Answers
6 Customer Questions
---
Can the dog sit?
Answer by • Jul 19, 2018
This wheelchair doesn't allow your dog to sit with it on. Although, it allows for bathroom use.
---
My dog is completely paralyzed in his back legs, Will this work for him?
Answer by • May 29, 2020
This wheelchair is used to assist walking or full rear leg support with zero rear leg weight bearing and allows for bathroom use. For conditions including hip dysplasia, arthritis, neurological problems, fractured spine or back, rear amputation or injury.
---
my dog is 16 and has lost strength in his hind legs. I am not sure how this works and how it attaches for him
Answer by • Jul 12, 2021
A digital copy of the use and care instructions can be downloaded directly from the "Instructions" tab on our site.. The "Instructions" tab is located next to the "Description" tab under the product photos.
---
Has anyone had success using this with a cat?
Answer by • Dec 30, 2020
This wheelchair is designed and tested for use with a dog. It may be possible to use with a cat, if sized appropriately.
---
---
---
By Rich on Apr 3, 2022
Reg leg wheelchair for aging Cardigan Corgi
We purchased the wheelchair and received the package which was complete. I assembled the pieces and tried to fit the device onto our dog but learned that he needed the next size. I contacted Chewy and they kindly issued a pre-paid return label and a refund. In the interim, my intent was to order the next size, and so I contacted the manufacturer via e-mail, and did not receive a response. For that reason alone, I did not rate this item higher.
---
By Frustrating on Dec 29, 2020
Instructions STINK!
Just finished assembling this, easy enough. Putting the dog in, NOT so much. Best Friend Mobility doesn't get the concept(after 15 minutes of messaging back and forth) of having a video that shows how the back legs fit into the various straps. Not happy! Haven't tried Chewy, figuring the manufacturer would be a better bet-I lose.
---
By Pixie on Apr 13, 2020
My dog got her life back.
My 14-year-old dog named Pixie had lost almost all her feeling in her legs overnight. I was having to carry her everywhere and she was getting depressed because all she wanted to do was run. I did physical therapy with her every day and her doctors said there was nothing else we could do, but Pixie was not about to quit and neither was I. We got her this wheelchair as a last result thinking a wheelchair was going to be hurtful and hard for her to use, but we were very wrong. It was so easy to put her in it and she just took off. But this wheelchair has done so much more. Putting her legs back in the holders actually allowed her to have no weight on her back legs and she was able to exercise them. This allowed her to move her legs and gain strength back. And now she is able to stand up without any help. We use this chair many times a day and she loves it. She was even able to go on a walk again. Every time I put her in it, she starts wagging her tail.
---
By Firehydrant on Dec 24, 2019
Wheelchair for daschound
My daschound had an accident and I was told he'd probably not walk on hind legs again, with my exercising his legs and his using the wheelchair he is now walking again.we only used wheelchair a few times but was well worth the money to help him walk again and he loves being mobile when he couldn't use his hind legs, thank you so much for having wheelchairs that we can order it made a huge difference in my daschound life
---
By Susan on Nov 23, 2019
Corgi fitting xs
The instructions show red strap on top, the words have red strap go under the dog, picture on ad shows red strap on top. Fitting is difficult and instructions minimal. Other chair videos show a clip to attach the harness to the cart, this one has loops with a stand on your head and try to tighten or loosen each time you use the cart. And the chest part of the harness seems to fit at top of legs vs on chest to make using front legs difficult, so inverted harness to see if that helps...that red on top strap. Overall, the dog has been less frustrated by all the fitting and refitting than me. Oh, and instructions say put dogs head thru the black straps, but do you do that before or after putting legs in straps? And if legs are in straps it would be about impossible to put head thru, so you end up removing harness from cart, putting legs in, then trying to attach harness back onto cart...that standing on head business...he is a corgi, I am fat. This is not a good combination.
---
By Doughboy on Oct 16, 2018
Db loves it but...
It works great, but the little black rubber peices fall off. I have emailed chewy to see about a replacement or where to find them because the pieces are important to hold the harnist on the front and on the dog. Without them the harness just falls off and the dogs dragging it with one side attached.
---
By Sideburnz on Nov 12, 2018
Great wheels for my dog!
We have an 11lb Malti-poo and his new wheels are light, easy to put on/take off and he gets around perfectly!
---
By Alicia on Jun 21, 2017
Miracles can happen
My dad's beagle/Yorkie mix woke up paralyzed from the waist down so we did everything possible to make him feel independent again. We did have to use a lift (goes under the dogs waist and pushes on the bladder helping manually empty the bladder while the owner holds the pet up so the pet doesn't carry their own weight) but he always stopped and looked back at us with those eyes so I looked into a dog wheel chair. It came within 2 days ; it fit him perfectly and it made him feel independent again. Great quality along with a great price !
---