Color: Slate with Pewter Paws
---
---
About This Item
Solid brass urn is hand-forged in India by old-world artisans and designed to last a lifetime.
The vertical paw print pattern is hand-carved and accented in a contrasting finish.
Tasteful design is available in three finishes and four sizes to fit discreetly into any décor.
Threaded screw top lid closes tightly to secure your pet's remains inside.
Four sizes are available to hold the precious remains of any size dog or cat.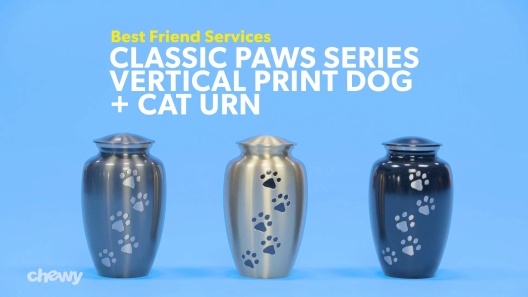 Learn More About Best Friend Services From Our Team of Experts
---
---
Questions & Answers
8 Customer Questions
---
Is it possible to engrave it?
Answer by • Jan 03, 2021
Personalization is not currently available for this product.
---
Is this urn breakable? I'm worried if I have it sitting on a cabinet and it gets bumped and falls, if it will break?
Answer by • Jan 01, 2019
This product is made of solid brass and should not break.
---
Hello, Can you tell me the size of the opening of the large size urn. Thank you.
Answer by • May 06, 2018
The opening for the urns, by size: Small: 4 inches Medium: 5 inches Large: 5.5 inches X-Large: 6.1 inches Please keep in mind that these measurements include the rim of the jar, so the actual opening may be slightly smaller.
---
Where is it mare
Answer by • Sep 23, 2019
These urns are made in India.
---
---
---
By Jessie on Dec 19, 2021
Beautiful Urn
It was heartbreaking when I had this ordered on one of my chewy orders, but this urn turned out as a beautiful piece for my boy to rest in. Quality is great.
---
By christen on Mar 13, 2022
Very Nice, we liked it
I think this is good quality. Happy with the purchase.
---
By verygood on Feb 22, 2022
perfect urn
quite small, but I loved it. Now my angel can rest easy :)
---
By Myrnajean on Jul 17, 2021
Very Nice Pet urn
The urn is just what I expected. Made very good and you can tell it is hand decorated by the tiny tool marks. The lid screws on tightly, the finish is very nice quality. Wipes off easily.
---
By Name on Apr 15, 2021
Well-made and Beautiful
Sturdy and well-built with even coloring. Engraved paw prints are jagged, as many people complained, but those imperfections are intentional. The product is described as being "hand engraved;" by its nature hand-engraving does not leave laser-perfect lines. Included is a plush maroon bag that fits comfortably around the urn. It's a nice touch and also well constructed. Medium-quality fabric is used and the overall feeling is good. I was happily surprised when this arrived and feel great about presenting this to my friend who lost her fur-riend. <sorry for the giant block of text. This review form doesnt allow paragraph breaks>
---
By Mandy on Mar 27, 2021
Perfect tribute
I bought this for our family dog that had been cremated. It was perfect for what we needed.
---
By GodsCowgirl on Oct 10, 2020
Beautiful Way To Preserve Your Pet
I had purchased a blue Urn for my Springer that passed, due to Kidney Failure & I wanted a pink one for my 14 1/2 yr old female. I was going to order one, once I finished paying all the expenses from my Springer, Vet bills and Cremation. However, Chewy was kind enough to send me a Gold Urn with black paw prints and that was very kind kind of them. I'm painting the paw prints pink. It is sitting on the shelf, empty right now, thankfully, awaiting my female's "time". It is a very sturdy urn and at a great price and very worth getting one! It seals well and you can glue it shut.
---
By Chris on Aug 27, 2020
Beautiful memorial for all my past animals
Had an especially hard loss after a recent series of losses and wasn't dealing with it too well. I didn't cremate any of my animals because I think ashes are silly but after my last (and biggest) heartbreak, I knew I needed something as a memorial for them. So I bought this to display on a shelf and plan to engrave all of my animals' names - including from childhood - into stones to place with it. Would like to include a silver bracelet with the below saying and lay it at the base of the vase, or a necklace around the vase neck. The vase itself is beautiful - perfect to honor and memorialize the love and joy they all brought into my life. "I've loved you all of your life, and I'll miss you the rest of mine."
---
By Jenn on Oct 16, 2020
Not sure if I got a bad one but returning it
Most reviews were good for this product so I ordered it and it arrived. It just seems it's a little sloppy in the makings of it. I don't like how it's imprinted and there's a lot of flaws.
---
By Aspyn on Jul 22, 2020
Gorgeous tribute to an old friend
I'd been looking for a beautiful, quality urn that wouldn't break the bank ever since we had to say goodbye to our faithful dog in February. I came across this option and thought it was just gorgeous. The design is simple and it is very well made. Handmade in India, no two will be completely identical. I now have peace knowing our late dog is in his final resting place.
---