Best Friends by Sheri The Original Calming Shag Fur Donut Cuddler Cat & Dog Bed
Temporarily Out of Stock
Get notified when this item is back in stock.
Compare Similar Items
| | | | | | |
| --- | --- | --- | --- | --- | --- |
| | | | | | |
| Customer Rating | | | | | |
| Price | | | | | |
| Bed Feature | Machine-washable | Machine-washable, Water-resistant | Machine-washable | Machine-washable | Machine-washable |
| Cover Material | Nylon, Faux Fur, Synthetic Fabric | Nylon, Faux Fur, Synthetic Fabric | Faux Fur, Synthetic Fabric | Polyester, Synthetic Fabric | Faux Fur, Synthetic Fabric |
| Fill And Frame Material | Plush / Fiberfill | Plush / Fiberfill | Plush / Fiberfill | Plush / Fiberfill | — |
| Lifestage | Adult, Puppy, Kitten | Adult, Puppy | Adult | Adult | Adult |
| Breed Size | Medium Breeds | Medium Breeds | Small Breeds, Medium Breeds | Medium Breeds | Small Breeds, Medium Breeds |
| Bed Type | Bolster | Bolster | Bolster | Bolster | Bolster |
| Pattern | Solid | Solid | Solid | Solid | Solid |
---
About This Item
Soft faux shag fur keeps your furry friend warm and cozy on cold nights, while the water-resistant nylon bottom keeps your floors safe in case of an accident.
Extra filling provides relief from joint and muscle pain, while round-shape is paw-sitively purr-fect for pets who like to curl up and snuggle.
Raised edges are perfect for burrowing, offer additional orthopedic support and serve as a comfortable headrest.
Orthopedic dog and cat bed is machine washable and dryer-safe for every pet parent's convenience.
Available in two colors and three sizes to help you pick the perfect one.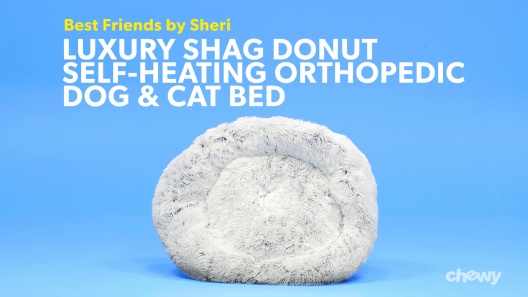 Learn More About Best Friends by Sheri From Our Team of Experts
---
---
About Best Friends by Sheri Dog Beds
Original Calming Donut Dog Bed
This dog bed is made with your pet's health and well-being in mind. It features luxurious faux fur and has a soft, lofty filling that provides relief for muscles and joints. It also features a raised rim that offers a sense of security, as well as head and neck support. And for your convenience, this water- and dirt-resistant bed is machine washable for easy care. It even comes in multiple colors!
Support Better Sleep
They believe the products pet parents use for their pets are an essential foundation for their lives, providing the basis for improved behavior and better health.
Committed to Comfort
Best Friends by Sheri products are made with a passion for improving the lives of pets and the people who love them.
Calming Beds for Pets of All Sizes
These comforting beds are thoughtfully made and come in different sizes. Choose from small, (23" x 23", best for pets up to 25 lbs.), medium (30" x 30", best for pets up to 45 lbs.), large (36" x 36", best for pets up to 100 lbs.), and extra-large (45" x 45", best for pets up to 150 lbs.).
Made of Pet-Safe Materials
The materials are carefully tested to ensure safety for you and your pets.
Premium AirLOFT Fibers
The AirLOFT fibers help the beds maintain their shape.
Vegan Shag Faux Fur
The soft faux fur is reminiscent of a mother's fur coat, providing a soothing, self-warming effect.
Machine Washable
The beds are safe to machine wash and dry for hassle-free cleaning every single time!
About Best Friends by Sheri
Best Friends by Sheri is an Outward Hound brand that is passionate about making quality products that improve the lives of pets and the people who love them. They develop high-quality, functional and fashionable pet products that are made to be accessible to the everyday pet parent. Give your pet the basis for a fulfilled and healthy life with their thoughtfully created pet essentials!
Shop Best Friends by Sheri
---
Questions & Answers
44 Customer Questions
---
What is the "filling"?
Answer by • Dec 16, 2018
The pet bed is filled premium AirLOFT™ fibers, which offer better joint and muscle support than traditional fiber fillings.
---
Do these beds say "pawsh" on the tag?
Answer by • Aug 21, 2019
The tags for these beds may read "Pawsh" or "Best Friends by Sheri" as they are both brands under the same manufacturer.
---
Are the measurements from the outside of the bolster to the other outside, or the inside measurements
Answer by • Jul 02, 2019
The dimensions provided are the overall (outside) measurements of this pet bed.
---
I can't figure out how to remove the cover on my xxl bed to wash it. Do you have a video that shows how to do it?
Answer by • Feb 09, 2021
This bed features a zipper on the bottom and the side of the bottom for easy filling removal. See attached image for reference.
---
---
---
By Jenn on Aug 15, 2022
Dog loved this bed until it literally fell apart
My 12 year old boxer (75pd) loved loved this bed! The XL was even large enough for my 20 pound chow chow mix to hop in with her sister and cuddle. Unfortunately with older dogs come accidents, and the bed only held up being washed maybe 15 times over the past year. Each insert pillow seemed to have a hole and fluff was spilling out. We are disappointed it didn't last as the original price point we paid was $130.
---
By Re3cueMama on Jul 20, 2022
Dont put in your dryer!
These beds should not be placed in your dryer! They are too big for your dryer! If it doesnt move around it will burn the material in spots even in 5 mins. You should take it to the laundry mat and put it in a bigger dryer. The directions should say this for the larger beds. The medium bed was fine but the Larger bed burnt. I was so disappointed because it was right next to the zipper so it would come apart if I were to wash it. Customer Service was great and let me return. Other than that my dogs liked them and they're soft but the size difference between the medium and large is quite significant and some beds sink in and some fluff up. I have 3 dogs and they all fluff different.
---
By Eileen on Aug 13, 2022
Attachment was instant
My dog (~50 lb pitbull/chihuahua) instantly fell in love with the bed. I purposely bought it oversized (large) to give him enough room to spread out. As soon as I put it down he laid down and has completely abandoned his usual lounge spots around the house for this bed! 10/10 recommend
---
By GSPmama on Aug 4, 2022
Such a great bed!
I have a 56 pound German shorthaired pointer and she loves this bed. We ordered a medium to have a bed that's easier to travel with - all her other beds are huuuge compared to this one. Even with this one being smaller, she still prefers it when offered her other beds. During the day when we are at work, I would check in on her with our camera and she never left this bed (shocking for a GSP!). It's a good price and a great bed for our girl!
---
By puppymom on Aug 3, 2022
Not as advertised
I got the XS size in Frost, but what arrived was not a Best Friends by Sherri donut. I got one from the brand Pawsh, and it wasn't what I was expecting. The sides are not elevated/large enough to create the donut shape. In fact, the center piece seems to be taller. Even after I try pushing the center down, it'll eventually become this flat shape. The whole thing is maybe 3 inches tall total, not the 6 inches as advertised. Not sure if it's the brand or if the Best Friends by Sherri would be like this one as well. Needless to say, I am returning this. This is my first time purchasing from Chewy and I'm extremely disappointed.
---
By BraesMom on Aug 7, 2022
Brae Loves It!
I bought this bed for my 15 year old Silky Terrier, Brae (pronounced Bree). She LOVES this bed!!! She stretches out in it and sleeps or sometimes rests her head on the side and looks at me, relaxed. She gets into the bed without any issues. That was all I needed to see to let me know she loves it. She even sleeps a little longer in the morning! Thank you for that!!! I HIGHLY recommend this item!!!
---
By PetMum on Jul 11, 2022
One week in....not worth the price and very dissapointed
I purchased two of these and received a little over a week ago. I puchased because our son had a similar "donut bed" by a different brand at a lower cost and has had for over 6 months. It has held up very well. It is firm and sturdy. It has washed well and his dog loves it. I wish I would just have purchased the other brand. I bought this becasue it said it was the "original" and I guess I thought it would be better. I also thought because the price was higher it would be better. I was so excited when they arrived and was immediately dissapointed. I even thougt I had possibly been sent the wrong bed. The bed is not firm at all with very little padding (you can feel the floor through the padding). After our dog was in it for just a few minutes it was already losing shape. I bought it for our dog who hates fireworks and I thought it may provide comfort for the 4th of July, so I made the best of it. Two days in and our dog spit up in the bed. I washed it per instructions and set it out to air dry. Even though it was washed on a gentle cycle the side of the bed that touched the drum of the machine lost the shag look. After just one week the bed looks like we have had it for years. One side of the bed has lost the shag fur look and the other is flat from not holding shape. I have purchased many dog beds throughout my life and with this being one of the most expensive it is also the most dissapointing. Maybe at one time the quaility of these were higher and recently that changed. If true, that is a shame. In my opionion just buy a cheaper brand of this style bed and don't waste your money.
---
By Pypwr on Aug 10, 2022
I would buy this again
Soft as feathers w.out the quills. I'd sleep in it if I'd fit. My standard poodle has already tried to fit in it, but she has a much larger one. My long haired chihuahua won't trust anything, but he has taken to snuggling up in this when I'm in my reading chair. Usually he wants on the lap and drives me crazy. I'm so glad I have found something he will trust to cuddle him
---
By Cktx on Aug 13, 2022
Love the Bed
Comes well packed and fluffs up quickly. My dogs love this type of bed and these tend to hold up well. This is our third bed we have purchased and are very pleased. Highly recommend but do follow the instructions to maintain fibers. Puppy loves the bundle blanket that came with our first bed.
---
By Bash on Jul 3, 2022
Disappointed
Not sure if this is a quality control issue or what, but the bed I received doesn't match up to most of the pictures or measurements. My dog is right between a small and medium and I chose the medium because it is supposed to be 9 in high. I followed the instructions for fluffing in the dryer and manually in the hopes that would help but the bed isn't anywhere close to the stated size. It is like it is cut wrong. It is barely 7 in high right when you fluff and it's 33 in wide due to spreading out so much.
---