biOrb CLASSIC LED Aquarium
---
About This Item
Designed for use with either freshwater or saltwater.
Excess waste is conveniently collected and held within a filter cartridge.
Features long-lasting LED lighting, a low-voltage air pump and special ceramic media.
Constructed using acrylic material that is 10 times stronger than glass and 50% lighter.
Crafted with high tech 5-stage filtration¬ to make sure the water column stays crisp and clean.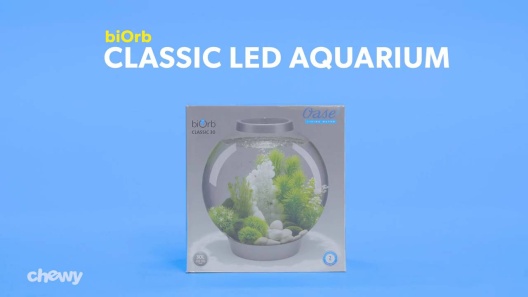 Learn More About biOrb From Our Team of Experts
---
Compare Similar Items
| | | | | | |
| --- | --- | --- | --- | --- | --- |
| | | | | | |
| Customer Rating | | | | — | |
| Price | | | | | |
| Autoship | — | | — | — | — |
| Fish Type | Tropical Freshwater, Betta, Cichlid, Goldfish | Tropical Freshwater, Betta, Goldfish, Bottom Feeder, Cichlid | Tropical Freshwater | Tropical Freshwater | Tropical Freshwater, Betta, Cichlid, Goldfish |
| Capacity (Max) | 4-gallon | N/A | 5-gallon | 4-gal | 3-gallon |
| Material | Plastic | Plastic | Plastic | Acrylic, Plastic | Plastic |
| Aquarium Type | Freshwater | Freshwater | Freshwater | Freshwater, Saltwater | Freshwater |
---
Questions & Answers
28 Customer Questions
---
How large of a goldfish will it hold and quantity of them?
Answer by • Jun 10, 2021
Goldfish can grow to be large in size and be very messy fish. For the biOrb CLASSIC 4 gallon, we recommend keeping up to 4 fish like neon tetras, mollies guppies or a betta. In regards to goldfish, we recommend keeping no more than 2 goldfish up to an inch in size in the CLASSIC 4 gallon.
---
I have had two Plexiglas tanks and they've both become cloudy up after a few weeks. I was super careful when I cleaned the second tank but it, too, became cloudy after only a month or so. It mentioned this tank is acrylic. Does acrylic remain clear or will it also get cloudy?
Answer by • Jan 15, 2018
The acrylic will stay clear as long as you change the water every 3 to 4 weeks. The most common sources of cloudy water are gravel residue, dissolved constituents, and excess food.
---
Is biorb tanks good for beta fish?
Answer by • Oct 16, 2017
This tank works great for a betta, goldfish, and tropical freshwater fish.
---
Can a heater be attached to this tank so we could have a few tropical fish?
Answer by • Jan 09, 2019
This Aquarium is not compatible with heaters. This aquarium should not come into contact with hot areas or left in direct sunlight.
---
---
---
By B85302 on Apr 25, 2022
Not my first aquarium
I love this aquarium so much I bought 2. One was awhile ago and they didn't have the feature for the bubble tube at that time. I don't think I'm setting up the aquarium per instructions so my suggestions are at your own risk. I know this will be a mess when I have to clean it. My prior purchase has proven to be really clean thanks to some snails. FYI snails can get crazy so do this at your own risk too. You can see the feature when you look up Biorb items. I had to put it on the bubble tube first and then work it in. I did not have the ring on when I did this. It took some wiggling but I didn't have to force or break it. I put this in the 4 gallon. It would be super perfect in a size up. I'm happy with what I have.
---
By Rango on May 7, 2022
Awesome tank!
This was my fist tank, and it worked great! It came packaged nicely a day ahead of time and has worked ever since. The light is perfect and gives a nice bright glow with easy turn on and off. It's a little loud, but I could sleep through it fine. I do have a little heater on the side, and the cool part is if you look at the front of the aquarium, you can't see it! Nice, sleek design. The only thing is the hole in the top is really small and hard to get decor in and out of, but otherwise, great tank!
---
By Betta on Mar 11, 2022
My Betta Loves It
I've seen some back and forth reviews on this particular tank, but my Betta "Hermes" absolutely loves it! We got him some soft silk plants, added a water heater and his little whiskey barrel. We noticed some initial concerns when we were setting it up that the air pump was kind of loud, but we were able to easily fix this but just putting a small towel underneath the little machine and it is quiet as a mouse. We were worried about changing out the filter but since we already remove Hermes when we clean his tank it's really not an issue. Would highly recommend this tank to anyone who is a beginner fish owner. It comes with the bacterial booster and water conditioner and it has helped a lot.
---
By Susans on Mar 17, 2022
Great Aquarium!
I ordered the 8 gallon biOrb aquarium for my colorful little shrimp. It is beautiful and the water stays crystal clear. The only problem I have had is with the flat heater I ordered for it. It was a separate purchase and it overheated the tank. I switched it with a small tube heater and everything is fine now. I definitely recommend this aquarium. I adjusted the water flow to slow it down. A simple procedure that I learned from YouTube.
---
By ChihuahuaMom on Mar 16, 2022
biorb bowl
I bought the Biorb classic led aquarium. It is amazing! Best system I've had. Very attractive and very easy to set up. I'm glad I bought this!
---
By Kelly on Jan 28, 2022
Nice Little Tank
Have not had it that long but so far so good. Only up for two weeks.
---
By Bettafishlover500 on Dec 12, 2021
please don't buy this
If you are wanting to get a fish please don't buy this small bowl nothing can live in such small space at least get a 5-10 gallon tank so you're fish can live longer and have a healthy life.
---
By Fishtank on Oct 24, 2021
Awesomefishtank
Love this fish tank! It is beautiful and my beta fish is so happy in his new tank! This is my second tank just like this and yes I would recommend it!
---
By Studioplayer on Oct 15, 2021
Love my BiOrbs
I love my BiOrbs. Yes, this one makes 5 that I have up and running. So interesting to watch. Better than anything on TV
---
By SadieMiki on Jul 16, 2021
Perfect TimeOut Tank
When you have a fight in your tank you need a "time-out tank" And this is a perfect choice. your fish in detention is happy and your other fish are safe.
---