Bravecto Chew for Dogs, 44-88 lbs, (Blue Box), 1 Chew (12-wks. supply)
By Bravecto
This item requires prescription approval.
---
Medications ship separately. Delivery times may vary.
---
---
---
We'll collect your pet's prescription information at Checkout.
---
---
About This Item
Bravecto provides up to 12 weeks of protection against fleas and ticks and may terminate Lone Star ticks for up to 8 weeks, and kills 98.7% within 24 hours. Protect your dog from ticks and fleas the easy way with Bravecto. These chews terminate adult fleas, help treat and prevent flea infestations and help treat and control tick infestations. Best of all, each chew is flavored, so your dog will actually look forward to taking his medication for a change. Bravecto also comes in a topical solution for dogs and cats.
Proudly sourced directly from the manufacturer or their approved distributor. Guaranteed genuine and backed by the manufacturer.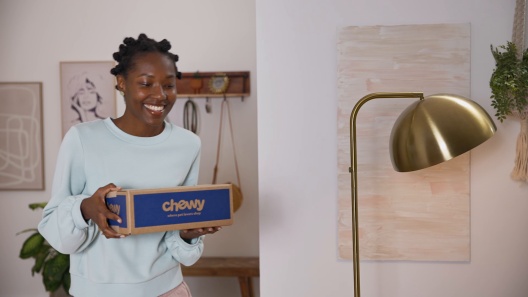 Learn More About Bravecto From Our Team of Experts
Dosage Chart
| Color on Box | Weight Range | Strength | Dosage | Product Page |
| --- | --- | --- | --- | --- |
| Yellow | 4.4-9.9 lbs | 112.5 mg Fluralaner | One chew every 12 weeks | ✓-Click Here |
| Orange | 9.9-22 lbs | 250 mg Fluralaner | One chew every 12 weeks | ✓-Click Here |
| Green | 22-44 lbs | 500 mg Fluralaner | One chew every 12 weeks | ✓-Click Here |
| Blue | 44-88 lbs | 1000 mg Fluralaner | One chew every 12 weeks | ✓-Click Here |
| Pink | 88-123 lbs | 1400 mg Fluralaner | One chew every 12 weeks | ✓-Click Here |
---
---
---
By Duke on Apr 27, 2022
My dog simply won't eat it
I don't dispute that this stuff works, but my particular dog simply will NOT eat it. He's 105 lbs, Rottweiler/Poodle mix. He is generally not picky. But there is zero chance he is eating this stuff, no matter how I try to disguise it. And I have tried everything!! Money is no object to me when it comes to my dog -- I will do whatever, buy whatever I need to make him happy & healthy. But when the calendar comes up and it's time to give him his flea meds, I die inside b/c I know we're in for a fight. If your dog willingly takes whatever you give him, this will probably work. But if your dog is smart enough to know when you're trying to give him meds and is difficult to fool, I'd go with the Seresto collar, which is what I'm switching to now.
---
By CatL on Apr 9, 2022
Works perfectly
I was initially skeptical about chewable flea and tick meds but after my dog was prescribed this to treat demodex I figured it must be safe. We've been using it ever since. Kills ticks as soon as they bite. I can't say much about how it works on fleas because we don't have a flea issue. I mainly use it for ticks as we are in a high Lyme disease area. And I highly recommend it for that.
---
By DoodleMom on Apr 5, 2022
these are very affective
I started my dogs on Bravecto over a year ago after getting fed up with the messy and sometimes unreliable topical. So far no adverse effects. We have neighbor and neighborhood dogs that tend to drop by and share their infestation with our dogs. So I can rest assured, though they'll receive the bites, my dogs will have the power to paralyze those fleas and ticks when they dare to feed.
---
By DogDad on Apr 29, 2022
My dog despises the taste.
My dog readily takes other medication as long as it's hidden in a Pill Pocket or other treat. However, he spit out the Bravecto over and over. Nothing like spending $64 on a single pill that can't be administered.
---
By ScooterJ on May 5, 2022
Not tasty at all!
My dog wouldn't touch this even though I tried everything (wrapping in chicken, etc.)! There must be something off about this flavor as my boy wouldn't come near it.
---
By brincalk1093 on Apr 14, 2022
Great product
We have used this for the last several years and haven't seen ANY tick attachments! We live in the country next to a creek and our Labs are Tick free. I won't use anything else and highly recommend!
---
By Bayou on Apr 15, 2022
The best stuff
Have my whole kennel on this. 22 hunting dogs that travel all over the country for hunting and testing. Never seen a flea or tick. And last 3 months. Cannot beat it.
---
By Jules on Feb 22, 2022
Works amazing for an infestation!!!
I left town for a few weeks last year and my apartment had some drilling outside and I forgot to shut my windows. Came home a few weeks later and had a horrible flea infestation. I was struggling to get rid of the fleas with furniture spray and dog spray so my vet recommended Bravecto and within two hours fleas were literally falling off him. After that I used a fogger for my house and haven't seen a flea since!! I highly recommend! One last note, I did have my dog on a topical flea treatment prior and it didn't stop the fleas once they got into my apartment.
---
By River on Feb 16, 2022
Used for years, best prevention
My dog goes to work with me and we work out in cemeteries, we go to all kinds of cemeteries most of them being out in the country and there is tall grass. We've had no problems and has been the best we've tried. I've been using this chew for my dog for years do to her going everywhere with me all over Texas and I can truly say I've remained impressed with it.
---
By RuiL on Apr 2, 2022
Convenient - would recommend
Love this - it's sooo much more convenient than applying topical treatments on my dog every month. I never have a problem because my dog likes the taste.
---