Bravecto Plus Topical Solution for Cats, >6.2-13.8 lbs, (Blue Box)
By Bravecto
This item requires prescription approval.
---
Medications ship separately. Delivery times may vary.
---
---
---
We'll collect your pet's prescription information at Checkout.
---
---
About This Item
Bravecto Plus is a topical solution for cats prescribed by veterinarians to help provide 2 months of protection against fleas, ticks, heartworm and intestinal parasites. It may also help to prevent and treat flea infestations while providing broad-spectrum parasite protection for your cat. This topical medication is designed with an applicator that makes application easy for you and your feline. Bravecto Plus comes in a topical version for cats weighing between 2.6-6.2, 6.2-13.8 and 13.8-27.5 pounds.
Proudly sourced directly from the manufacturer or their approved distributor. Guaranteed genuine and backed by the manufacturer.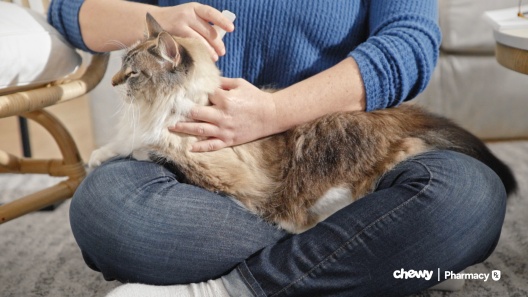 Learn More About Bravecto From Our Team of Experts
Dosage Chart
| Color on Box | Weight Range | Strength | Dosage | Product Page |
| --- | --- | --- | --- | --- |
| Green | 2.6-6.2 lbs | 112.5 mg/tube Fluralaner and 5.6 mg/tube Moxidectin | Administer topically as a single dose every 2 months | ✓-Click Here |
| Blue | >6.2-13.8 lbs | 250 mg/tube Fluralaner and 12.5 mg/tube Moxidectin | Administer topically as a single dose every 2 months | ✓-Click Here |
| Purple | >13.8-27.5 lbs | 500 mg/tube Fluralaner and 25 mg/tube Moxidectin | Administer topically as a single dose every 2 months | ✓-Click Here |
---
---
---
By BrunosMom on May 17, 2022
Doesn't work if your cat gets baths
Chewy did great getting this prescription medication to us but this product just didn't work out for us. I bathe my cat and I didn't know until after we received it that this is not "waterproof". I tried to hold off as long as possible but after about 3 or 4 weeks, my boy really needed his bath! Now he has fleas so this purchase was kind of a bust for us and we'll have to figure something else out. I wish this could've been a chewable like the bravecto that I give our dogs. If your cat gets baths, I wouldn't recommend this product.
---
By Squeaky on May 12, 2022
Receiving necessary medication
My sweet, feral kitty suffers from asthma; this medication was prescribed by her vet. Apparently, it treats heartworms and kills fleas and ticks--a duel way to keep her healthy. Chewy got in touch with vet, secured the prescription, and mailed out the medication...you can't beat that!
---
By Pikachu on Apr 17, 2022
Only works for the first 6 weeks
Although it claims to work for 8 weeks, it actually works for only the first 6 weeks. We don't know whether we should reapply every 6 weeks or 8 weeks. If we follow the instruction and reapply it every 8 weeks, then what to do for the rest 2 weeks? It is not effective in this period. We saw ticks crawling on the cat and once even on us.
---
By Jessie on Feb 24, 2022
I like it but its very sticky/greasy on longhair cats
My cat is too picky of an eater to eat chewable heart guard medicine, so I need to buy a topical that includes heartworm protection. Many other heartworm/flea combination topical medications do NOT include tick prevention. However, this one has ALL THREE. Woohoo! At it comes out to $20 a month. I can swing that. As magical of a product this sounds, it is pretty nasty in my cats long fur. I do not allow her to lick the medication for the first hour or so, but after that she will not touch it/ or cannot get it off herself. After 48 hours I gave up and cleaned her fur myself. It was tough to get off. However I will only have to deal with this ordeal every 2 months, so I am going to stick with it for now. To me, it is worth the sticky mess because it does everything I need it to (flea, heart, AND tick) at a cost I can afford. At the next dose I will add a photo so customers can see what the product looks like on long fur.
---
By Reba on Feb 18, 2022
Bad smell and greasy feel
This is a typical flea treatment. After the treatment is given it leaves a greasy condition on cat fur and also has a horrible chemical smell that lingers for days. I imagine that's the nature of the product tho. Not a fan of flea treatments
---
By Sharon on Feb 9, 2022
WARNING inaccurate and misleading description
This product can only be used on a cat 6 months of age or older. This is NOT specified in the description. It implies that you can use it on a cat weighing 2.2 pounds but what cat is that tiny at 6 months old?? My two kittens are 12 weeks and weigh 6.6 pounds.
---
By fleamed on Feb 10, 2022
Works for me
This medication has been prescribed by my vet for the past 4 years. It has caused no reactions and has kept Sweet Pea free from ticks and fleas. We go for occasional walks in a harness and leash, since he is blind and an indoor cat.
---
By Shaggy on Feb 19, 2022
Happy cat owner
This product works great. My cat had his whole face and neck scratched up. I bought Bravecto and a cone. Two weeks later now and he is healed, happy and playful again. No more scratching. Well worth the money.
---
By Maggie on Jan 7, 2022
It's kept my cats flea-free.
I moved into an apartment that already had fleas. Was treating my cats with another flea medication already for prevention (they did not have fleas). They got fleas from the apartment and the battle raged on for the better part of a year. The other flea medication worked some, but not well enough. The landlord finally got the place professionally treated and my vet prescribed Bravecto Plus for the cats - the double whammy at the same time worked. They haven't had fleas since. Now we're in a new apartment and I have continued treatment for prevention.
---
By Lizzie on Nov 22, 2021
BRAVECTO 2021!
This medication is super super strong fast to do the work it's intended to but as strong as it is on the animal is not strong enough to kill the fleas I would hate to administer this medication once again on my cats because I'm afraid I'm going to kill them, that's how strong it was on them. I can't believe the vet actually recommended 5 refills it's only been a month and they still have fleas.
---