Bravecto Plus Topical Solution for Cats, >13.8-27.5 lbs, (Purple Box)
By Bravecto
This item requires prescription approval.
---
Medications ship separately. Delivery times may vary.
---
---
---
We'll collect your pet's prescription information at Checkout.
---
---
About This Item
Bravecto Plus is a topical solution for cats prescribed by veterinarians to help provide 2 months of protection against fleas, ticks, heartworm and intestinal parasites. It may also help to prevent and treat flea infestations while providing broad-spectrum parasite protection for your cat. This topical medication is designed with an applicator that makes application easy for you and your feline. Bravecto Plus comes in a topical version for cats weighing between 2.6-6.2, 6.2-13.8 and 13.8-27.5 pounds.
Proudly sourced directly from the manufacturer or their approved distributor. Guaranteed genuine and backed by the manufacturer.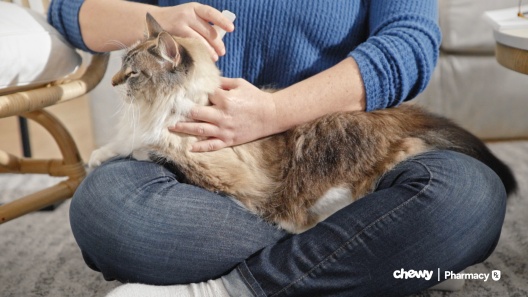 Learn More About Bravecto From Our Team of Experts
Dosage Chart
| Color on Box | Weight Range | Strength | Dosage | Product Page |
| --- | --- | --- | --- | --- |
| Green | 2.6-6.2 lbs | 112.5 mg/tube Fluralaner and 5.6 mg/tube Moxidectin | Administer topically as a single dose every 2 months | ✓-Click Here |
| Blue | >6.2-13.8 lbs | 250 mg/tube Fluralaner and 12.5 mg/tube Moxidectin | Administer topically as a single dose every 2 months | ✓-Click Here |
| Purple | >13.8-27.5 lbs | 500 mg/tube Fluralaner and 25 mg/tube Moxidectin | Administer topically as a single dose every 2 months | ✓-Click Here |
---
---
---
By BLUE on Feb 22, 2022
Love this medication
Mom bought this flea, tick med for me and it is suppose to last 2 months, we will see.
---
By Dundee on Sep 11, 2021
No More Fleas
Dundee is an outdoor cat in Southern Florida, and Bravecto is the first product to stop his scratching. It is particularly easy to keep on hand because of the auto ship service, which is easy to set up or modify as needed.
---
By Clem on Jun 16, 2021
does what it does!
well, my cat seems to be scratching less!! that is the purpose of flea meds.
---
By rvt308 on Jun 3, 2021
Easy to use and great price
Love that it lasts two months and is a decent price! Easy to apply and dries quickly.
---
By Munchkin on May 7, 2021
Great Product
Bravecto Plus really works for my very large Tuxedo cat & I love how it covers more than just flea & ticks
---
By Kayla on Nov 12, 2020
Fleas are gone
In 34 years of owning cats, we have never had fleas. We believe we brought them into the house with rescue kittens. We have tried different flea topicals and baths, but these little pests were persistent. Bravecto was recommended and prescribed by my vet. It is amazing!! Fleas are finally a thing of the past.
---
By BigMax on Jan 27, 2021
Works great!
It does the job...no fleas or ticks. I like that it works for two months. I will buy it again.
---
By Dorian on Sep 10, 2020
very effective
put this on all three of my kitties (the lower weight dose for our younger, more petite cat). even the one with sensitive skin had no reaction to the treatment. absolutey eliminated fleas. had the house treated for bugs, including a flea and tick treatment with our regular pest control service. fingers crossed, looks like we've totally rid of them.
---