BrilliantPad Self-Cleaning Automatic Potty Pad Machine
Autoship
(Save an extra 5%)
Choose Autoship at checkout for regular deliveries.
Why Autoship?
FREE access to chat with licensed vets 7 days a week.
Save 5% on all future Autoship orders.
No fees, no commitments - cancel Autoship anytime.
This item can't be shipped to CA.
---
---
Frequently Bought Together
---
About This Item
Self-cleaning pet potty wraps seal and stow away waste completely hands-free, locking away odors and making going more hygienic.
Adjustable timer automatically wraps and seals dirty pads 1, 2 or 3 times a day, depending on what works for your furry family.
Need a change right away? Easy—change the pad on demand and anytime at the touch of a button; works for pee and poo, too.
Environmentally friendly pads use less material than typical potty pads, and includes disposable rods and caps to make disposal fast, easy and clean.
This small machine is compact enough to fit easily in any home, and the perfect size for potty training puppies and dogs under 25 pounds.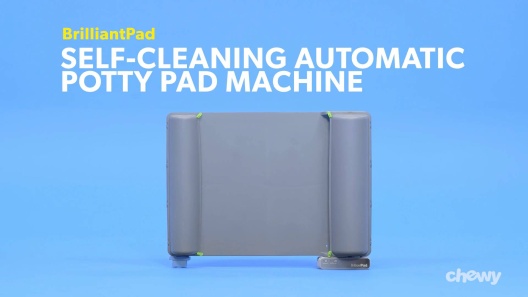 Learn More About BrilliantPad From Our Team of Experts
---
---
Questions & Answers
11 Customer Questions
---
How about when puppy goes poo? Does it need scooped up and then changed manually? Or how does that work?
Answer by • Jul 29, 2018
The machine can handle urine and feces from dogs under 25 pounds.
---
How long a roll will last you bc my Maltese uses his pee pee pad a lot and it looks like can be very expensive
Answer by • Feb 10, 2020
Each roll contains 21 absorbent potty pads. The length of time they last will vary, depending how often your pet uses the pad. In general, it's recommended to change it 2-3 times daily if used consistently.
---
Is brilliant pads ok for cats ???
Answer by • May 28, 2018
This machine is intended for use for puppies and small dogs.
---
Whenyou buy themachine do you get 1 roll of papers with it
Answer by • Dec 17, 2018
This system does include 1 roll. We also carry the BrilliantPad Self-Cleaning Automatic Potty Pad Machine Replacement Rolls.
---
---
18 Customer Reviews
---
Filter by reviews that mention
---
By Nancan1948 on Jul 4, 2022
Could NOT figure it OUT
This product has me stumped on how to put it together. I NEED to return it and get my money BACK!
---
By Cadogan on Dec 10, 2020
Pros and Cons
I have a litter of 11 Rottweiler puppies and once they start getting bigger, clean up becomes almost impossible. So really anything to make my life easier is great! Here are some things I've discovered using this thing... Pros- Time between clean up has increased. Puppies trained themselves to use it right away (They're only 5 weeks). Set up was easy. Size is equal to XL pee pad. I can adjust frequency of change per day, 1x a day should last about 21 days, 2x a day lasts about 14 days and 3x a day about a week. Cons- My biggest issue is the control pad, the buttons are on top which makes it easy for puppies to step on them and change settings, so either they hit the frequency button and pad never changes or they hit the feed button and go though a whole roll (and rolls are expensive) so I need to find a way to cover that. Another issue is mentioned in someone else's review about the space under the dirty roll, sometimes puppies miss the pad and that pee finds it's way into the gap and it can get really gross under there, not sure how to fix that. Another issue is the power cord, it sticks right out the back which makes it easy to chew on, I had to duct tape it down, would be nice if it was more hidden. Overall, could be great product, but need to fix some issues before it's actually worth the price. At this time I don't recommend. I had to make modifications to make it work.
---
By angelobutter on Jun 18, 2020
lifesaver, but refill rolls are expensive
Ok so I have 5 chihuahuas, even though they used regular piddle pads in addition to going outdoors to potty, this thing is a lifesaver. When we were just using piddle pads my dingbat chihuahuas would just stand sort of on the pad and pee wherever gravity happened to let business fall. OR they would be pretty good about getting everything on the pad, but then run around like crazy and shift the pad or crumple it and then it was a mess, which is what I was trying to avoid in the first place. I tried other "pad holders" but they were subpar, they still would pee or poop over the side, so then I not only had to clean the floor, but also the holder. The BrilliantPad has been amazing! the first few weeks we had a few accidents until they decided it wasn't scary, but now its great. No floor messes, no "stand on the pad but pee off it onto the floor" no running over it and crumpling it up. Something about it being slightly raised makes them actually pee ON it, not just close to it or half on it. So just for that, totally worth it. but then it has the added benefit of rolling it up with just a push button. Even better! so why 4 stars instead of 5? Well the replacement pads are ridiculously expensive. There HAS to be a cheaper way, but I haven't found it, and the company hasn't made it so I just pay the crazy price. Supply and demand I guess. My only physical complaint about the actual machine itself, is that as I am getting towards the end of the roll, it gets quite full, and the motor just can't handle the amount of force needed to roll it up, sometimes the gears even become misaligned and "crunch" at each other until I notice and push them back together. so for the last few feet of roll I actually have to grab the whole roll (EWWW!) and physically wind it up by hand. yuk. also the "auto" timer function has stopped working but I never used that anyways, I just roll it by pushing the button when I notice it needs it and don't rely on it auto rolling 2 or 3 times a day. I also wish they had a male barrier, my boy lifts his leg and obviously the pad can't catch that. I just tape a normal pad to the wall next to the BrilliantPad and change it as needed. Long story short, totally worth it, even with the price and couple complaints. I actually am probably going to get a second one. I can't imagine going back to regular piddle pads.
---
By Illucia on Mar 26, 2020
Disabled shut-in
I have 2 rescued chihuahuas. I had fastened a make shift pad holder out of black trash bags, wooden yardsticks, and paint stirrers. It worked for a while but my disability has slowly claimed more of my mobility so I wasn't changing the pads out as often as I or my dogs liked. This is a lifesaver. The dogs are still adapting to it, but already pee on it. Now I just need to convince them to poop there on the regular.
---
By Ryder on Dec 28, 2019
Very difficult
The concept for this is great, but it doesn't work all that well. My dog was afraid to step onto it initially, but we've worked on that and he goes on freely now. The problem is it really only cleans up number 1. Let's just say the clean up for number 2 is rather messy and not quite like the description advises. This machine was not cheap, so I'm pretty disappointed. I would not recommend to anyone else and would advise saving your money because it's not worth the investment.
---
By Jenny on Feb 10, 2020
Dog will not use it
While the item was easy to assemble, after an entire week of sitting with him on a short leash, he still refused to go on it.
---
By Naty on Aug 20, 2019
Nice but impractical
My sister got it for our beagle thinking it would be a resolution to our potty training problems. Even though it did work the first roll only lasted a week, and to buy another on is ridiculously expensive. My point is that I find it more expensive to buy something repeatedly each week when I can just use that amount I'm paying for regular pads that'll last me a month or two.
---
By Andrea on Jul 11, 2019
excellent for my 2 maltese
I have 2 Maltese and they only go on this to pee and poop the poop goes in the roll perfect when it decides to roll in a new sheet easy to refill better than changing out pee pads several times a day and I smell absolutely no stench when it rolls it up
---
By HTML on Apr 14, 2019
Good in theory but not in reality
My pup is 9lbs and 4 years old, she is indoor trained however she is particular to using a clean potty. Previously we were using a different system that was cleaned frequently. Thought brilliant pad would be a perfect fit. Once familiar with the new system she adjusted well and wow was it an easy clean up. I will mention that I only used this for urine I still picked up her #2s. About two weeks later she would not use this potty, she began peeing anywhere but on that potty (frustrating) There was no smell that I could smell until I got down to her level and opened the casing not only was the the smell overpowering but there was puddled urine in the compartment. As mentioned my dog is very particular to dirty training pads I change them frequently but this is definelty worth keeping in mind before purchase. It does not work quite as seemlessly as advertised and the smell is unbearable. Chewy, as always, takes care of their customers and I had no issue with a return.
---
By Kdub on Nov 18, 2018
Life saver
I've been using the BrilliantPad for about 2 years. My dog is a 25# mutt and very potty shy. I'm gone for long stretches of the day, so she has been paid trained from her puppy days. I received the first one as a gift. Once Abby got used to it, it made life easier in the house, as well as reduced the smells. I find it cost effective over pads as well and much cleaner. A couple months ago, there was an upgrade with a drip edge. Huge improvement! No run off puddles anymore. Here is the downside and why it gets 4 stars. I get just shy of a month on one roll, but I manually operate mine, usually 1 to 2 advances per day. The automatic advance works just great, just my preference. Usually towards the last week of the roll, any duces that get rolled up make the collection roll too large and the motor and gears don't mesh right and requires a couple resets. I find collecting the #2's before it advances makes a world of difference on operation standpoint. Overall, cheaper, cleaner and easier than pads
---