Brinsea Mini II Advance Automatic Egg Incubator
Frequently Bought Together
---
About This Item
Incubates up to 7 chicken or duck-size eggs with built in turning, cooling, heating, and humidity controls.
Digital display shows incubation temperature, days to hatch and turning status so you can keep things just right.
Mini-control panel lets you adjust temperature in °C or °F, turning interval and angle, days to hatch, cooling duration and high and low temperature alarm limits
Ensures even heating for all eggs for consistent and reliable hatches with fan-assisted temperature control.
Made of hygienic ABS plastics with clear walls for maximum visibility; incubator automatically stops turning eggs two days before hatching.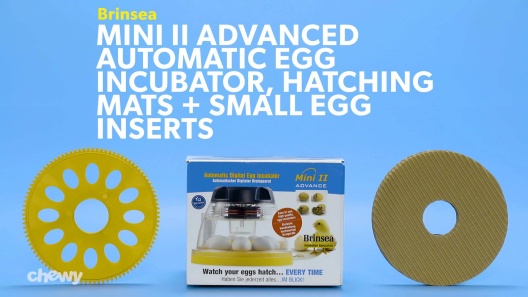 Learn More About Brinsea From Our Team of Experts
---
---
Questions & Answers
15 Customer Questions
---
Would this fit peacock eggs?
Answer by • May 18, 2018
This incubator could also accommodate peacock eggs.
---
Would this work for goose eggs?
Answer by • Oct 02, 2019
This incubator will work for goose eggs.
---
Will It Work To Hatch Cockatiel Eggs?
Answer by • Apr 23, 2019
There are two disks are available, one for eggs of all sizes up to duck (supplied as standard) with a second small egg disk holding eggs up to the size of pheasant available as an optional extra.
---
would this work for quail eggs?
Answer by • Aug 23, 2018
The approximate maximum egg capacities of this incubator are 12 Quail eggs, 12 Pheasant eggs, 7 Hen eggs, and 7 Duck eggs.
---
---
---
By Ashley on Dec 30, 2021
It works for parrot eggs
I have hatched a lovebird with this.the only thing I don't like is there is not much information in the manual about hatching parrot eggs and the information can be hard to find on the internet I had to reach out to some of my breeder friends to help. Now I have conure eggs in the incubator.
---
By DSherrill on Mar 6, 2020
Excellent Incubator
I had a 100% hatch rate with this incubator. The directions are super simple to follow and work well for hatching chickens. What impressed me the most was Brinseas customer service. When I received this incubator, it did not come with the 7 egg tray but the bantam 12 egg tray. I knew this was a mistake so I called Brinsea and they immediately sent me the correct tray. I offered to pay for it but they would not let me. I received the 7 egg tray in 2 days. Amazing company and wonderful products. I also recommend the Brinsea Ecoglow for keeping your chicks warm.
---
By Birdman93 on Mar 28, 2020
One good hatch and now it's not turning...
I was originally very pleased with this item but now on my second hatch it has completely failed to maintain stable temperature and the turner has stopped working as well.. rendering it pretty much useless.
---
By Bechtel on Dec 17, 2019
Worth the money
This is the perfect incubator! I have tried several Styrofoam types with turners and fans and have not found any that compare to the Brinsea. I love the ease of set-up and visibility of the eggs. Within 24 hours I had my first batch of eggs in ... and they are hatching today.
---
By AnnF on Jul 26, 2019
Hatched chicks
Love it ! So convenient. Love that it's digital and turns the eggs and adds humidity. Done it in the past hand turning, wet sponge and a light bulb.So much better this way.
---
By Amchance on Dec 15, 2018
So easy for beginners. Highly recommended!
First time incubator user. I was able to watch one you tube video and read the easy to use manual and get it going! I had three eggs in and had to throw one out for non fertile. But the other two are doing great so far!! So easy to use and set up and everyone recommended it! So do I! Chewy sent it fast as well
---
By JudyB on Feb 6, 2019
Easy Set Up
Just purchased the Brinsea Mini II Advance and found set up very easy. The science of incubation is pretty complicated, but I'm hoping the reliability of this incubator brings me success!
---
By Ducky on Apr 17, 2019
Duck hatcher
Very easy to use. It is pretty much set it and forget it.
---
By GoodDogTrainingLLC on Apr 2, 2018
Simple to Use
This is the best incubator for ease of use and simple hatching! It only took me 5 minutes to set it up and add the eggs. Candled my eggs at day 10 and have all seven alive and hopefully hatching in 11 days. I would but this again.
---