Bungalow Flooring Waterhog Squares Stair Tread, 4 count
---
About This Item
Durable Squares stair treads for dogs.
Designed for both indoor and outdoor use.
Paw-fect for use in heat, rain, sleet or snow.
Crafted to resist stains, rotting, mold and mildew.
Made in the USA.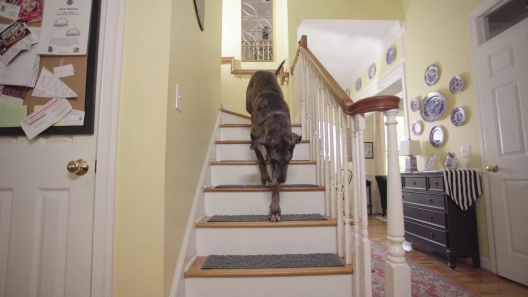 Learn More About Bungalow Flooring From Our Team of Experts
---
Compare Similar Items
| | | | | | |
| --- | --- | --- | --- | --- | --- |
| | | | | | |
| Customer Rating | | | — | — | — |
| Price | | | | | |
| Material | Polyester, Rubber, Synthetic Fabric | Polyester, Rubber, Synthetic Fabric | Polyester, Rubber, Synthetic Fabric | Polyester, Rubber, Synthetic Fabric | Polyester, Rubber, Synthetic Fabric |
| Breed Size | N/A | N/A | N/A | N/A | N/A |
| Pattern | N/A | N/A | Graphic | Graphic | Graphic |
| Lifestage | N/A | N/A | N/A | N/A | N/A |
---
Questions & Answers
5 Customer Questions
---
Do these treads have glue backing to secure them to the stair?
Answer by • Sep 02, 2020
These treads does not feature a glue backing. They are built with a real rubber backing for a firm grip.
---
Will the secure tightly on concrete steps
Answer by • May 29, 2021
These stair treads have rubber nubs on the back to hold in place, but we have heard many use a double sided sticky tape to secure.
---
How easy are they to clean, specifically from fur?
Answer by • Mar 24, 2022
These stair treads can be easily hosed off and hung to line dry.
---
My dog often tracks mud in from the yard into the house. Would these rugs also double as a paw wipe of some sort if placed on the deck stairs leading in the house? Can they catch mud and dirt?
Answer by • Nov 13, 2021
All-weather indoor/outdoor stair tread mat provides protection from wet, slippery, and splintered steps.
---
---
---
By SueC on Apr 24, 2022
Great on hardwood stairs
My 6 month old Flat-coated Retriever puppy learned how to go up and down our hardwood stairs when he was 4 months old. Then all of a sudden he became very fearful and refused. I assume he must have fallen or slipped at some point, but it's a small house, and he was really never out of our sight, so not sure what caused this fear. We bought 8 of the treads for the bottom 8 steps ... and he quickly learned to go up the stairs. Bought 8 more for the top 8 stairs ... and it took him a bit longer, but he eventually was able to go down the stairs once again! They move a bit from where you place them, but I wouldn't call it "slipping", just little nudges here and there. I loved the look of my hardwood stairs and really didn't want to cover them up. But honestly, they look pretty good ... and well worth keeping our dog safe and happy!
---
By Nelle on May 2, 2022
Game Changer!
These are the absolute best stair grips for hardwoods. We just moved into a home with wooden stairs and were very concerned about our golden retriever slipping and injuring himself. Not now! These do not slide whatsoever and are very stylish. You will not regret purchasing them. Your pupper(s) thank you in advance!
---
By Carolyn on Apr 17, 2022
Great product for an aging pup
Our 13 year old sheltie was having difficulty with the stairs. We put down these stair treads and it was an immediate difference. Rather than trying to use the wall to leverage himself up he can confidently navigate the center of the stair with these treads as traction. Highly highly recommend for any pup who can still do stairs but could benefit from a boost.
---
By Crazydoglady on Apr 17, 2022
Work well for my older dog
These work well. I read one review that said they move constantly. That is not my experience. They stay in place well, needing occasional adjustments.There is no adhesive, no damage. I was pleasantly surprised and would recommend these stair treads. I got them for one of my older dogs who was slipping and they are very effective and give her better traction.
---
By Gordo on May 1, 2022
Lifesaver for arthritic dogs
My two 16 year old dogs were having much difficulty traversing our hardwood stairs. These squares are a huge quality of life improvement for them and us. They somehow do stay in place and the dogs now confidently climb and descend easily.
---
By Steve on Feb 20, 2022
Just what we needed
We have an older Black Lab, and he was having trouble with our stairs. More and more often, he was falling down the stairs because they were bare wood and slippery. We saw this product, and, trusting Chewy, we thought we'd try these to see if they helped. Our dog (and therefore we, too!) loves these. It makes him feel confident going down the stairs again. Plus the rubber-like backing keeps these in place on each stair. We couldn't be happier!
---
By Clair on Apr 17, 2022
Great for my old dog
Our older dog started struggling with the hardwood stairs. She fell up and down them a few times, so we bought these to make her life easier. They have been a great solution. Thanks!
---
By Resident on Feb 12, 2022
stair treads
The treads are ok, they seem to do the trick. I would feel more comfortable if they didn't slip around so much. They don't stay put for more than one trip up or down stairs. I'm constantly reseting them and it makes me a little nervous when the oldies go up and down (still have to be very close). They tend to slip toward the riser, which leaves the leading few inches of the step exposed. It's too soon to tell if that matters to Old Dog's sense of security on them.
---
By Mary on Feb 19, 2022
These are perfect and worth every cent!
Bought these based on reviews from other customers on this site. They are absolutely perfect. Our old dog was starting to fall up and down the stairs on a regular basis. We had gotten some cheaper treads from a big box store, but they slid all over the place. These stay in place, look great, and our dog hasn't fallen once since we got them. Worth every cent!
---
By LJ44 on Feb 7, 2022
Great product!
These stair trends were purchased for our two Great Danes that oftentimes have trouble walking down the wood stairs. It took them a good day to get use to them and now they have zero trouble on the stairs. It gives me peace of mind knowing that our dogs are safe using the stairs with these protecting them and protecting the wood floors from their nails.
---