Busy Buddy Bouncy Bone Treat Dispenser Tough Dog Chew Toy
---
About This Item
This 3-in-1 toy features a rubber ball, a nylon bone and refillable treat-holding rings to keep your buddy busy!
The durable nylon and vanilla-scented rubber makes this toy paw-fect for strong chewers.
Comes with 6 rawhide treat ring refills, which can help relieve boredom and anxiety.
Top-shelf dishwasher safe for hassle-free cleaning.
Available in 4 sizes. Assortment may vary.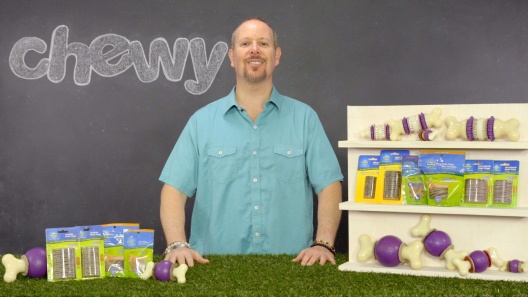 Learn More About Busy Buddy From Our Team of Experts
For Refill Treats: [Click here][]
---
---
Questions & Answers
14 Customer Questions
---
What size refills?
Answer by • Aug 26, 2017
The Small is size A, the Medium is size B, the Medium/Large is size C, and the Large is size C.
---
Can you please tell me the diameter of the ball for the 3 different sizes? I already own one but lost the end cap and need to make sure I order the correct size. Thanks!
Answer by • Apr 24, 2018
The diameter of the Small is 1 3/4 inches, the diameter of the Medium is 2 3/4 inches, the diameter of the Medium/Large is 3 3/4 inches, and the Large diameter of the 4 1/2 inches.
---
Hi, I'm wondering what size to get my friends English lab? He is just starting to get his adult teeth.
Answer by • Mar 12, 2018
The Small is for dogs under 10 pounds, Medium for dogs 10 - 50 pounds, Medium/Large for dogs 50 - 90 pounds and Large is for dogs over 75 pounds.
---
Can replacement ends be bought for this toy?
Answer by • Jan 16, 2018
At this time, replacement ends aren't available for this toy.
---
---
---
By Sams on Jun 27, 2022
Great for my older dog
I also have the petsafe busy buddy bristle and that one hides the rawhide a little better which is great for my insane younger dog. He works hard for it and it helps wear him out. My older dog however got frustrated with how hard it was and this one allows for much better access to the rawhide which is great for her.
---
By Seven on May 22, 2022
Great chew toy
My French Bulldog loves this bone. She chews on it after she eats the ring treat placed on it, along with peanut butter! The bone ends last a very long time and don't come off in plastic bits very easily, even with her strong teeth!
---
By Lulu on May 25, 2022
Dog Did Not Like this at all.
My dog gave it a sniff, and walked away; I tried to engage her with play, but no interest. I then gave it to a neighbor, hoping their dog would have some fun with it. Same result - no interest what so ever.
---
By Lulu on May 18, 2022
Great for my super chewer!
My dog is a super chewer! This toy is great because the parts have a twisting screw top, making it hard for her to destroy right away. Other locking tops she could break right off. Highly recommend and would purchase again!
---
By KelsieT on Feb 25, 2022
GREAT ENRICHMENT TOY!
Both my dogs LOVE this toy! I bought them each one. I purchased the medium/large for them both. I have a Standard Poodle and an Aussiedoodle. They even play with the toys after the treat is already gone. Love it!
---
By DocHolliday on Feb 19, 2022
For the busy boi
Finally. Something that holds up to our very busy, very tough little boi. Trying to keep him entertained without also ingesting a toy has been hard. This keeps him busy for a long time!
---
By BeeKat on Mar 29, 2022
King Chewer
Just got this dog from the pound and he's a real chewer. He goes through toys like crazy! Love this thing! It's perfect for him !
---
By DaisyDuck on Jan 23, 2022
Only Eats the Rings
My Major needs time to himself so I thought this would occupy him ...for maybe 3 minutes. He ate of the rings and walked away from it. No marks on the bone or ball. I was able to get him to like the ball when I took it off the bone.
---
By ZoeZ on Dec 29, 2021
favorite Christmas gift
My pup is an 8 mth old aggressive chewer. This toy was her favorite Christmas present. She can chew and chew and it is holding firm. The treats don't last as long as I'd like for her but overall it keeps her entertained for a good amount of time and is tough enough for the dog that shreds her other toys quickly.
---
By Busybuddy on Mar 1, 2022
My dog loves this
My dog is a heavy chewer and the added treat makes her extra happy. She tosses the toy around until the treat breaks off, then chews the bone.
---