Cat-in-the-bag E-Z-Zip Cat Carrier Bag
---
---
Try This Similar Item By Chewy
---
Frequently Bought Together
---
About This Item
Innovative cat carrier is the ideal alternative to a traditional hard-sided carrier; a zipper runs the length of one side and the bottom to quickly and easily wrap the bag around your cat.
100% cotton bag is soft and roomy, allowing her to move and stretch inside of it while providing gentle, comfortable restraint.
Soft fuzzy fastener collar wraps gently and securely around her neck to keep her head outside the bag and ease her fear of confinement.
Convenient handle becomes a shoulder-strap and a seatbelt loop for the car; easy to lift and move unlike most bulky, awkward pet carriers.
Zipper access also allows the vet or groomer to access your cat for exams, nail trims, etc. while the bag stays on; available in three sizes and three colors.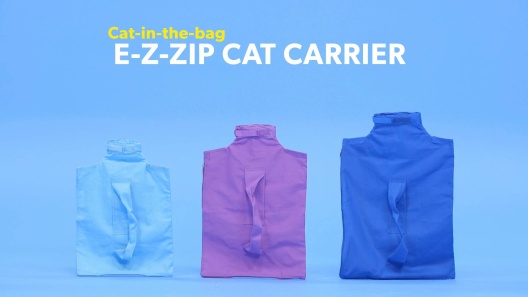 Learn More About Cat-in-the-bag From Our Team of Experts
---
Compare Similar Items
| | | | | | |
| --- | --- | --- | --- | --- | --- |
| | | | | | |
| Customer Rating | | | | | |
| Price | | | | | |
| Features | Shoulder Strap, Seat Belt Loop, Machine-washable | Top Load, Shoulder Strap, Removable Pad... | Top Load, Shoulder Strap, Seat Belt Loop... | Shoulder Strap, Removable Pad, Interior Tether... | Rolling, Removable Pad, Interior Tether, Pockets, Water-resistant |
| Material | Cotton, Natural Fabric | Polyester, Synthetic Fabric | Mesh, Fleece, Synthetic Fabric | Polyester, Synthetic Fabric | Nylon, Synthetic Fabric |
| Breed Size | Small Breeds | Extra Small Breeds, Small Breeds | Extra Small Breeds, Small Breeds | Small Breeds | Extra Small Breeds, Small Breeds |
| Assembly Required | No | No | No | No | No |
| Lifestage | Adult | Adult | Adult | Adult | Adult |
---
Questions & Answers
20 Customer Questions
---
How do I know which size? My cats weigh 10 pounds.
Answer by • Mar 25, 2018
The sizing for this Carrier is based upon the cat's weight as well as their body length. Please refer to the attached size chart to find the best fit. If your pet is between sizes, it is recommended to go with the larger size.
---
Has anyone ever had their cat escape from this carrier? Also, while the cat is inside the bag, how easy is it for the cat to take off running? The bag looks loose and that is my main fear, that they will take off even with the bag on them. Thanks in advance for any answers.
Answer by • Aug 22, 2018
This carrier has an adjustable Velcro strip that allows you to tighten the collar snugly around your cat's neck. Make sure there is enough room to get a finger under the collar. This way the cat is held securely and comfortably. There is no tension on the neck when the carrier is lifted by the handle. Their carrier is roomy and the cat cannot brace against it to work his way out. Make sure to get the right size to fit him properly.
---
Is it possible to trim claws while in this bag? I found a little kitty, about 5#, that has razor claws, and there's no holding this little munchkin still. I don't see a place for a leg to stick out.
Answer by • May 19, 2018
This Carrier has zipper access that also allows the vet or groomer to access the cat for exams, nail trims, etc. while the bag stays on
---
can you give your cat a bath in the bag
Answer by • Sep 09, 2018
The Cat-in-the-bag can be used to bathe your cat.
---
---
---
By Amela on Nov 18, 2022
Thank you Chewy!
I have been a long time customer and I am very satisfied with all my orders, and Chewy in general. In the past I had lots of birds. Now I have a cat. There is a great selection of products. The orders always arrive on time. I have never had any problems. Thank you, Chewy!
---
By GailRRT on Sep 28, 2022
Great Product
I bought this to take one of my cats to the vet for a reoccurring ear problem. When I took her in a regular carrier, she would scratch and bite the staff, just to get her out. She had to be sedated for her ear to be examined. With this bag, she was amazingly calm, and the vet could examine her ear, with no problem. It was unbelievable. I might mention too, that she had to wait to be seen for a long time, and did great being held by me, while in the bag. I did partially unzip the bag, to ensure she wasn't getting too hot. The bag is thick, so I would suggest making sure your kitty remains cool, and keep a check on the neck closure, so it doesn't get too tight or scrape their skin with the Velcro. For us, it was a life saver.
---
By MotherofCats on Jul 7, 2022
Purrfect Cat Carrier!
I cannot say enough good things about the Cat-in-the-bag Carrier Bag! My sweet kitty boy always dreaded being closed into a traditional cat carrier, and I wondered how I could make it better for him. Turns out, all he wanted was the ability to see what's going on, receive love and pets, and move around while traveling. This carrier bag is absolutely PERFECT! So easy to use, and he loves it. When we have a support human with us, he gets all the love, pets, attention, and visual entertainment he wants. And if I'm alone, I can safely strap him into the car seat near me. PERFECT for a nervous kitty who just wants to see what's going on.
---
By Babs on Sep 22, 2022
Fraidy Cat
Whoever designed this must have the most docile calm cat around. My cat has very nice temperament but absolutely freaked out with my attempts to get her into the bag.
---
By GrandmaMel on Jul 14, 2022
Iloveitkittienotsomuch.
Easy 2 get her in & out. Kittie doesn't like being confined. As soon as u unzip it she runs & hides. She's claustrophobic so I needed something easy 4 she & I both 2 use. My kittie's groomer was so impressed she asked where I got it, she wants 2 get some so when customers don't have 1 they can loan them 1.
---
By Oscar on May 17, 2022
Not for my cat
I get the concept and thought this would work for my overly anxious cat. She is a "cave dweller" so it seemed like a good fit. Well, she LOVED going inside the bag, and we let her get used to that for awhile… but as soon as it zipped we had to unzip it for fear she would hurt herself. She freaked out. We may try this again in the future because she hates the crate so much, but at least in the crate I don't worry about her strangling herself.
---
By Sarah on May 9, 2022
Allows our spicy boy to be examined!
We have a VERY factious cat who just cannot be handled at the vet and this is now the only way the vets can handle him. I wish I had found this product years ago. All the office staff loved it and I can tell our cat feels secure in the bag. 10/10 all around!
---
By Kitty on Sep 8, 2022
Highly recommend
Great for cats that get anxious getting into cat carriers.
---
By Mark on Apr 20, 2022
Worked on one cat, not the other
My cat at home was terrified when I put him in this carrier. I had to extricate him and use the old carrier box. My cat at work accepted it, but grumbled loudly. I'm saying, some cats do NOT like the carrier bag.
---
By Puff on Apr 23, 2022
Go Before You Leave Home
As advertised this was pretty easy to get over his head and zip him inside. He sat nicely on the trip to the vet. All was going well until he emptied his bladder. The item is cloth - My car seats are cloth - not a good combo.
---