ACANA Wild Atlantic Regional Formula Grain-Free Dry Cat & Kitten Food
List Price:

$70.99

Price:

$49.99 FREE 1-2 Day Shipping on this item

You Save:

$21.00 (30%)
Description
The ultimate food mimics one that Mother Nature intended. That's why ACANA Wild Atlantic Regional Formula Grain-Free Dry Cat & Kitten Food is loaded with wild-caught fish including whole mackerel, whole herring, whole redfish, silver hake and yellowtail flounder, plus Kentucky fruits and vegetables – all delivered FRESH each day for unmatched nourishment and flavor. Rich in protein and low in carbohydrates, ACANA food is prepared from the best and freshest ingredients and guaranteed to keep your cat or kitten healthy, happy, and strong.
Key Benefits
75% wild-caught fish ingredients including whole mackerel, whole herring, whole redfish, silver hake and yellowtail flounder
25% fresh regional fruits, vegetables and botanicals to support your cat's peak health and immunity
WholePrey diet of fish, organs and cartilage
Biologically appropriate diet rich in protein with limited carbs
No grain, potato, tapioca, glutens or other plant protein concentrates
Infused with freeze-dried cod liver for increased palatability
Special Note
During packaging, ACANA's air evacuation process draws excess air from the bags prior to sealing. Depending on certain variables, some packages will appear vacuumed and others not—rest assured the food in each bag will be equally fresh!
*This item is not eligible for discounts.
Item Number

96348

Weight

12.0 pounds

Food Form

Dry Food

Lifestage

Adult, Kitten, All Stages

Made in

United States

Special Diet

No Corn No Wheat No Soy, GMO-Free, Grain-Free, Low Glycemic
Nutritional Info
Ingredients
Whole Mackerel, Whole Herring, Whole Redfish, Silver Hake, Mackerel Meal, Herring Meal, Whole Green Peas, Red Lentils, Pinto Beans, Cod Meal, Catfish Oil, Pollock Meal, Chickpeas, Green Lentils, Whole Yellow Peas, Herring Oil, Flounder, Natural Fish Flavor, Sunflower Oil, Sun-Cured Alfalfa, Dried Kelp, Freeze-Dried Cod Liver, Whole Pumpkin, Whole Butternut Squash, Kale, Spinach, Mustard Greens, Collard Greens, Turnip Greens, Carrots, Apples, Pears, Pumpkin Seeds, Sunflower Seeds, Choline Chloride, Zinc Proteinate, Copper Proteinate, Vitamin K, Mixed Tocopherols (Preservative), Chicory Root, Turmeric, Sarsaparilla Root, Althea Root, Rosehips, Juniper Berries, Dried Lactobacillus Acidophilus Fermentation Product, Dried Bifidobacterium Animalis Fermentation Product, Dried Lactobacillus Casei Fermentation Product.
Caloric Content
3,440 kcal/kg, 392 kcal/cup
Guaranteed Analysis
Crude Protein
35.0% min
Crude Fat
20.0% min
Crude Fiber
4.0% max
Moisture
10.0% max
Calcium
1.0% min
Phosphorus
0.8% min
Magnesium
0.1% max
Taurine
0.1% min
Omega 6 Fatty Acids
2.5% min
Omega 3 Fatty Acids
1.8% min
Docosahexaenoic Acid (DHA)
0.6% min
Eicosapentaenoic Acid (EPA)
0.5% min
Pet lovers also bought...
Customer Reviews
Rated

4.8

out of

5

 by

81

reviewers.
Rated

5

out of

5
 by
joyinlife
Very good
All my cats love this, my cats aren't picky, one of my cats was having loss stools I tried other name brands still wasn't helping, I heard that raw feeding is good for such problem if it consistent.. I was thinking of raw but honestly it is not that practical for me, so I came across this and it said it is a whole prey and very minimal carbs so I got it to see if it would help.. it has stopped his loss stools also my other cat had dry skin flaking when's I got her all gone now all of their coats are nice and pretty and healthy. They all wake me up and wait for dinner eagerly meowing for their food. With 3 cats they eat a lot less I feed once in morning and when I get home they get 1cup shared each meal. the bag last me 3weeks. Now i believe if I was more strict to the feeding then it would've lasted a full 4weeks, but I give them probably 1/2cup more than needed. Love it, I just order the grassland, and plan to rotate their food each time I reorder of acana. Cats are happy I'm happy :)
November 16, 2016
Rated

1

out of

5
 by
catladyforlife
Nope!
So, my cats REALLY enjoyed Pacifica (the old version) but Champion Pet Foods recently changed the packaging to include the formula to what is now called Wild Atlantic. :( The formula is so different you can tell the difference in not only the smell but also the kibble. The new kibble is smaller and darker in color; the older kibble has a more perfect disc look, lighter in color and smooth. (Pic attached: New kibble is the top, old kibble is the bottom.) If humans can tell the difference in the food just by looking and smelling it, you can guarantee that the cats can tell too! Even my least pickiest cat, the one who will eat anything, did not even touch the new stuff. This is so very disappointing. Back to my search for kibble that ALL my cats will enjoy. And Champion Pet Foods, if it's not broken PLEASE don't fix it. We want the old formula back! For now, I will settle for my money.
November 17, 2016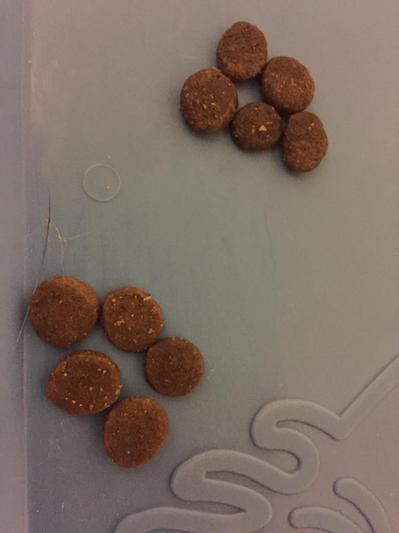 Rated

5

out of

5
 by
TMplusSC
My cats new favorite food
My cat can't get enough of this stuff. His food used to linger in his bowl throughout the day, but with this stuff, he licks the bowl clean. I was nervous about replacing the Pacifica formula, but this stuff is just as awesome!!! Highly recommended for any cat that likes fish.
January 13, 2017
Rated

5

out of

5
 by
Clkrug
Wonderful!
My cat loves this! With all the fish oil her coat is beautiful and she hardly sheds now!! This is a great food!
January 15, 2017
Rated

5

out of

5
 by
Lane
Probably the best food brand
Acana is a great, if not the best, pet food brand. All the food smells exactly like what it's made of and the company owns all of the farms for the materials used. The food is never frozen and processed right away to be made into the food itself. If you are unsure, get a trial bag and when you open it, you'll be impressed. My cat likes all of the Acana flavors, but when I open a bag of the Atlantic Regional, she goes nuts for it. She wasn't a huge fan of the treats at first, but she warmed up to them. I highly recommend this brand.
December 24, 2016
Rated

5

out of

5
 by
Jbugg
My cat really seems to like this food.
I've changed her food and am transitioning her to this brand...she picks through the other brand to get to this one and leaves behind her previous food...guess I don't need to transition her!
December 29, 2016
Rated

5

out of

5
 by
SharonC
Highly Recommended
I got this hoping to find a food that would help my cats lose some weight and perhaps eat a bit less but that they would also love. This seems to be it. They've both always eaten seafood, and this is mostly made of seafood They love the taste. I definitely recommend this food.
January 3, 2017
Rated

5

out of

5
 by
Kara29
My cat loves it
I've had my cat on this food for about 2 years. Switched all of my pets over to it at once. Never looked back. I had them (Dogs and cats) on Taste of the wild and I couldn't find one formula that completely agreed with each one. My cat took to this food immediately and has maintained good weight, a shiny/full coat, and almost no hairball issues. I've been able to switch between formulas with no issues so I do that every once in a while. I have a semi feral cat outside, a stray that adopted me instead of the other way around. I felt incredibly guilty feeding her cheap food while all the others were eating Acana. I switched her over and the difference in her coat was amazing. Went from a dull smoky black to a beautiful bluish black. My husband wasn't on board feeding the stray Acana because of the increased cost, but once he witnessed her transformation he quieted his protesting. Overall, the difference I have seen in all of my animals has been astounding. I will never recommend another brand.
April 16, 2014