Advantage II Flea Treatment for Cats Over 9 lbs
Was:

$59.99

Price:

$46.99 FREE 1-2 Day Shipping over $49

You Save:

$13.00 (22%)
2 treatments

4 treatments

6 treatments
Description
Advantage II Flea Treatment for Cats Over 9 lbs is a convenient monthly topical flea medicine for cats and kittens 8 weeks of age and older. Advantage II for cats contains an adulticide (imidacloprid) and an insect growth regulator (pyriproxyfen) to kill all life stages of fleas. Furthermore, it kills fleas through contact, so they don't have to bite your cat to die. One convenient application of Advantage II cat flea treatment keeps working for 1 month.
Key Benefits
Contains an adulticide (imidacloprid) and an insect growth regulator (pyriproxyfen)
Kills all flea life stages including eggs, larvae, pupae, and adult flea
Controls existing fleas and flea eggs and prevents future flea infestations
Works through contact, so fleas don't have to bite to die
Provides waterproof protection
Ingredients
9.1% Imidacloprid, 0.46% Pyripoxyfen.
Item Number

73927

Brand

Bayer

Lifestage

Adult

Made in

United States
Pet lovers also bought...
Customer Reviews
Rated

4.7

out of

5

 by

494

reviewers.
Rated

5

out of

5
 by
Dks1313
Works wonderfully
Advantage is the only flee preventative I use! A few years ago flees got in the house we are not quit sure how since non of my cats go out side! I have 7 cats, in a weeks time our basement which is also our bedroom we couldn't go down in they were so bad. To add to the problem I have 2 Cockatoo's calling an exterminator was out. We used a powder and vacuumed everything. I bought the other brand and it didn't touch the problem. I called Bayer, their customer service person was wonderful. Bayer will refund all money spent on their product if it doesn't work. That is their guarantee. I did as she told me I applied it to all of my cats and did a follow up in 2 weeks the flees were gone. FYI it is safe to apply this product with in 2 week of the first application to kill the flees in your home if you have the same problem I did. Large parrots. After that we have not had flees at all. I highly recommend this for any cat owner that has indoor only or inside/outside cats.
October 3, 2016
Rated

5

out of

5
 by
morejoy4117
It works.
I had heard that these "over the counter" flea meds were no longer effective. I put it on both of my cats, who had visible evidence of fleas (saw flea droppings on my bathroom floor and toilet). I tried combing the fleas off but realized over a short period of time I was going to have to use a product. Since the first application of Advantage, I have not seen any more "evidence" of fleas. I haven't tried combing them again, but I am trusting all the fleas are on their way out. I used Advantage years ago when it was dispensed by my vet and was always satisfied. Chewy.com is my new go to pet store. Their prices are SIGNIFICANTLY less than other stores. This particular product was $20 less, other cat food I purchased was at least $20 less in total. They had an awesome $15 coupon for new customers too. And I was able to sign up, at a discount, for monthly delivery of products...which will always be over $50 so shipping will be free. And the two day promised delivery...it's true!!! This is an honest review, I was not in any way compensated for these comments. Very pleased with this company and look forward to doing future business with them.
December 26, 2016
Rated

5

out of

5
 by
Aus1
Product easy to apply and has had no side effects to date
My cats like to go outside and play in the garden. They are safe outdoors except for unwanted fleas. I had to purchase a product to remedy the situation. I am not one to use chemicals but under the circumstances I had to try Advantage 11. Cats had no side effects and now they are flea free. The product left no sticky residue and they did not even seem to notice they had it on.
January 15, 2017
Rated

5

out of

5
 by
Phaeton
Love this product
our new family member is a stray cat who joined us only three months ago and since has become mostly an inside cat but she still spends time outside so we needed a good flea and tick remedy and this was it. She is itching less and seems a lot happier since we used it.
January 16, 2017
Rated

5

out of

5
 by
Grace
Best drops for fleas
I've used others, this one works the best great price on Chewy.com
January 16, 2017
Rated

4

out of

5
 by
herbaholic
Works with no discernable side effects
This seems to work best here in Portland, OR, though fleas are becoming resistant to some treatments. We'll need to see how things go this summer. I just wish we didn't have to use strong chemicals on our pets, but it's a livability choice.
January 14, 2017
Rated

5

out of

5
 by
Theresia
the fleas were gone in less than 12 hours!
I love this product! Rainstorm is one happy cat!!!
January 17, 2017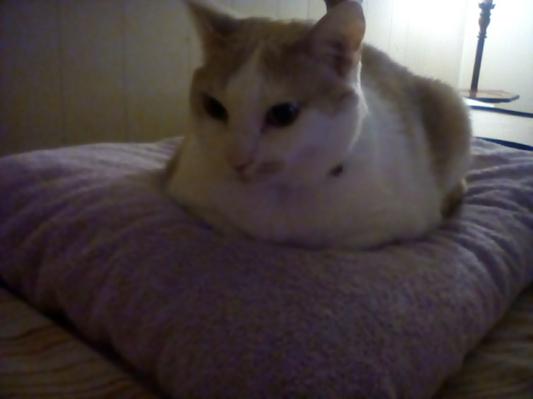 Rated

5

out of

5
 by
Countrylady
Best Flea Treament
I have tried many brands of flea treatments in all price ranges. This is the only one that actually works on my cat. He is a healthy 12 lb indoor/outdoor cat.
January 11, 2017