Animal Essentials Plant Enzyme & Probiotics Dog & Cat Supplement
Was:

$24.91

Price:

$22.39 FREE 1-2 Day Shipping over $49

You Save:

$2.52 (10%)
3.5-oz bottle

10.6-oz bottle
Description
Animal Essentials' Plant Enzymes & Probiotics assists in the digestion and absorption of nutrients which are necessary to maintain your pet's good health. A small, very economical sprinkling each day will relieve extra burden placed on the digestive system by breaking down fats, carbohydrates, cellulose and protein. As your dog or cat's body ages less enzymes are produced and supplementation is necessary for optimum health. Digestive efficiency can also be reduced by excitement, anxiety or stress of any sort (travel, separation, working stress, etc.). To ensure optimum digestion and health we recommend the addition of this supplement to each meal.
Key Benefits
Assists in the digestion and absorption of nutrients which are necessary to maintain your pet's good health
Adding just a sprinkle a day will help the digestive system by breaking down fats, carbohydrates, cellulose and protein
Digestive efficiency can be reduced by excitement, anxiety or stress of any sort
Contains a blend of plant and microbial produced enzyme, none from animal source
For optimum results the supplement should be added to the food and should be moistened shortly before feeding to be effective
Item Number

64410

Weight

10.56 ounces

Lifestage

Adult, All Stages

Made in

United States

Supplement Form

Powdered
Nutritional Info
Ingredients
Alpha Amylase: Helps In the Digestion of Carbohydrates By Helping to Hydrolyze the Alpha 1-4 Glycosidic Linkages of Polysaccharides to Dextrin, D-Glucose, Maltose and Oligosaccharides. Beta Amylase: Works On the End of the Starch Molecules Instead of In the Center, As Does Alpha-Amylase and Results In the Production of Sugars from the Starch Molecules. Proteases: Work On Proteins to Reduce Them to Individual Amino Acids (What They Are Composed Of); Some of These Are Acid Stable Proteases That Start Their Work In the Stomach. Proteins Take the Longest and Are the Most Difficult Food Component to Digest. with Acid Stable Protease the Decomposition Starts Earlier In the Digestive Tract, Thus Providing More Complete Digestion. Lipase: Helps to Metabolize Fats (Triglycerides). the Fats Are Broken Down Into Mono Glycerides, Diglycerides and Glycerol. If Given In Larger Quantities the Lipases Can Enter the Bloodstream and Help Remove Excess Triglycerides from the Arteries and the Veins Improving Circulation. Cellulase: As the Name Implies, Breaks Down Cellulose (Fiber) By Helping to Break Down Cell Walls, Resulting In Both Necessary Solubleand Insoluble Fiber. Hemicellulase: Hemi Cellulose and An Amorphous (Sticky) Type of Cellulose That Form Long Strings As Cellulose, Is Crystalline. This Enzyme Helps Break This Polymer Down Into Its Individual Sugars---Primarily Xylose. Bromelain: Is Extracted from Pineapple (Ananas Comosus) and Is A Protolytic (Protein) Digesting Enzyme, That Helps Break the Proteins Into Oligio Peptides and Amino Acids. Probiotic: Is A Lactic Acid Producing Bacteria, Which Bears Spores. These Organisms Exhibit the Characteristics of Both the Genera Lactobacillus and Bacillus. Because They Are Encapsulated In Spores These Organisms Are Protected from the Environment and Heat. They Are Activated In the Gut By the Hydrochloric Acid, Producing Lactic Acid Bacteria. Treatment with Antibiotics Results In the Killing of These Bacteria, Which Guard Against Yeast Colonies (Candida Yeast Species). These Desirable Bacteria Inhibit the Growth of Putrid Bacterial In the Intestine, Thereby Maintaining the Balance of Intestinal Flora. Calcium Sulfate: the Primary Carrier or Excipient for This Product Is Food Grade and Adds A Minimum Amount of Calcium to the Diet, About 200 mg Per Gm of Product.
Pet lovers also bought...
Customer Reviews
Rated

4.7

out of

5

 by

63

reviewers.
Rated

5

out of

5
 by
carrie
Helps my maltese immensly
This product is really good and all I need for my maltese. I like it because it is in powder form and I can adjust the portion to the dogs weight. It is better than just probiotics that the vet prescribed. Reasonable cost and effective makes both our lives easier.
January 7, 2017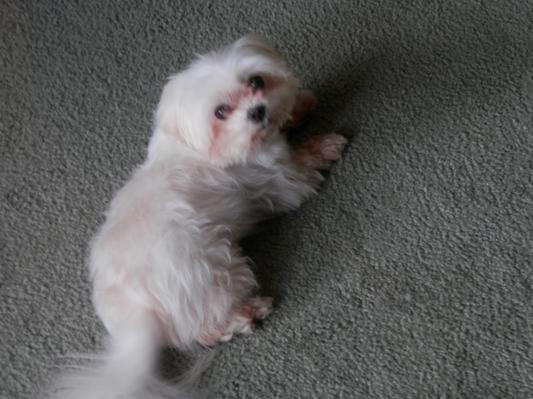 Rated

5

out of

5
 by
Sugarboo
Great for any condition
The reason this stuff works is because the enzymes in this product will break up biofilms houses where bad bacteria live. So it cures many different ailments.
January 14, 2017
Rated

1

out of

5
 by
Momcat
Has made both my cats vomit more than once
I bought this because I have a cat with GI disease (13yo), and another one who is prone to constipation (11yo). I have given it to them three times each. Both have vomited within 12 hours of having it. The first time, I gave them each half the recommended dose. Vomit within an hour. Thought maybe that was too high of a dose, so I waited a week, they got back to normal, then added a pinch to their wet food. Vomit within 12 hours. Tried one last time a week later thinking it could be coincidence. Nope. Pinch of this powder, vomit within 30 minutes for one, within 12 hours for the other. Be very wary using this.
December 13, 2016
Rated

5

out of

5
 by
Tara
FINALLY!
So this stuff is amazing! My baby no longer has any diarrhea or upset belly! It did not take long for this to work either! Great Dane is a happy Dane!
December 29, 2016
Rated

5

out of

5
 by
Greatfull
Essential Enzymes Saved the Day (and Pup)
My new small breed pup was having severe diarrhea for several months. Finally decided to use (with vet's approval) Royal Canin PS (soy potato) kibble. He could not digest ANY animal proteins at the time and his ribs were showing. This is for a regular size dog so I put it in a small zip bag and pounded it into smaller bite size pieces. He could not use the vet recommended pro-biotics as some ingredient was from meat. These Essential Enzymes were what they say: "Essential" as he seemed to be having problems with his Pancreas (B-12 was low). Over these past few months he has stopped having runny stools, gained weight, is able to have chopped apples and chopped lettuce in his food thanks to the enzymes. He is now having some Royal Canin PW (potato whitefish) gradually worked into his diet. I know that the pro-biotics ALONG WITH the Enzymes in Animal Essentials Plant Enzymes & Probiotics Dog & Cat Supplement is one of the key ingredients that saved this little one.
February 26, 2015
Rated

5

out of

5
 by
K9Kenai
Great Supplement to Diet
I give this to all four of my dogs mixed in with their kibble/raw diets. It helps add back in some nutrients that were either cut out of the kibble or unavailable in the raw. It also helps my German Shepherds, who are prone to digestive problems, to keep solid and regular with their poops. I haven't tried it with the cats, but I imagine they would do well on it too. I do have to adjust the dose instead of what is listed on the bottle as I have found that a little goes a long way and too much of it can sometimes stop up my big guy.
November 2, 2016
Rated

5

out of

5
 by
BasenjiMom
Helped My Older Dogs Gain Back Weight
My 11 year old Brother/sister basenji duo had dropped weight and the girl was not always eating her food or treats and would sometimes throw up pink-tinged bile. Since I started using this product she is back to eating enthusiastically and has had no more pink throw up. Am not sure what was causing the pink (possibly blood) in her throw up, maybe environmental or internal problems, but since it has stopped after starting her on the supplement I will happily continue her on it for the rest of her life. I was having trouble keeping weight on the boy but since starting him on the supplement he has gained back to his youthful weight and muscle. In fact I may have to cut back on his calorie intake to keep him in coursing shape.
October 10, 2016
Rated

5

out of

5
 by
Wendy
This product is awesome
I got this product for my dane puppy she came to us with an awful tummy issue.she would whine at the front door to go eat grass,then she would puke and have mooshy poop it was awful .so I decided to try this product and I still a year later love it.my dane doesn't ask to eat grass anymore at all no diarrhea ever and she can eat anything she wants ...I have recommended this to several of my friends who use it as well and love it ....
November 7, 2016