Ark Naturals Happy Traveler Dog & Cat Capsules, 30 capsules
Was:

$10.95

Price:

$7.14 FREE 1-2 Day Shipping over $49

You Save:

$3.81 (35%)
Description
Sure, a car ride could mean a trip to the park. But it could also be a trip to vet. Chasing a ball and being chased by a thermometer are two very different things. Ark Naturals Happy Traveler Dog & Cat Capsules are an all-natural, herbal calming formula that helps pets get through stressful situations like vet visits, traveling in cars or planes, fireworks, and thunderstorms. Happy Traveler Capsules are non-habit forming.
Key Benefits
Great for motion sickness getting rid of upset stomach and stimulate the appetite of finicky eaters
All natural herbal calming formula relieves separation anxiety from day to day activities
Soothes pets during stressful or nervous times like vet visits, house guest, and bath time
Doesn't make pets lethargic; it simply calms them down so they're better equipped to handle whatever triggers their anxiety
Especially helpful during thunderstorms, fireworks, travel, and long car rides
Item Number

50454

Lifestage

Adult, All Stages

Made in

United States

Supplement Form

Tablet/Capsule
Nutritional Info
Ingredients
Valerian, German Chamomile, L-Tryptophan, St. Johns Wort, Gelatin, Magnesium Stearate, Microcrystalline, Cellulose, Whey.
Pet lovers also bought...
Customer Reviews
Rated

3.6

out of

5

 by

13

reviewers.
Rated

5

out of

5
 by
Amanda78
Works great
I bought these to help my 8yr old Basset Hound ride in the car with me when we moved from NY to VA. Since then I've used it for grooming appointments, storms, and when he goes to kennel for day boarding. No lasting effects, just seems to take the edge off his anxiety for a few hours at a time.
July 31, 2016
Rated

1

out of

5
 by
Alley
Large capsules
Capsules are human sized and large at that. Waaaay to large for cats. Can't even use them..waste of money.
May 31, 2016
Rated

3

out of

5
 by
Peipei
Capsaule is difficult for cat
It's too difficult for my kitten to eat. When we travel whith my kitten,it's hard to feed him capsaules
May 19, 2016
Rated

5

out of

5
 by
Annie
Works great
I have a dog that gets car sick before I can go a couple of blocks. I have tried other products some from the Vet . This is the first one that has worked for her. She still has some drooling but has not gotten sick in the car. I am able to get her to Dog Day Care where she is able to play.
February 6, 2016
Rated

5

out of

5
 by
Judi1212
I couldn't do all the rescue I do without this product!
My house is way over-full of dogs and cats! Without the help from Happy Traveler, my house would be insane! I use it in the food when I'm trying to catch a stray! They are just calmer and less stressed! It helps with training silly young dogs! It is invaluable for vet visits or car rides for the queasy! And I keep it handy for thunderstorms or fireworks!! All the puppies get a Happy Traveler chewy treat when they go into their crate if I have to leave the house and at bedtime. I have learned to never run out!
March 17, 2015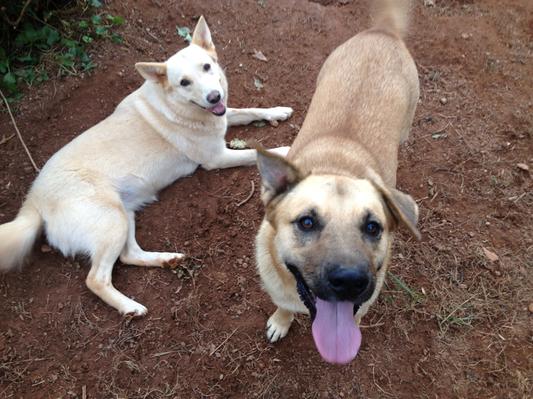 Rated

3

out of

5
 by
Blackdogsleeping
Not sure about this
I have a puppy. I know homeopathic products are not instant fixes. I have given this to her mixed in with peanut butter smeared on the inside of a rolled up smart bone. I have noticed a little difference. I was hoping for a anesthetic slumber....a girl can dream. So yes I will continue using it because I know valerian works. Is it instant? No! Is it calming? Yes. I feel much calmer when I give it to her.
September 3, 2015
Rated

1

out of

5
 by
greyhoundgirl
this product did not help our greyhound
We tried Happy Traveler along with a Thundershirt, but nothing seemed to help our stressed out greyhound. Maybe a greyhound reacts differently than other breeds. I really don't know. We'll try Happy Traveler again to see if we get the same results. Just wish we could find something to help our greyhound not be so stressed out/anxious and stand up in the van the entire 4 hour ride to the boarding facility.
September 8, 2014
Rated

5

out of

5
 by
CharliesAngel
This product is the best. Very useful (& all natural)!
I got a bottle of these for my cat for a 3 hour move to ensure he was calm for the ride & he had a very relaxed trip. I had the rest of the bottle left which I kept in my cabinet & was even more impressed with the other instances these help with. My cat goes on and off being picky but never had a problem with him eating this in his food. If he needed calming once in awhile I'd give him not even a whole capsule & it worked well. These were an absolute life saver when my cat suddenly started incessantly crying for food all hours of the day & night, completely insatiable. It started interfering with my quality of life being woken up at 5am everyday as well as being incredibly stressed that he was constantly screaming for food. I realized I had these stashed away & wow..good thing I did! I started putting a whole pill this time in his food at night & he would relax & sleep like a baby so we could both get some peace. I have 1 left & I brought him to the vet last week but since he's always so good & relaxed at the vet I didn't bother to pill him. HUGE mistake! He was so irritable, lashing out at the vet (& me) to the point the Dr. couldn't even administer all the tests. It was a nightmare, very embarrassing after telling the vet how happy & easy going he is but most importantly my cat was very unhappy...never heard him scream so loud! Point being, I regretted to no end not giving him the last 1 of these. Lastly, I love the ingredients. They are all things I use myself, I know what they are & are all herbal. No additives of any kind. I know the "treat" supplements are gaining steam for ease of use but give these a try. They are a superior product & I have no trouble getting my cat to eat it in his food. Very reasonable price too!
May 6, 2015