Arm & Hammer Litter Multi-Cat Strength Fresh Scent Clumping Litter
Was:

$31.99

Price:

$14.76 FREE 1-2 Day Shipping over $49

You Save:

$17.23 (54%)
40-lb box

20-lb box

26.3-lb box
Description
No matter how many cats you have, an odor free home starts with Arm & Hammer, the odor elimination expert. For over 160 years, Arm & Hammer products have provided a safe and effective way to help keep things smelling fresh and clean. Who knows more about odor control? Today's better litter for better odor elimination - Arm & Hammer Cat Litters.
Key Benefits
Ammonia Odor Block formula destroys ammonia odors instantly no matter how many cats use the litter box and keeps them gone with extended-action odor blockers to destroy lingering odors.
Powerful baking soda crystals provide superior odor controlling and combine that with the ammonia odor neutralizers they eliminate the toughest odors.
It's 99% dust free which means a cleaner home for you and your pet and a light and fresh scent.
Clumps are rock-solid for easy removal and is low-tracking, so litter stays where it needs to be and not scattered throughout your home.
Extra strength advanced odor eliminators make it ideal for multiple cat households.
Item Number

46674

Brand

Arm & Hammer

Litter & Bedding Type

Clay

Litter Feature

Clumping, Odor Control, Scented, Multi-Cat
Pet lovers also bought...
Customer Reviews
Rated

4.4

out of

5

 by

76

reviewers.
Rated

1

out of

5
 by
Kittyboo82
Not worth the extra money
I bought this because I thought it would not smell as bad having multiple cats. I have never had my house smell like urine before since using this litter and it hardly clumps so it left a lot of residue behind. It's not extra strength! I will never buy this again. I wouldn't even give it one star
December 28, 2016
Rated

5

out of

5
 by
Izzy
this product has great features
My cats likes this litter.They let this in their litter box. A lot less litter on my floor.
December 29, 2016
Rated

5

out of

5
 by
Kellbell
Highly recommend! Really works!
I tried this product as I have tried many litters for odor as one of my furry guys has a tummy issue and has the worst smelling poo I have experienced as a pet owner. While the vet explores different options to treat it, it's been a struggle to find a litter or product for that matter to make the odor a little less intense. I picked this litter up expecting the same disappointing result as the others but I was so surprised that it actually works!.Even after his smelly business, the litter still stays smelling fresh, I cannot believe it. The true test is after scooping and it's been in there for a few days, topping off as needed and I can honestly say that it really works. It nicely clumps as well which is a problem due to his lose stools, it doesn't come out in a huge ball and it holds together well. I cannot say thank you to Arm and Hammer enough for making a product that actually smells good, after all it's dirty business so you don't really think that anything would help but this product does. Awesome!!
February 19, 2016
Rated

4

out of

5
 by
Mightyone
Clumps very well, and controls odor
I mix with less expensive litter to reduce the fragrance. The Arm and Hamer product is quite strong and bothers my wife's allergies a bit. This solution works for us. We have two indoor cats and two litter boxs. This is the best of all we have tried. Cleanup is easy.
December 9, 2016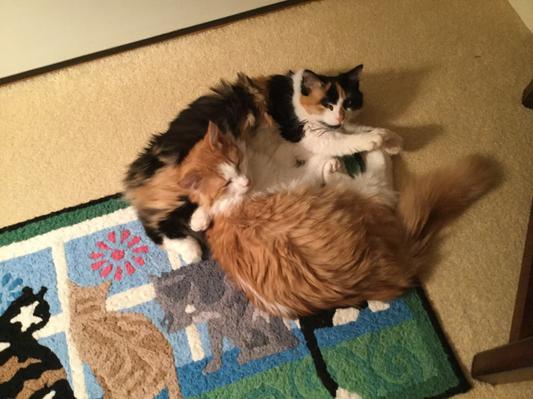 Rated

2

out of

5
 by
CJSummers
Smells nice, does not clump well
While this litter is one of the best smelling I have encountered, its lack of clumping ability and extra time it takes to scoop outweighs any benefits of pleasant smell. Definitely not recommended for multiple cats, as any amount of liquid over an ounce or two will not properly clump and results in a mucky, goopy mess that sticks to the scoop and takes much longer to clean. With the inexpensive price I had to give it a shot, but I'll be going back to fresh step for my next purchase.
November 26, 2016
Rated

5

out of

5
 by
IstandwithStandingRock
I love this cat litter
This cat litter is awsome! It takes away any smells.
December 1, 2016
Rated

5

out of

5
 by
nickname
cat litter
I could not find a store that could come close to the sale price on this brand along with free shipping
November 18, 2016
Rated

5

out of

5
 by
Catsmom23
Great for multi-cat households!
We have 5 indoor cats that share 5 litter boxes. Works great on the odors!
November 16, 2016