Bergan Turbo Scratcher Cat Toy (Color Varies)
Was:

$14.99

Price:

$11.67 FREE 1-2 Day Shipping over $49

You Save:

$3.32 (22%)
Description
The famous Turbo Scratcher cat toy offers hours of fun and exercise for your cat while reducing potential furniture damage from scratching. Catnip and ball included. Scratch pad is replaceable. It's the most YouTube'd cat toy - check it out for yourself!
Key Benefits
Keeps cat entertained to decrease unwanted scratching or clawing
Ball & catnip included, pads are replaceable
Made from corrugated cardboard
Available in blue or pink (colors will vary)
Works with all Original Turbo cat toy accessories from Bergan
For Replacement Scratch Pad: Click Here For Replacement Ball: Click Here
Item Number

64230

Toy Feature

Catnip
Pet lovers also bought...
Customer Reviews
Rated

4.7

out of

5

 by

161

reviewers.
Rated

5

out of

5
 by
Flyinggems
A toy loved by Kitties and Children
I purchased the Bergan Turbo Scratcher Cat Toy because I wanted a toy that my kitten could play with by herself. I knew that she would lose interest overtime so I purchased a few of the add-ons for it. My kitty likes the turbo scratcher. She loves hitting the ball and waiting for it to come back. She also chases the ball and sometimes tries to crawl into the tube. I never see her using the cardboard. I love that she can play with it herself. I purchased the following adds ons for the scratcher. Bergan Turbo Scratcher Cat Grass Bergan Twinkle Ball Cat Toy Bergan Turbo Teaser Cat Toy Bergan Scratcher Treat Ball Cat Toy Bergan Scratcher Cat Grooming Arch We have tried most of them. Some are good others I would pass on. I find the cardboard can be difficult popping in and out. My son loves this toy. There is something about the ball going around and coming back to you. We joke we are going to ask Santa to bring him one.
October 11, 2016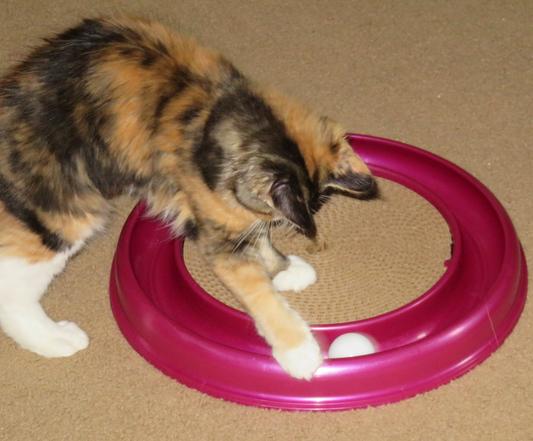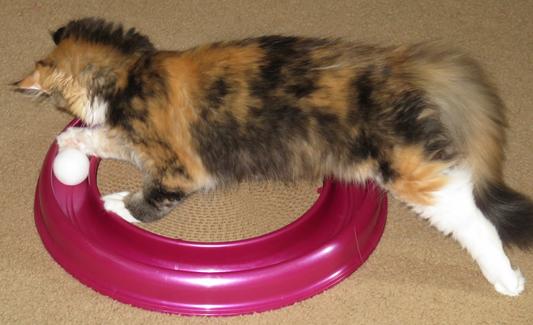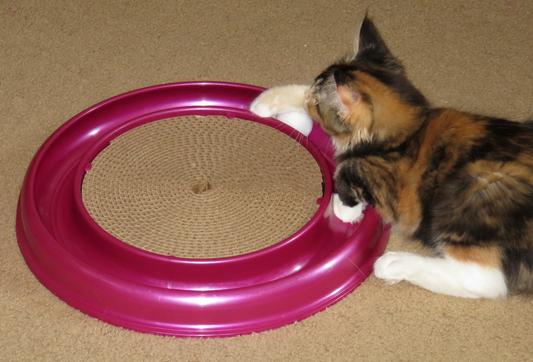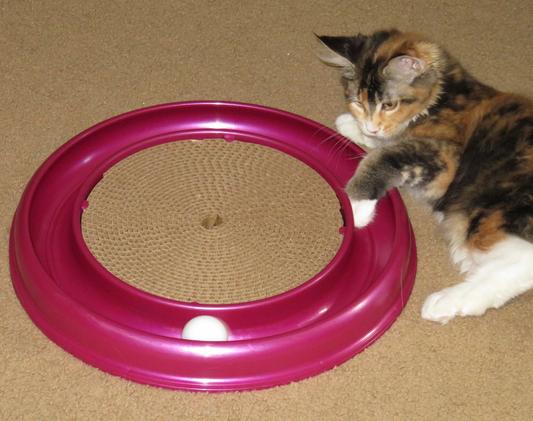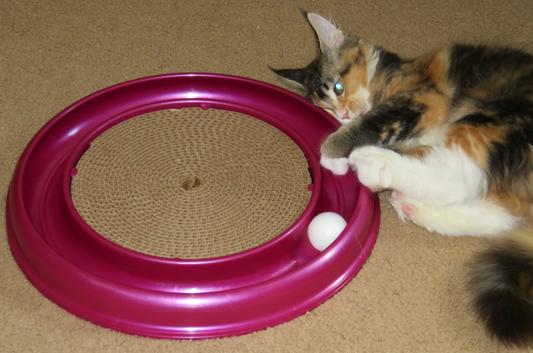 Rated

5

out of

5
 by
CarolB
My cats' favorite!
This toy has become my cats' favorite! I often hear the ball traveling around the track. I love to play with my cats but this gives them a toy to keep them engaged when I am not home or involved in something else. It seems to be very sturdy as well. My cats have tried to get the ball out of the track and they regularly use the scratch pad in the center and so far, there are no signs of wear and tear. An excellent purchase!
January 14, 2017
Rated

5

out of

5
 by
KayB
Fun, Fun, and more Fun!
Our young feral rescue cat loves this toy. Good exercise toy for a cat. She loves it!
January 17, 2017
Rated

5

out of

5
 by
Juno
does the job
great toy. cat loves it. There is a minimum amount of text to type so i have to keep putting in words. But honestly, I'm not sure what else to say. It's a solid toy. The ball spins around the thingy and the cat relentlessly pursues and runs from this white ball of mystery until he see a piece of lint a few feet away and then inspects it cautiously before going to smell the soil in the potted plant by the front door. He's got a routine.
January 11, 2017
Rated

4

out of

5
 by
MBAL
My cat LOVES this thing
I was a little hesitant to get this for my cat because so far he's been really picky about toys. I had a coupon for Chewy and decided to give it a try. Turns out that was a great decision because my cat LOVES it! Great for independent playtime and scratching. Put the catnip in the cardboard scratching space and he goes over to is to scratch and play all the time. The only reason I don't give it 5 stars is because I wish it would stay in place better. My cat takes it all the way across the room and sometimes gets it half way stuck under the couch or table and it's hard for him to get it unstuck if I'm not home. If your cat likes chasing things this is a great toy to keep them entertained and get their daily playtime!
December 20, 2016
Rated

5

out of

5
 by
Elizabeth
Favorite
I had my doubts, but this is their favorite. Will get more!
January 9, 2017
Rated

5

out of

5
 by
Lin50
My cat loves the product!
My cat, Barfield, is a year old. He loves this toy!
January 4, 2017
Rated

5

out of

5
 by
Gapmomma
It has addictive qualities!!!!
I have enjoyed watching my cats play with this almost as much as they've enjoyed ACTUALLY playing with it!!! I get so excited when they start to play with it.
January 1, 2017