Was:

$49.99

Price:

$34.25 FREE 1-2 Day Shipping over $49

You Save:

$15.74 (31%)
Description
Your pet's health and vitality require adequate water consumption. The carefully developed, unique design is exceptionally quiet in operation and maximizes the appeal of drinking by providing multi-height drinking levels with plenty of water movement to ensure naturally oxygenated, cool water throughout the day. The pet fountain features easy to clean, dishwasher-proof bowls and is fitted with a polymer-carbon filter cartridge for added water purification. Suitable for cats and small dogs. Water capacity: 70 fl oz (2 Liters).
Key Benefits
Multi-height drinking stations great for different sized cats. The ramp helps to reduce water splashing and getting over the floor.
I.P.S. (Isolated Pump System) makes for super-quiet operation and low voltage power supply with 10' lead length makes placement easy regardless of where power is located.
Polymer-carbon filter for water purification with replacement cartridges available.
Easy to clean, dishwasher-proof bowls help save time during routine cleanings.
Vet-recommended for health and vitality.
For Replacement Filters: Click here
Item Number

75264

Brand

Ani Mate

Material

Plastic
Pet lovers also bought...
Customer Reviews
Rated

4.6

out of

5

 by

63

reviewers.
Rated

5

out of

5
 by
AuntSoo
My cat loves the multi levels of waterfalls and the quietness of the unit.
I ordered the Cat Mate Fountain after returning one from another vendor because it was too noisy. This one was just right. You hardly know that the unit is on. My cat drinks more water now because she can! Before she only drank from a dripping faucet when I was around to turn it on for her. What a waste of water and time. She's now a happy camper.
January 13, 2017
Rated

5

out of

5
 by
Pkat
Our cats love to drink out of the two top bowls
Our two cats are approaching their elder years (12years). Our vet encourages us to ensure they drink plenty of fresh water for their health. I decided to try this drink fountain. Our cats are now drinking at least 3 times as much water as they were from a bowl on the floor. I think the sound of running water and elevated drinking area make a big difference. We purchased a second fountain as a backup so if the current one quits working the cats will still have a fountain. We also purchased the filters from Chewy at an unbeatable price from the competors.
December 30, 2016
Rated

5

out of

5
 by
kaka
cats and dogs love it
我家的猫猫和狗狗都超爱,一直去喝水,十分享受,就是狗狗尿尿的频率增加了,幸好都在pad上~就是我家的猫猫长毛,每次喝到自己胸上的毛都湿了= =
January 9, 2017
Rated

5

out of

5
 by
Jillmc
Great cat fountain
This was a present to my sister's cat for Christmas. She says that he loves it!
January 3, 2017
Rated

5

out of

5
 by
CAROL
Wonderful water fountain for my cat.
Product arrived next day. Excellent shipping. You have the best rate around.
January 5, 2017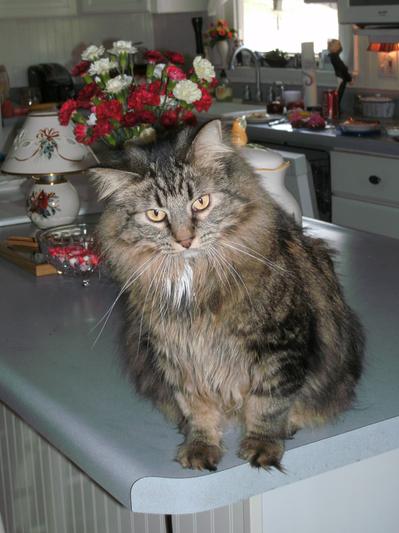 Rated

1

out of

5
 by
Bob71
cracked
This product was cracked when I received it. The plastic is very thin where the bowl holds the water. I'll try taping it using water proof tape, or find another fountain that's of thicker construction.
December 26, 2016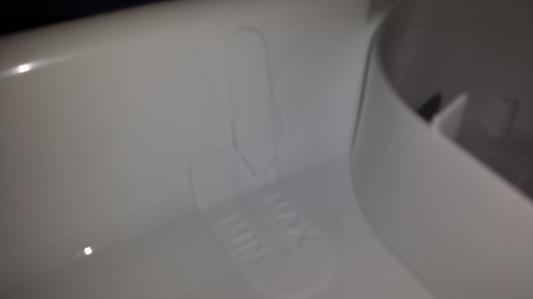 Rated

3

out of

5
 by
allyjo
one cat ruined it for everyone :)
I wish I could recommend this product. I bought it to replace a Pet Mate fountain that I've had for well over 15 years!! [The motor is just starting to go now...impressive workmanship!] I really wanted this new one to work out because I have several cats, forevers and fosters, of various sizes and ages. I was drawn to the multiple bowl heights, as were all of my cats, who immediately utilized the various drinking options. What I didn't count on was that one of the young cats thinks the entire bowl is his toy. He instantly figured out how to remove the top piece, flipping water all over the floor. He then proceeded to drag the bottom piece around by the cord, splashing even more water around. I put it back together several times, placing rags underneath and wedging furniture around it to hold it in place. No dice. That was just more of a challenge for my little destructo cat...a challenge that he quite enjoyed! I even tried leaving the top off, to see if I could make it less attractive as a play thing. He simply pulled the filter out and began chewing on it, before resuming the dragging action. Alas, I will have to start over with another bowl that is, I hope, less easy to dismantle. Thankfully, Chewy is the best when it comes to returns! They instantly refunded my money and told me to donate the Cat Mate Pet Fountain to a shelter.
December 2, 2016
Rated

5

out of

5
 by
Lilbritt291
Love it!
It's super easy to setup you can't hear it when it's on and my cat loves it! He drinks a lot more than he used too! Great product!
November 26, 2016