Dogit Go Slow Anti-Gulping Dog Bowl, Pink
List Price:

$10.09

Price:

$6.99 FREE 1-2 Day Shipping over $49

You Save:

$3.10 (31%)
Description
Some pups and cats gulp food and water so fast you pet parents can't even remember if they fed them. But when they do, they take in too much air, making their digestive system work overtime and giving them a bloated belly. The Dogit Pink Go Slow Anti-Gulping Dog Bowl has multiple ridges and bumpers that prevent pets from consuming too much too fast.
Key Benefits
Encourages pet to eat or drink at a slower pace preventing indigestion, vomiting and bloating
Can be used to feed water, wet or dry food
Bowl is dishwasher safe for easy clean up
Available in multiple sizes for any size dog
Great solution for dogs who eat and drink too quickly
Item Number

65609

Bowl Feature

Portion Control

Brand

Hagen

Breed Size

Small

Material

Plastic
Instructions
Hand wash with mild sop and water.
Size
| Size | Capacity |
| --- | --- |
| X-Small | 4.7 ounces |
| Small | 10.1 ounces |
| Medium | 20.2 ounces |
| Large | 40.5 ounces |
Pet lovers also bought...
Customer Reviews
Rated

4.6

out of

5

 by

63

reviewers.
Rated

5

out of

5
 by
Scandee
No Inhaling!
My porky yorkie inhales her food in seconds at mealtime! This bowl does slow her down--Enough for me to notice! I bought the tiny one, so when I do prepare her food, its a little tight for my fingers to mix the food around. I don't put it in the microwave, and I always hand wash it. Glad I have it ;)
January 12, 2017
Rated

5

out of

5
 by
Connie
This really works. Wish I had seen this sooner!
The design works perfectly. It allows my 12-year old Jack Russell to actually chew her food. It is not difficult for her to eat from this bowl. There is no more throwing up after eating, no more loud belching as air escapes from her stomach. The bowl was inexpensive, it is sturdy, and I toss it in the dishwasher to clean it. Best thing I've seen for addressing the issue of gulping a feeding in 10 seconds flat. Also, this was my first purchase from Chewy, and I was impressed with the speed of delivery.
December 30, 2016
Rated

4

out of

5
 by
Mary
It helped to slow my puppy's eating.
It really works. I purchased the product because my son's two rescue dogs were using this type of dog dish.
December 27, 2016
Rated

5

out of

5
 by
Lucy
This bowel is great!!
This is a great bowl my dog loves it and it's great for her digestion
December 18, 2016
Rated

5

out of

5
 by
Jen104
Bowl is helping my Shih Tzu (from gulping)
My shih Tzu gulps her food which causes choking episodes and bloating -which can be very traumatic at times. I ordered this bowl in size small and it's made a HUGE difference. She's not choking on her food anymore. I can't believe something so simple has made such a big difference. I recommend this product if you have a dog that gulps or eats to fast.
November 1, 2016
Rated

4

out of

5
 by
dogluver180
Good for the Price
I ordered this bowl in a size Small for a 35 pound Springer Spaniel. The size works for her, but if your dog is any bigger than she is then you'll probably need a larger size. The color is a slightly unattractive lavender, not pink, but she doesn't care. :-) Overall, it keeps her from eating too fast and you can't beat the price. I'm satisfied with it.
October 6, 2016
Rated

5

out of

5
 by
puglvr
I'm glad I bought it. It really helps.
My Pug is fed twice a day and she inhales most of her kibble, instead of chewing it. About a month ago, she choked because she had a bunch of kibble stuck in her throat. She couldn't breathe. I had to fish out the kibble so she could breathe again. I knew then, that it was time to do something more than just monitor her while she's eating. We started hand-feeding her. But I couldn't depend on her sitter to do the same when we go out of town. I told a colleague about what happened and she recommended this bowl. I had seen bowls like this before and thought that it wouldn't work for a flat-nosed dog. ...I figured that she wouldn't be able to get all of the kibble out of the bowl with the obstructions. But, I took a chance and bought it, and it really helps. I think she still doesn't chew most of her food, but she can't get as many kibbles in her mouth at one time with this bowl. Which is great. We have always monitored her when she's eating and we will continue to do so, because it's the right thing to do. But I have more peace of mind with this bowl now.
July 31, 2013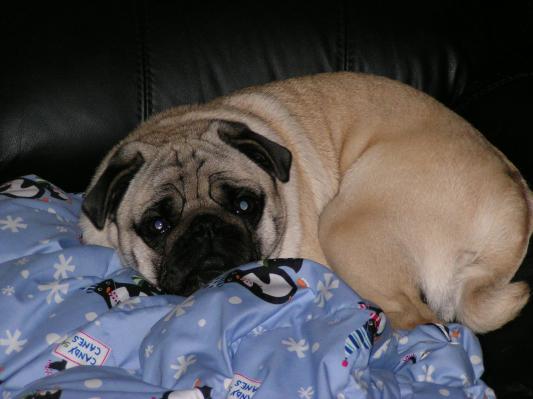 Rated

4

out of

5
 by
Momof4
Dog bowl
Great for my dog Ruby. No more gulping her food down. Easy feeder definitely. I wish the bowl came in the color of red. Rubycis a Jack Russell and red looks good on her.
September 22, 2016