Dr. Elsey's Precious Cat Long Hair Litter, 8-lb container
Was:

$17.99

Price:

$9.16 FREE 1-2 Day Shipping over $49

You Save:

$8.83 (49%)
Description
Dr. Elsey's Precious Cat Long Haired Litter is safe and healthy for your cat. It is an amorphous silica gel infused with hydrolyzed herbs to draw cats to the litter box. Long Haired Litter traps urine and odor on contact and has the right particle size that long haired cats prefer. It will not adhere to the cat's long fur and it will not color the coat. Each jug contains a free Litter Box Solutions Booklet.
Key Benefits
Silica gel litter infused with hydrolyzed herbs draws cats to the litter box
Particle size long haired cats prefer, won't adhere to or color kitty's coat
Traps urine and odor on contact
Biodegradable, hypo-allergenic and non-toxic
Easy to scoop, low tracking formula
Cautions
Always wash your hands thoroughly after waste removal. A parasite sometimes found in cat feces can cause toxoplasmosis. Please do not flush cat litter in toilets or dispose of it outdoors in gutters or storm drains.

Transition Instructions
Pour Precious Cat into a clean litter box, using half as much as you would with a clay based litter. Top off the Precious Cat with the litter you are using now, mixing as you add.
Give your cat time to get used to the crystal texture.
Once your cat is used to the crystal texture (about one week), empty the litter box completely into the trash, and refill with Precious Cat.
Item Number

47186

Weight

8.0 pounds

Brand

Precious Cat

Litter & Bedding Type

Crystal

Litter Feature

Clumping, Odor Control, Biodegradable, Unscented
Instructions
Pour one inch of Precious Cat into a clean litter box.
Remove solid waste daily and rake crystals to ensure freshness. Litter does not form scoopable clumps.
A single litter box filled with Precious Cat can handle multiple cats but we recommend using more than one litter box if you have more than one cat.
Crystals may become discolored. The color does not affect the performance. One application will typically last two weeks depending upon use. After two weeks, completely dump the contents of the box and wash with mild soap and hot water.
Refill with one inch of Precious Cat.
Pet lovers also bought...
Customer Reviews
Rated

4.5

out of

5

 by

46

reviewers.
Rated

5

out of

5
 by
Becca14
Our Cat Loves This Litter!
We have a long haired cat and four with short hair. Our cat with long hair likes to go outside of the box at times. We were at about 99% avoidance of the box and we knew our cat had no medical issues since we had that checked out, too. We had several other types of litter in the different litter boxes we have and still he was not compliant or consistent in using the box. This litter has been a hit with him almost all of the time now. He still lets us know when he is unhappy about something, but he is much more consistent in using the box instead of the carpet. I highly recommend giving this litter a try. It's great at absorbing urine and you just have to scoop out the solids. All of our cats love it, so even the short hairs give it an excellent rating.
January 19, 2017
Rated

5

out of

5
 by
pink13
Great litter!
I love this litter! All you do is stir the litter around everyday and scoop out the poop. There is no smell at all and my cats like it.
January 17, 2017
Rated

5

out of

5
 by
pegleg2
great consistancy
Was impressed with this product as i have a long haired feline and he tracks regular litter everywhere.
January 13, 2017
Rated

5

out of

5
 by
alisa
Bless you Dr Elsey! This litter is amazing!
Dr Elsey's cat litters are seriously the best! He's a veterinarian who's a bit of an oddball in my opinion, but clearly very dedicated to cats. He researched various textures, granule size, and other aspects of litter composition (now you know why I said he's a bit of an oddball). Then he developed this unique litter. And there is nothing else like it. It's awesome! I say his litters are the "best" because the promise he makes is actually true! (I had been skeptical, but was desperate to find something that would help.) He says "cats will use it first time, every time". My cat who routinely pooped in various spots in the house, stopped the minute I put this litter in her box. I was incredulous. And all but ecstatic. She never went outside a box again. Ever. This stuff has no smell that I can detect but apparently there's something in it that cats can smell that attracts them to use it (along with the texture). That being said, it also somehow covers up litter box odors so it's not obvious to company that I own cats, even though the litter boxes are on the main floor of the house. This crystal kind is more like little pebbles, no sharp edges. And you really only need about 2 inches of it in the box. It does not clump which I find a plus. The urine gets absorbed into the crystals. Since I've used Dr Elsey's exclusively I've never had a cat go outside one of the litter boxes. I also buy Dr Elsey's regular litter that's in another box near this pebbled kind. Both of my cats use both kinds, but my long-haired one seems to prefer this. Possibly because the pebbles are less likely to get stuck in the very long fur that's between her toes? Or it drops off her very very furry bum faster than the other? I don't know and I don't care. I'm just happy that since I've used Dr Elsey's litters exclusively for years now, I've never found any "surprises" on the carpet. Well, except for the occasional hairball.
January 1, 2017
Rated

5

out of

5
 by
Lynne74
excellent product
Excellent product, easy to clean. Doesn't stick to their fur. Highly recommend. Watch for sales.
December 31, 2016
Rated

5

out of

5
 by
EC53
Great Kitty Litter for Long Haired Cats!
My cat looks like the Fancy Feast Cat, so I need a litter that doesn't track or stick to her. She's also a large cat and one of the reasons this litter is so wonderful is because it lasts for a few months. As long as you remove waste daily, you can get at least 2 months out of it and often 3. It doesn't track all over the house and it covers any smell really well. Will not buy anything else!
December 2, 2016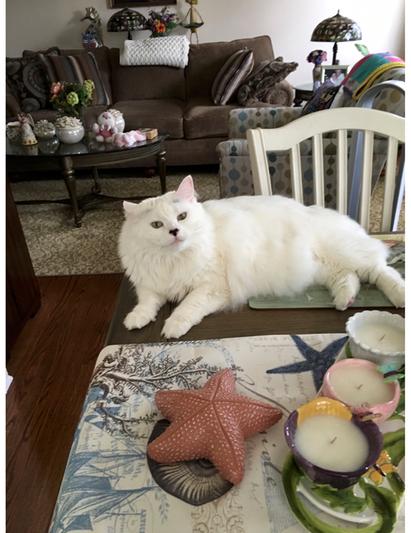 Rated

5

out of

5
 by
newlissa24
EXCELLENT!
I have used this letter for over 15 years and love it. I was MOST happy to find it cheaper that what I had been paying and delivery was super fast!
December 3, 2016
Rated

5

out of

5
 by
Kody
Best Litter for long hair cats.
Some local stores [Petco, Petsmart] no longer carry it. Cheaper/easier and just as quick to buy thru Chewy.com So pleased we found Chewy.
November 23, 2016