Four Paws Super Catnip 21" Tall Carpet & Sisal Scratching Post
Was:

$20.93

Price:

$16.99 FREE 1-2 Day Shipping over $49

You Save:

$3.94 (19%)
Description
If you had four paws and liked to purr you'd agree there's not many things better than a sisal and carpet scratching post… unless it's a sisal and carpet scratching post with a catnip-filled ball on a string! The Four Paws Super Catnip 21" Tall Carpet & Sisal Scratching Post gives cats their two favorite surfaces to scratch and has a tethered plush ball infused with catnip to keep cats entertained battin' and scratchin' all day long.
Key Benefits
Sturdy base
Multiple scratching surface keeps cats entertained
Helps protect furniture from scratching cats
Catnip-infused ball perfect for batting around
Made of carpet and sisal for more surfaces a cat can enjoy
Item Number

67213

Toy Feature

Catnip
Pet lovers also bought...
Customer Reviews
Rated

3.9

out of

5

 by

63

reviewers.
Rated

4

out of

5
 by
Kitty
My cats use it!
My youngest cat uses it the most, ripped the ball off the first night but I expected that , they destroy all there toys. I put a little catnip on the base when I got it to make sure all 3 cats were interested and now they all use it. I think I need 2 more!
October 22, 2016
Rated

3

out of

5
 by
JustDeb
Good for Kittens
I have a rambunctious 3 year old, who loves this toy. But, it's not really big enough for a full grown cat. He's also too rough when he plays with it. It took him 3 days to completely destroy it. :-) I said I would recommend this item, but only for kittens. :-)
October 3, 2016
Rated

5

out of

5
 by
SKLEE
Great quality and easy to assemble
This was ready for my cat in minutes and a good sturdy product.
October 11, 2016
Rated

5

out of

5
 by
Capeecat
Great scratching post
I put on the floor and the kitties were all over it. The has become their favorite pastime.Made well and the price is excellent.
September 30, 2016
Rated

5

out of

5
 by
Binx
My cat loves it
My cat loves this post. It is sturdy and decent in size. Excellent value.
September 27, 2016
Rated

2

out of

5
 by
Hank
Scratch
Needs more catnip My 3cats don't use it They look at it but don't use it
September 26, 2016
Rated

5

out of

5
 by
really
Cat loves it
My cat LOVES to scratch on this post. I thought it might be a little short, but no. She likes the sisal at the top especially. She also plays with the fur ball attached to the elastic band. When she releases it, it snaps around and she chases it. I plan to buy another one to keep on hand in case they ever quit making this. It is a great value for the money. One minor detail could be improved: the stand is a little small, so she does knock it over occasionally. No sweat, however, because she still attacks it on the floor until I set it back up!
August 16, 2016
Rated

4

out of

5
 by
Jlg44
Great Post, not so great ball
The post has held up well the past month of use but the ball was torn off of the top within hours. I have two male cats who love to scratch and the post is doing great especially for its price.
September 9, 2016
Rated

1

out of

5
 by
Lisa
Poor quality
This post is light and falls over easily. The ball fell off one immediately and the other a week later. The material is a plastic that shreds and comes off in strips so I worry the kittens will eat it. Overall poor quality and I worry about shredded pieces being eaten. Am getting rid of both posts-
September 9, 2016
Rated

5

out of

5
 by
Dawn77
This product is cat approved!!
My kitties were trying to play with it before it was out of the box and have been enjoying every day since. I recommend it to all kitty parents!!
August 19, 2016
Rated

4

out of

5
 by
pandapiggs
Great overall
Its a great scratching post on its own without the ball. My kitten tore the ball off the next day because it was infused with catnip. It definitely drives cats crazy. Now my kitten just uses the ball as a separate toy
August 14, 2016
Rated

3

out of

5
 by
Thelpbc
Great concept but poorly made
Great concept but poorly made, started falling apart the second day.
July 7, 2016
Rated

4

out of

5
 by
CatMomma
My 3 cats love it!!
This is a great cat scratcher. All 3 cats love and use it constantly. There are a couple of minor things otherwise I would have given it 5 stars. One, it falls over easily. My cats are Maine Coon size and knock it down a lot which defeats the claim that it is set at the right height for them. Two, the base attachment is flimsy. Just one washer between the square base (which is just folded particle board covered in carpet) and the post. You can't tighten it down securely so the posts spin around on the base. My cats play with it a lot however, and they are spoiled kitties with many toys and scratchers to choose from.
April 8, 2016
Rated

4

out of

5
 by
fran
Not bad for the price
This product is about what I expected. It's very inexpensive and you definitely get what you pay for. It's quick and easy to set up, but is a little crooked and frayed (not that it matters because the little ones will have their way with it anyway!) however, if you are looking for something attractive, this isn't it. I was disappointed that my cat ripped the ball off within the first 12 hours of having access to it. That seems to be a common problem with this style of scratchers/toys which is unfortunate because that is her favorite part. All in all happy with the product - cats love it so that's all that matters.
March 18, 2016
Rated

4

out of

5
 by
Cadak
They love it!
Before I could get it out of the packaging and put together my Blue Russian was playing with it.
July 2, 2016
Rated

1

out of

5
 by
BBAD
get what you pay for
I got this for my tiny (less than 2 lbs) foster kittens. In about 10 minutes it started to come apart and they were eating rope and carpet. When I opened the package I could see how cheap it was as there wasn't enough rope to even cover the cardboard on that section of the post.
June 17, 2016
Rated

5

out of

5
 by
wendy
cute scratching post
easy to put together. has a little bit of everything, .rug, sissal and a ball on top. cat loves it.
May 30, 2016
Rated

5

out of

5
 by
deejay
Awesome scratching post at terrific price!
At the price offered, I was able to place these scratching posts all over the house! It is so much easier training the cats to scratch the right things when they are placed next to upholstered furniture in each room.
May 18, 2016
Rated

5

out of

5
 by
Frankie
Sheamus loves it!!
My large orange tabby Sheamus plays with the Four Paws Super Catnip 21" Tall Carpet & Sisal Scratching Post a lot. Our kitten Loki like it too. but Sheamus loves it. If your cat like cat nip he/she will like this scratching post!
April 4, 2016
Rated

5

out of

5
 by
Amkcofcsc
Awesome
My cats are obsessed. They pulled the cat nip ball off fairly quickly, but now they have two toys. Even with multiple young cats, this thing is holding up pretty well! Will be getting another when they tear it up!
April 2, 2016
Rated

5

out of

5
 by
kjinaz
My cat loves this!
Very simple to put together. I love the catnip ball that comes with it. Very simple to teach my cat to use this instead of my furniture. Great value too.
March 28, 2016
Rated

5

out of

5
 by
pattyp66
tall carpet and sisal catscratcher post
good base 3 cats love it even though they tore the ball off in 10 minutes flat. weak string.
March 17, 2016
Rated

2

out of

5
 by
Trudy
Im Regretting this purchase!
The Post is too tall,wasn't expecting that! Didn't like carpet on bottom of post,top part made of sisal is very thin! It claims to have sturdy base, but it tipped over on my kitty every time he tried to use! I removed base and used an old base from a used up post and NOW it is sturdy! Too many things wrong with this post to recommend buying
January 5, 2016
Rated

4

out of

5
 by
JaneNYC
Cat Loves It!
Easy to assemble. Good size for small apt. The cat started using it right way and seems to love it. He also uses to take out his aggression. Nice bonus.
February 21, 2016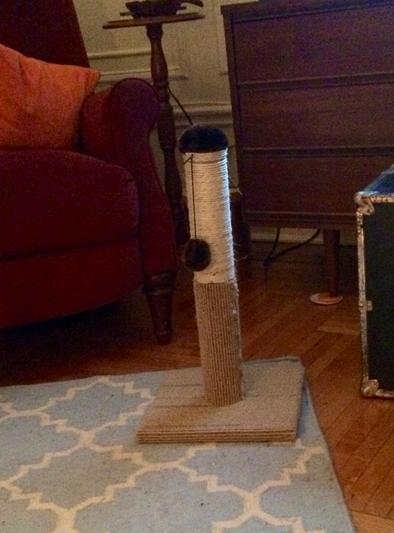 Rated

3

out of

5
 by
photogal
base isn't stable
my cats like this - the ball attracts them, but I had to put weights on the base or it fell over when they used it - they are small - 9 months.
January 20, 2016
Rated

3

out of

5
 by
lovemyanimals
All around scratch pole
My older cats love to hang around it for sure there was a fuzzy ball l attached to the pole till they pulled it off after a few times tugging at it but they have fun with it over all
January 5, 2016
Rated

5

out of

5
 by
Fatcattn
Better than the price
This is a really good value scratching post for the money. Very sturdy and just tall enough. Like the carpeted base so it doesn't scratch the hardwood floors. Easy assembly. I bought one and put it at the corner of a chair that the cats were using as a scratching post. Now they go to it instead. I ordered more so that I can do the same for other furniture corners. I have the most destructive cats on the planet so the fuzzy ball at the top lasts for about 3 minutes, but makes a good, quiet loose toy.
January 6, 2014
Rated

5

out of

5
 by
spider5
my 2 cats love this post.best one I have ever bought for them.
great product,great price and fast shipping.luv chewy.com
January 19, 2016
Rated

1

out of

5
 by
LaurieSue
No good
This product is not worth it, at any cost. Within a couple of days the ball got ripped off and the material around the post is shredding and coming off too. Now I do realize it is a scratching post but the way it is coming apart is beyond wear and tare of kitty use. In order to use it I have to recover it and secure the connections so it doesn't come apart. Doesn't happen too often but this one was bad news.
August 12, 2015
Rated

4

out of

5
 by
April22
Pretty good ...
My Missy loves this new toy. She likes to hang off it and look at me while scratchinig and playing. Really cute. It was easy to put together. The only problem I had with it was Missy pulled the catnip ball toy off that hangs from the post immediately. I had to sew it back on, and she was good to go. One other thing I did different was to put the large washer on the underside of the platform for the pole stability; this kept the platform from folding up.
September 2, 2013