FURminator Long Hair deShedding Edge For Cats
Was:

$36.99

Price:

$16.95 FREE 1-2 Day Shipping over $49

You Save:

$20.04 (54%)
Description
Shedding is a problem most cats face and tends to be heaviest in early Spring and early Fall, but indoor cats often shed year-round. Up to 2/3 of the hair a cat sheds is ingested during self grooming, resulting in hairballs that are messy, stressful to the cat and the cause of potentially serious problems. Every loose hair brushed is one less to swallow.
Key Benefits
Designed for use with coats longer than 2 inches, reduces shedding up to 90%
Stainless steel deShedding edge reaches deep beneath your cat's short topcoat to gently remove undercoat and loose hair, FURejector button cleans and removes loose hair from the tool with ease
Effectively reduces hairballs, keeping your cat healthier and happier, guaranteed to reduce shedding better than any brush, rake or comb
Recommended by veterinarians to help prevent dangerous hairballs from developing
Patented technologies, designed by a groomer for professional results
For FURminator Vacuum Accessory:Â Click here
Instructions
Small: 1.75 inches, for long hair cats up to 10 lbs.
Large: 2.65 inches, for long hair cats over 10 lbs.
Pet lovers also bought...
Customer Reviews
Rated

4.6

out of

5

 by

97

reviewers.
Rated

4

out of

5
 by
Deborose
Good tool for long-haired cat
The furminator combs out a large quantity of fur from all layers of my (part) Maine Coon girl's coat. And she loves being combed! My only quibbles -- though I chose the smaller furminator (given my cat's weight), the comb does not hold that much fur so has to be emptied frequently (which is easy enough to do with the ejector button). And during these winter months of dry air, her coat is static-ky - the furs end up sometimes flying back from the comb to her fur (and are a bit difficult to gather from the comb). (Wetting the comb seems to help.) But a good tool overall.
January 5, 2017
Rated

5

out of

5
 by
Rikka
I wish I knew about these sooner
I was searching for a brush or tool that would thin my cats hair because it was getting mats. The FURminator kept coming up but from it's name I thought it was going to be like the Flobie and you would have to connect a vacuum to it so I kept ignoring the sites. I finally clicked on one and watched a Youtube video and I couldn't wait to use it on my cats. IT'S AMAZING! The only vacuum you need is to collect the mass amounts of cat hair that the brush takes out.
January 4, 2017
Rated

5

out of

5
 by
Cmkitts
Great
I brush my cat regularly, I couldn't believe how much I wasn't getting with a regular brush. This is a great product.
January 12, 2017
Rated

5

out of

5
 by
Sasha
A MUST HAVE for any cat owner!!!
I have a 6 year old 12 lb American shorthair and I usually comb her fur with a typical fine toothed flee/tick comb and it works pretty well. I actually saw a TV show where a vet said that in order to keep your cat's skin disease free (sorry not good with medical terminology XD) this is a must have and it surpasses the quality of any typical comb. So I searched it up on Chewy and saw great reviews, but the price seemed a bit too high for a comb. I checked my local pet store and it was like $10 more there! I also checked video reviews and this product really removes A LOT of fur, ofc it's the fur your cat would have shed eventually anyway. After a long time debating the cost versus the value, I got the long hair comb and it works WONDERS. My cat doesn't like getting brushed so it did take me a few days to really remove most of the fur that would come off but honestly this is a great investment for all cat owners. Her fur is super soft now, I took her in from the streets so her fur has literally never been this smooth and shiny and healthy looking! She looks a lot slimmer and her fur looks so much healthier, so I really do suggest you get this because it is an amazing product and you CANNOT beat Chewys price!!!
November 10, 2016
Rated

5

out of

5
 by
Opus
Amazing results.
The mats came out of my long haired cat with little effort. He loves it and so do I.
December 15, 2016
Rated

5

out of

5
 by
MarnieZR
Excellent Product
I took in 3 feral cats 5 years ago. The male is a short hair and the other two sisters are long. I bought this product for short and long hair. I comb my cats everyday. In fact, they look forward to it. Yet, I was still pulling hair off my carpets and furniture. My one girl gets mats every spring. We usually have to cut them out carefully cause she doesn't tolerate it well- she still is a little feral. Since I bought these furminators, I have no issues with mats or hair in the house. My cats a no hairball issues either. It's amazing! I get tons of hair out of my cats now. All three cats tolerate it well but you need to be more careful and gentle with this product. The teeth are metal and sharp. The brush it self is heavier than most. It doesn't take a lot of effort to remove unwanted hair. After buying mine, I bought one for my mother and not only does she use it on her cats, she uses it on her dog too. I highly recommend this product but you may want to make sure you cats tolerate brushing. It works wonders!
July 26, 2015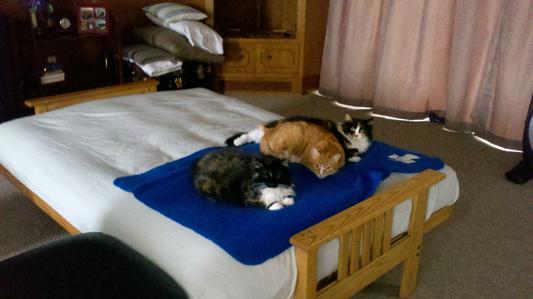 Rated

1

out of

5
 by
95Whoop
Cat HATES it.
I have a very long haired Persian w "cotton candy" textured hair. I bought this hoping to thin out his fluff. It seems like it literally rips his hair out. He instantly becomes agitated and won't tolerate it more than a minute or two. Gets a small amount of undercoat out but nothing worth noting. Have a ShedMonster that is far superior to this product. Would return the Furminator if I could.
November 25, 2016
Rated

5

out of

5
 by
Jewely
I love the Furminator and my cats do too!
I have three cats and a brush just doesn't do the job. I'm always cleaning up cat hair off chairs and carpet. I bought this and my cats look so much better and love it when I use it. It gets down to the skin and they don't ingest as much fur. I even used it to pick up the fur on the chair after grooming them. It works way better and quicker than any rollers I have bought for cat hair on furniture or my vacuum. This was an unexpected bonus. So glad I bought this product!
November 16, 2016