Hill's Prescription Diet c/d Multicare Urinary Care with Chicken Canned Cat Food, 5.5-oz, case of 24
List Price:

$55.79

Price:

$46.49 FREE 1-2 Day Shipping over $49

You Save:

$9.30 (17%)
Description
A healthy bladder starts with the right balance of vital nutrients. Excess minerals can encourage the formation of crystals in the urine, which may lead to the creation of bladder stones. They can cause discomfort and lead to more serious problems that require the care of a veterinarian. Hill's nutritionists & veterinarians developed Prescription Diet c/d Multicare clinical nutrition specially formulated to support your cat's urinary health. In fact, c/d Multicare is clinically tested nutrition to lower the recurrence of most common urinary signs by 89%.
Key Benefits
Clinical nutrition specially formulated to support your cat's urinary health and lower the recurrence of most common urinary signs by 89%
This irresistible food makes it easier for you to bond with your pet with a gently cooked, easy to eat pate and natural ingredients with added vitamins and minerals
Dissolves struvite stones in as little as 7 days (average 27 days) and reduces the risk of struvite & calcium oxalate stones
Promotes desirable urine pH levels and has controlled levels of magnesium, calcium, & phosphorus
Enriched with antioxidants, potassium citrate & Omega-3 fatty acids and recommended for lifelong feeding of adult cats
Special Note
Hill's Prescription Diets require a veterinary prescription. This product will not be shipped until a copy of a valid prescription authorization is faxed to 1-800-619-7973 or e-mailed to rx@chewy.com.
Item Number

69865

Food Texture

Pate

Brand

Hill's

Food Form

Wet Food

Lifestage

Adult

Made in

United States

Special Diet

Prescription Food
Nutritional Info
Ingredients
Pork By-Products, Water, Pork Liver, Chicken, Rice, Corn Starch, Oat Fiber, Chicken Fat, Fish Meal, Corn Gluten Meal, Chicken Liver Flavor, Calcium Sulfate, Guar Gum, Fish Oil, Brewers Dried Yeast, Dextrose, Dl-Methionine, Choline Chloride, Vitamins (Vitamin E Supplement, Thiamine Mononitrate, Pyridoxine Hydrochloride, Niacin Supplement, Calcium Pantothenate, Vitamin B12 Supplement, Riboflavin Supplement, Biotin, Folic Acid, Vitamin D3 Supplement), Potassium Chloride, Taurine, Cysteine, Dried Egg Yolk, Minerals (Zinc Oxide, Ferrous Sulfate, Manganous Oxide, Calcium Iodate), Glycine, Iodized Salt, Potassium Citrate, Calcium Carbonate, Beta-Carotene.
Caloric Content
163 kcal/5.5 oz can
| Guaranteed Analysis | |
| --- | --- |
| Crude Protein | 8.5% min |
| Crude Fat | 3.5% min |
| Crude Fiber | 1.0% max |
Feeding Instructions
Adjust feeding amounts as necessary to maintain optimal weight. If you are unsure, ask your veterinarian. For best results & safety practices: Cover and refrigerate unused portion. Gradually transition to your pets new food over a 7 day period. Exclusively feed the recommended Prescription Diet dry food, wet food and treats. Keep fresh water available at all times. Have your veterinarian monitor your pets condition.
Transition Instructions
A gradual transition to a new pet food is important to avoid digestive upset. To transition, mix your pet's current food with the new food. Over 7 days, gradually decrease the amount of the current pet food while increasing the amount of new pet food. In some cases, your veterinarian may recommend no transition or a shorter transition time.
Pet lovers also bought...
Customer Reviews
Rated

4.7

out of

5

 by

232

reviewers.
Rated

5

out of

5
 by
grandma3
This product is low in salt. Great for special needs.
Have 3 cats with different needs. This product met all. Low salt for my cat with heart failure and ph effective for my cat with crystals. Thank you.
December 22, 2016
Rated

5

out of

5
 by
beviejo
special diet cat food
love that I can have food delivered to my home dont have to run around and get food also price is great thanks
December 18, 2016
Rated

5

out of

5
 by
Jbug
Convenient
Convenient way to keep special diet for my cat in stock. Veterinary hospital not always open when I want to purchase.
December 17, 2016
Rated

5

out of

5
 by
KKHi
Science Diet C/D
Such a good quality food for a fantastic price. Customer service is second to none.
December 5, 2016
Rated

5

out of

5
 by
Teri9491
just what the Dr. ordered
I prefer the veggies and rice variety, but it is so much more expensive, I decided to try this flavor. Hank likes it just as much as the other flavor, so we are all happy. I am always pleasantly surprised when the order comes so fast.
December 1, 2016
Rated

5

out of

5
 by
Janis
Excellent
Like buying from web. Saved $14 and was delivered in 2 days
December 6, 2016
Rated

5

out of

5
 by
MuffinMom
PH level much improved
Using this food because one of my cats had crystals and very alkaline urine. His urine is much better...more acidic...after a week of using this food...which he likes.
December 1, 2016
Rated

5

out of

5
 by
jake
my daughters cats eat this food and it works great for them
Absolutely love Chewy. Great people. The service is outstanding. And everything they have everything I need for my pets in one spot. One stop shopping.
November 29, 2016
Rated

4

out of

5
 by
FurMom
Contents fine, Packaging not so much
The food itself received a "paws-up" from my cats. Unfortunately, more than half the cans were very badly dented, a store would most likely not sell them in that condition. What was odd was they weren't just on the outer edge of the case (indicating poor handling) but all the way throughout. Makes me wonder if Hills intentionally got rid of them by packaging them in a sealed case that was going to be sold by an online retailer. The Ocean Fish flavor also had beat up cans.
November 7, 2016
Rated

4

out of

5
 by
colormered
She eats it
She's eating it, which is great. Her vet switched her from one brand of prescription food to this one because of her persistent levels of crystals in her urine. He said this brand was better for that problem, but since she hasn't been retested for this yet, I cannot say that it has improved her condition or not. Hence, 4 stars for her eating it and 1 star in abeyance until results.
November 12, 2016
Rated

5

out of

5
 by
CatLover1
Good Stuff
My cats love it. Costs more than their previous food but one of the cats needs it. Not thrilled with the smell, but if the cats love it and eat it then I can put up with it.
November 17, 2016
Rated

5

out of

5
 by
katlover
good product great price
My cat has to have c/d food and eats it no problem. The price is great and its shipped very fast and is automatically delivered so i don't have to worry about running out!
November 9, 2016
Rated

5

out of

5
 by
Jsamp
It worked when nothing else did.
Our little male was ill for nearly a year with FIC. We tried meds, an all wet grain free diet, and various other things to no avail. After one week of this food he has been completely back to himself. We are now in the process of decreasing his meds with the hope of getting him off of them completely soon. Happy cat and very happy owners!
October 28, 2016
Rated

5

out of

5
 by
mirandamae
Helps my kitty and he even likes it!
I was worried when the Vet prescribed this food for my cat with FLUTD. My boys are pretty finicky with their food. It turns out this helped with his condition AND they really enjoy the food. It's pretty stinky, that's my only complaint. But I think that is part of the reason why my cats like it.
October 22, 2016
Rated

5

out of

5
 by
Rocky2016
Customer Service
The turnaround time from when I placed my order is EXCELLENT. This saves me time so that I don't have to run to the vets. I would recommend this website to anyone.
October 25, 2016
Rated

5

out of

5
 by
Catgottago
It works!
We switched to this food as our older male cat had urine that smelled horrible and he started urinating on the dog beds.... well, literally within 2 days of switching to this food, the litter room smells a lot better and he stopped urinating on the dog beds. Great product!
October 20, 2016
Rated

5

out of

5
 by
Mark11
Highly recommend
I have a male cat who is almost 2 years old and developed a serious urinary tract blockage. After all the procedures that were done to clear it up, the vet recommended this food for him. It has been 2 and a half months he has been eating this food and has been doing great.
October 13, 2016
Rated

5

out of

5
 by
Debral
Difficult to find food
Tough to find this food locally in any meaningful quantity. Ordered several cases and chewy shipped same day. A++
October 14, 2016
Rated

5

out of

5
 by
Farris
Prescription Wet Food
Let's just say what a convenience it is to have Chewy to get my products from. Thanks Chewy. Oh and the Prescription Diet CD chicken, my two love it. I also get the same in the dry food. That is all I give them.
October 10, 2016
Rated

5

out of

5
 by
Poodie
Just what my cat needs!
My Socks needs this product on a monthly basis for his urinary tract health. Thanks for providing it on your site and the speedy delivery time you provided!
October 10, 2016
Rated

4

out of

5
 by
Harriet2
Hill's urinary
Following a urethral blockage, my vet recommended that I feed my cat this canned prescription food. The cat accepted the food readily and so far no more crystals in his urine. I give it four stars because the nutritional content could be better.
October 5, 2016
Rated

5

out of

5
 by
LEEEEON
Cat loves this food!
Prices are lower and cat loves both the chickey and ocean fish! It has kept him free of urinary problems and he is one happy kitty!
October 8, 2016
Rated

5

out of

5
 by
Catmom
It's what the vet ordered!
This food is great -- my male cat is almost 14 years old and has been on hills c/d food for two years -- he has not had any urinary tract problems since I switched to this food.
October 4, 2016
Rated

5

out of

5
 by
Oscar1
This product is exactly as detailed.
I was so impressed with the chewy.com experience. The prescription came through right away! I never had to wait.
October 3, 2016
Rated

5

out of

5
 by
Kattie
Great Food
Both of my cats love this food my cat who gets bladder infections in the past is doing well on it
October 2, 2016
Rated

3

out of

5
 by
catchick
Cat doesn't like it
I have 3 cats and the one that should be eating it, won't. It won't go to waste, but probably won't be purchasing again. He seems to prefer the other C/d food with the chunks of meat. Seems like a fine food.
September 28, 2016
Rated

3

out of

5
 by
Medulla
Medicated Food
Well I got to say I only buy this food because it's been now that 2 of my male cats have had crystals in their urine which caused me to take them to the vet and the vet prescribed the food. I prefer to give them the wet kind instead of the kibble since I've read that the soft food is better for their teeth. The reason I am giving 3 stars is because it is not organic foods in it and they only have the meatloaf chicken and the meatloaf fish on the 5.5 size can. Wish they would have more flavors since my cats get bored with the chicken and will not touch the fish. I guess when it comes to peace of mind I rather not loose my cats at a young age and give them this food. It is much cheaper to buy it here at Chewy.com than at the vet's office, since they charge where I live they charge more than $2 per can and doing the math on this site it comes to about $1.60 which is a big difference.
October 17, 2015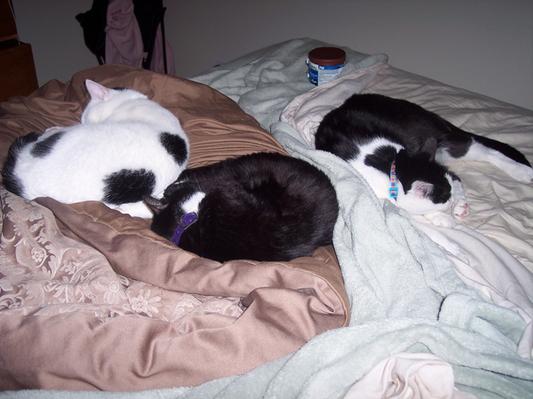 Rated

5

out of

5
 by
4winston7
Love the Chewy.com Convenience
My newest rescue required this product to prevent further problems/surgery. It's not so much the product I want to rave about; it's the Chewy shipping service. It's great to be able to purchase in quantity AND have it shipped to my door at no additional charge. Definitely recommend Chewy.com!
September 7, 2016
Rated

5

out of

5
 by
Mags
Life saver
Our male Maine Coon mix was near death from crystals building in his urethra. He went through a procedure and then the veterinarian prescribed this food. He has been on it for a few years now, and is doing great. A confession, we have other cats and can't keep them away from his food. Believe it or not, two others are experiencing improved health as well beyond urinary health.
August 24, 2016
Rated

5

out of

5
 by
Dsmom
Fat happy cat
Chewy is great for all pets. They have everything I need to keep our pets happy.
September 7, 2016