Hill's Prescription Diet c/d Multicare Urinary Care with Chicken Dry Cat Food
List Price:

$81.59

Price:

$67.99 FREE 1-2 Day Shipping on this item

You Save:

$13.60 (17%)
4-lb bag

8.5-lb bag

17.6-lb bag
Description
A healthy bladder starts with the right balance of vital nutrients. Excess minerals can encourage the formation of crystals in the urine, which may lead to the creation of bladder stones. They can cause discomfort and lead to more serious problems that require the care of a veterinarian. Great tasting Hill's Prescription Diet c/d Multicare dry food was developed by nutritionists and veterinarians to help support your cat's urinary tract health. It contains the right balance of vital nutrients to help improve most lower urinary tract conditions without the need for surgery. This formula can be fed long-term as a way to reduce the recurrence of urinary stones and is ideal for multiple cat households.
Key Benefits
Clinical nutrition specially formulated to support your cat's urinary health while also managing stress
Clinically tested nutrition to lower the recurrence of most common urinary signs by 89% and promote desirable urine pH levels
Dissolves struvite stones in as little as 7 days (Average 27 days) and reduces the risk of struvite & calcium oxalate stones
Controlled levels of magnesium, calcium, & phosphorus and enriched with antioxidants, potassium citrate & Omega-3 fatty acids
Recommended for lifelong feeding of adult cats
Special Note
Hill's Prescription Diets require a veterinary prescription. This product will not be shipped until a copy of a valid prescription authorization is faxed to 1-800-619-7973 or e-mailed to rx@chewy.com.
Item Number

69864

Weight

17.6 pounds

Brand

Hill's

Food Form

Dry Food

Lifestage

Adult

Made in

United States

Special Diet

Prescription Food
Nutritional Info
Ingredients
Chicken, Whole Grain Corn, Corn Gluten Meal, Whole Grain Wheat, Brewers Rice, Pork Fat, Chicken Meal, Egg Product, Pork Flavor, Soybean Oil, Fish Oil, Lactic Acid, L-Lysine, Calcium Sulfate, Potassium Chloride, Choline Chloride, Dl-Methionine, Potassium Citrate, Vitamins (Vitamin E Supplement, Niacin Supplement, Thiamine Mononitrate, Calcium Pantothenate, Pyridoxine Hydrochloride, Vitamin A Supplement, Riboflavin Supplement, Biotin, Vitamin B12 Supplement, Folic Acid, Vitamin D3 Supplement), Taurine, Minerals (Ferrous Sulfate, Zinc Oxide, Copper Sulfate, Manganous Oxide, Calcium Iodate, Sodium Selenite), Iodized Salt, Mixed Tocopherols for Freshness, Natural Flavors, Beta-Carotene.
Caloric Content
349 kcal/cup
| Guaranteed Analysis | |
| --- | --- |
| Crude Protein | 30.0% min |
| Crude Fat | 13.0% min |
| Crude Fiber | 1.6% max |
| Calcium | 0.57% min |
| Calcium | 0.95% max |
| Phosphorus | 0.5% min |
| Phosphorus | 0.9% max |
| Magnesium | 0.04% min |
| Magnesium | 0.09% max |
| Omega 3 Fatty Acids | 0.35% min |
Feeding Instructions
Adjust feeding amounts as necessary to maintain optimal weight. If you are unsure, ask your veterinarian. For best results & safety practices: Gradually transition to your pets new food over a 7 day period. Exclusively feed the recommended Prescription Diet dry food, wet food and treats. Keep fresh water available at all times. Have your veterinarian monitor your pets condition.
Transition Instructions
A gradual transition to a new pet food is important to avoid digestive upset. To transition, mix your pet's current food with the new food. Over 7 days, gradually decrease the amount of the current pet food while increasing the amount of new pet food. In some cases, your veterinarian may recommend no transition or a shorter transition time.
Pet lovers also bought...
Customer Reviews
Rated

4.8

out of

5

 by

545

reviewers.
Rated

5

out of

5
 by
Kelly55
Great product for my senior cat with urine issues. He didn't have any problem changing his diet to this. Love the Velcro resealable bag. Thank you.
Great product for my senior cat with urine issues. He didn't have any problem changing his diet to this. Love the Velcro resealable bag. Thank you.
January 9, 2017
Rated

5

out of

5
 by
Catlady
It worked
My male rag doll had uti, was serious, wait,g this has helped.
January 12, 2017
Rated

4

out of

5
 by
mattygirl
Hill's Prescription Diet C/D
Every time I look @ the ingredients of this food I cringe! The ingredients are not the best. The first 5 ingredients are: chicken (good that's protein), whole grain corn, corn gluten meal, whole grain wheat & Brewer's Rice (blah, blah, blah, blah). Always have been told the first 5 ingredients should be meat. BUT my cat's vet who I love recommended it, as one of my cats started showing signs of the formulation of urinary crystals so I did as suggested. Now all 3 of my cats eat this food. I try to supplement it with a good wet food. None of the above is a reflection on Chewy. In fact, they offer the best price via their "repeat delivery" program. Thanks Chewy!
December 21, 2016
Rated

5

out of

5
 by
Duff
Great buy
Looked online and found this product. I originally purchased a 6.5 pound bag from the veterinarian however I purchase an 8 pound bag online through Chewy. I will let you know if my cat gets a urinary inspection. I haven't opened the bag yet.
January 10, 2017
Rated

5

out of

5
 by
lisemae
great product
hill's prescription C/D is the only thing I've ever used that keeps my female cat's UTI problems at bay. 50% C/D and 50% canned friskies keeps us both happy. if I deviate from this in any way, she WILL develop UTI. so product works great for me, and I can't get it cheaper than at Chewy, delivered in a very timely manner, right to my door. (and first ingredient real chicken!) discovering chewy.com has been a great experience.
January 1, 2017
Rated

5

out of

5
 by
Weeble
Hill's Prescription CD cat food
Have only 1 cat that needs this food but all of them enjoy it. It has helped so much with my babies bladders. I noticed a difference right away for another one of my kitties. The cat that needs this food is still on antibiotics but is on the mend. This food is apart of him feeling better. Thank you!
January 4, 2017
Rated

5

out of

5
 by
BirdiB711
Has been working for my 6yr old for almost a year!
I have 5 cats that I "free feed"..1 has no teeth (she gets mostly canned food) and 1 had a calcium bladder stone so it wouldn't dissolve, ending up in surgery for removal. Since I have so many mouths to feed, Chewy gives me a much more affordable option than buying from the vet's office! PLUS their shipping time is UNBEATABLE! This was my 1st order with them and guaranteed, wont be my last! :)
December 30, 2016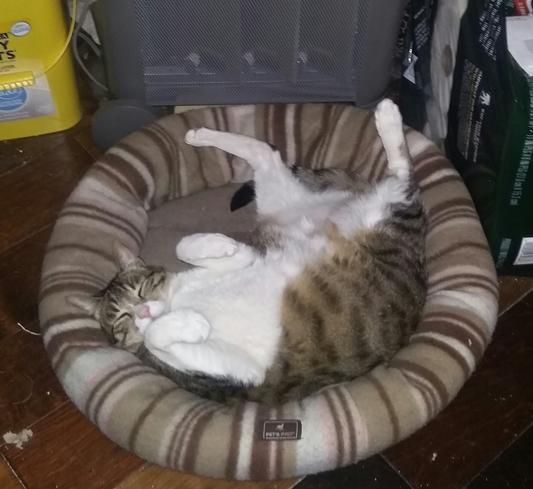 Rated

5

out of

5
 by
luvmypet
great price. fast delivery. great website.
your website is easy to navigate. your price for Hill's Diet. CD is great. i had it the next day! Great service. Most of all Boots stays healthy eating it. Will shop again soon.
January 3, 2017
Rated

5

out of

5
 by
Catlover
Cats like it
I give this to my cats as a snack between meals. They both have urinary and issues so it's nice to know this isn't causing crystal formation!
January 4, 2017
Rated

5

out of

5
 by
lynn54
Since my cats have been eating this product their fur has been softer and they have been sweeter.
Since our cats have been using this product their fur has been softer and their temperment has been sweeter. There have not been any urinary track issues as well! We are very pleased!
January 4, 2017
Rated

5

out of

5
 by
Jena
Cat with bladder stones
our vet didn't want to do surgery on our cat because she believed that the Hills C/D would get rid of them. Sure enough she is back to her old self and it saved her from surgery!
December 31, 2016
Rated

4

out of

5
 by
ChewyGracie
Product excellent
Delivery took a bit longer than expected .. product received in excellent condition
January 2, 2017
Rated

4

out of

5
 by
Zenzuki
Not impressed with ingredients, but cats love it.
I've got sample of Hill's Urinary Care from vet office when I took Zen, a neutered male cat to see the vet as I suspected urethra obstruction. Bladder ultrasound and urine sample (taken directly from his bladder) showed Struvite crystals. His urethra is not blocked, but crystals caused irritation. My cats love dry kibbles and the attempt to feed RC Urinary SO canned cat food FAILED for both Leo and Zen. So, this product is an alternative to normal dry kibbles Zen had (Wysong Uretic, Wysong Epigen 90, TOTW, Origen 6 Fish). Zen mainly eats canned food and gets some Hill's Urinary just before his wet food (a few kibbles only - he begs for it). I'm not impressed with ingredients, but hope it helps him somewhat. Another dried food addicted cat - Butter thinks this food is her cocaine (her previous favorite was RC Oral Care). I think it's mainly because Hill's kibble is very crunchy (8% moisture compared to other brands that typically has 10% moisture) and has oily coating on the surface that smells good.
April 14, 2016
Rated

5

out of

5
 by
Monster
This product is helping save our cat.
Our male cat developed urinary crystals and we had to change his diet to this food and he has adapted to it well.
December 28, 2016
Rated

5

out of

5
 by
Klynn
I have to get this food for my cats because of urinary issues. Because I live 65 miles each way from my vet it was hard to get there when needed.
I was so happy to find a provider for my cat food that they must have and could be delivered to my door. Otherwise I would have to drive 65 miles each way and I don't want to have to do that every month. Thank you for the good and quick delivery service.
December 26, 2016
Rated

5

out of

5
 by
Kerri
Great food for urinary issues.
My cat has crystals in her urine so her vet recommended this food. Seems to be working - no more blood in her urine and she likes the taste. Highly recommend.
December 25, 2016
Rated

5

out of

5
 by
StickyVic
hills cd dry cat foo
THIS SAVED CASPERS LIFE,AT 2yrs old we almost lost him!But after a 2 day stay in the hospital,&treatments,His dr said he should be on this diet and so far he has remained healthy abd now luves in Dixon where Ii still help support him financially&visit!Thanks for being here Chewy com!
December 21, 2016
Rated

5

out of

5
 by
Crispy61
quick easy ordering and fastest delivery of Rx product
Inherited my mom's cat, which has special food needs. This didn't slow down Chewy, though. Chewy got the prescription needed to fill my order and shipped the product at an amazing savings. Signed up for the automatic delivery program for the best convenience. Thank you, Chewy!
December 22, 2016
Rated

5

out of

5
 by
Aryn
Easy process to order prescription food thanks to Chewy
My senior cat recently went on a special cat food that requires a prescription from his vet. My dad mentioned how he used Chewy.com to order pet food for his pets and how much he liked the auto-shipment option, so I decided to give it a go on his recommendation. Once online, I quickly found what I was looking for and it was very easy to email my cat's prescription directly to Chewy; they responded quickly that my email was received and that my order was approved. It's such a great service that my cat's food will be automatically sent and Chewy was cheaper than my local brick-and-mortar stores, so overall the experience with them has been excellent. Definitely recommend!
November 29, 2016
Rated

3

out of

5
 by
1OldCat
My two cats didn't really like it and the cat's problem returned.
It was recommended by the vet so it must have merit but now my cat has the same problem. They really didn't like the food---
December 23, 2016
Rated

5

out of

5
 by
Nahkhii
Great Treats
Our three boys are all on prescription diets for urinary issues. We feed canned Hill's urinary food (C/D and U/R) as their regular diet, and use this dry kibble as a treat. All three love this kibble and get almost giddy when they hear us open the canister that contains it. They get only a small portion each on an almost daily basis so they think of it as a real treat, especially since they love the taste. The fact that it's C/D just makes it that much better.
December 16, 2016
Rated

5

out of

5
 by
grandma3
easy for all 3 cats, ages 3 to 15 yrs to eat and enjoy
Had been using Royal Cainine products. Too much salt for my elderly cat with heart disease. This products was just right.
December 22, 2016
Rated

5

out of

5
 by
Cats
Excellent recovery food
My kitty is not quite a year old and has a severe attach of urinary track blockage. We almost lost him. Our vet recommended to put him on this and we did. He has had no further blockages.
December 20, 2016
Rated

5

out of

5
 by
LYNN
THIS PRODUCT WAS SENT QUICKLY AND PACKAGED VERY NICELY. IT IS A VERY HEAVY BOX SO I WAS SO HAPPY TO HAVE IT DELIVERED TO MY DOOR &AT A MUCH LOWER COST
THIS PRODUCT WAS SENT QUICKLY AND PACKAGED VERY NICELY. IT WAS VERY HEAVY SO I REALLY APPRECIATED THE FREE DELIVERY AND MUCH LOWER COST THAN GETTING IT FROM THE VET !!---SPECIAL FOOD:/ MY CUSTOMER SERVICE REP AT CHEWY WAS ALSO EXCELLENT---VERY KNOWLEDGEABLE AND VERY FRIENDLY AND HELPFUL :)))
December 15, 2016
Rated

5

out of

5
 by
Mike
Kittys really gobble this up.
Our two kitty's, just under two years old really like this food. It is a prescription food which is expensive at veterinary hospitals. The price is much more reasonable from Chewy. Delivery was very fast.
December 17, 2016
Rated

4

out of

5
 by
gloworm
cat food
My cats don't like it. My vet prescribed it for one of my cats. It's probably good.
December 18, 2016
Rated

5

out of

5
 by
catsmeow68
This product is purrfect!
Since my cat has been on this she has not had another bladder stone. Best of all she loves it!
December 16, 2016
Rated

5

out of

5
 by
paula
reliable cat food for my cats health
My cat has been on this cat food since 2007 after a catastrophic urinary tract occlusion disorder. He almost died from stones occluding the urinary passageway. We tried to take him off this food and my cat soon started to show the same symptoms and my vet recommended he stay on the C/D food for the rest off his life. My cat is now 14 yrs old and no urinary problems. This food has given us many years with our wonderful Smokey.
November 28, 2016
Rated

5

out of

5
 by
Catlady
Good product
Relieved to find that I can find the cat food that my cats need and have it delivered to my door. Good product. Good service!
December 7, 2016
Rated

5

out of

5
 by
Teddy
Product is great for my cat.
Glad to know about Chewy and both my orders have been filled promptly and arrived in good condition. Thank you!
December 7, 2016