Hill's Prescription Diet k/d Kidney Care with Chicken Canned Cat Food, 5.5-oz, case of 24
List Price:

$58.79

Price:

$48.99 FREE 1-2 Day Shipping over $49

You Save:

$9.80 (17%)
Description
Kidneys are important because they remove waste substances from the blood, and maintain the normal balance of fluid and minerals within the body. Once kidney damage occurs, the consequences are usually irreversible. Hill's nutritionists and veterinarians developed Prescription Diet k/d, clinical nutrition especially formulated to support your cat's kidney health. In fact, k/d is clinically tested nutrition to improve & lengthen quality of life.
Key Benefits
Clinical nutrition especially formulated to support your cat's kidney health with clinically tested nutrition to improve and lengthen quality of life
This irresistible food makes it easier for you to bond with your pet with gently cooked, bite-sized chunks of real chicken and natural ingredients with added vitamins and minerals
This recipe protects vital kidney and heart function while boosting vitality and energy
Supports appetite and eating enjoyment as well as aids in sustaining a healthy body condition
Targeted levels of high quality protein and controlled phosphorus coupled with low sodium allow this recipe to give optimal support to your cat's kidney health
Special Note
Hill's Prescription Diets require a veterinary prescription. This product will not be shipped until a copy of a valid prescription authorization is faxed to 1-800-619-7973 or e-mailed to rx@chewy.com.
Item Number

69844

Food Texture

Pate

Brand

Hill's, Science Diet

Food Form

Wet Food

Lifestage

Adult

Made in

United States

Special Diet

Prescription Food
Nutritional Info
Ingredients
Water, Pork Liver, Chicken, Egg Product, Brewers Rice, Sugar, Chicken Fat, Chicken Liver Flavor, Modified Rice Starch, Powdered Cellulose, Fish Oil, Calcium Sulfate, Potassium Citrate, Guar Gum, Soybean Oil, Natural Flavor, Caramel color, vitamins (Vitamin E Supplement, Thiamine Mononitrate, Niacin Supplement, Ascorbic Acid (source of Vitamin C), Pyridoxine Hydrochloride, Calcium Pantothenate, Vitamin B12 Supplement, Vitamin A Supplement, Riboflavin Supplement, Biotin, Folic Acid, Menadione Sodium Bisulfite Complex (source of Vitamin K), Vitamin D3 Supplement), Taurine, Dicalcium Phosphate, Potassium Chloride, L-Arginine, L-Carnitine, minerals (Zinc Oxide, Ferrous Sulfate, Manganese Sulfate, Copper Sulfate, Calcium Iodate), Choline Chloride, Beta-Carotene.
Caloric Content
177 kcal/ 5.5 oz can
| Guaranteed Analysis | |
| --- | --- |
| Crude Protein | 30.0% min |
| Crude Fat | 23% min |
| Crude Fiber | 2.4% max |
Feeding Instructions
Adjust feeding amounts as necessary to maintain optimal weight. If you are unsure, ask your veterinarian. For best results & safety practices: Cover and refrigerate unused portion Gradually transition to your pets new food over a 7 day period. Exclusively feed the recommended Prescription Diet dry food, canned food & treats. Keep fresh water available at all times. Have your veterinarian monitor your pets condition.
Transition Instructions
A gradual transition to a new pet food is important to avoid digestive upset. To transition, mix your pet's current food with the new food. Over 7 days, gradually decrease the amount of the current pet food while increasing the amount of new pet food. In some cases, your veterinarian may recommend no transition or a shorter transition time.
Pet lovers also bought...
Customer Reviews
Rated

4.4

out of

5

 by

145

reviewers.
Rated

5

out of

5
 by
DiDi100
No Problem Eating
I was sad when I found out that my second cat has kidney issues. The doctor said to feed her the kidney prescription food. My first cat had a finicky palate and I had to doctor it up with pieces of turkey or tuna. Thank goodness Sneakers doesn't have those issues. She eats it with no problems. The includes the dry.
December 26, 2016
Rated

4

out of

5
 by
GWENDOLYN
Kitties like it!
I have 7 yr old male kitty and a 22 yr old female and it appears to be appetizing and satisfying to both kitties although I wish it wasn't quite so satisfying to my 7 yr old guy because he doesn't need the calories! My tiny old lady kitty needs all the calories she can get but unfortunately there is not much we can do to improve her ailing kidneys - the digestive issues remain even with the "id" Prescription. I am happy that they both eat it and they are living proof that good food prolongs their life.
December 21, 2016
Rated

5

out of

5
 by
6kitties
Helped My Kitties
Both my senior kitties are on this diet now, and they like it. I have already seen an improvement in the appearance of their coats, and it has only been a month.
December 27, 2016
Rated

5

out of

5
 by
Annie82
Prescription Kidney Care Cat Food
This particular brand of cat food was prescribed by my vet, because my cat is experiencing renal failure. She loves this food, and it's much more affordable through Chewy than at our local pet stores! I'll definitely order this again!
December 25, 2016
Rated

5

out of

5
 by
Noel
k/d canned food
I was suppose to order the tuna/vegetable canned food. My cat that was suppose to eat this will not eat the chicken. However, the other cats that do not need to eat special prescription canned food loved it. Why are none of us surprised. Have since changed my order to tuna.
December 17, 2016
Rated

4

out of

5
 by
mhLarry
Cat likes the Chicken KD
At first he really gobbled up this Chicken KD. Later he has slowed down, it is no longer his favorite. But he still eats some.
December 12, 2016
Rated

5

out of

5
 by
SusanTcat
a
great Chewy service. I've tried other online stores for Rx pet food, but none of them compare to Chewy's ability to get you what you need with such a fast turn around time.
December 2, 2016
Rated

2

out of

5
 by
Nicki17
Cat doesn't like it
My cat does't like this food and he's usually not very fussy.
November 29, 2016
Rated

5

out of

5
 by
CuteCuddler
Yummy!
I was giving my cat Hill's Prescription Diet k/d - fish flavored canned food. I decided to change to the chicken flavor. My cat really likes it and eats it all. She used to leave some or most of the fish flavor. I don't know if she was tired of it, but she sure gobbles all the chicken flavor I give her. Again, she might be glad for a change, but in any case, this is good stuff. Her kidneys are great.
November 10, 2016
Rated

5

out of

5
 by
Bluejeania
My cat says Yum!
My senior cat with chronic kidney disease and pancreatitis, who has always eaten canned food, started eating prescription renal food a few months ago. He liked another brand fine. A few weeks ago I offered him Hill's, just as a test, and he could hardly stop eating it! Now I alternate, or mix, the two brands. Hill's has lower protein, phosphorus, and sodium than the other prescription brand, and it has the slightly higher fat content that he loves. I'm careful about his fat intake because of the pancreatitis; so far it's going well for him. I mix his canned food with warmish water, using a stick mixer, to make a soup that he eagerly laps up. He also gets sub-q fluids every second day, frequent checkups and testing, and supplements as recommended. BTW, for anyone whose cat has CKD, the website Tanya's Comprehensive Guide to Feline Chronic Kidney Disease is invaluable as you consult with your vet in your cat's best interest. (And it's the website from which I learned about Chewy.com, which is in the best interest of my wallet!)
March 26, 2014
Rated

5

out of

5
 by
bianca
product is awesome and customer service is top notch
Thank you for your customer service! Products and service are excellent!
November 12, 2016
Rated

5

out of

5
 by
Kevin
Excellent Food
My cat has slight kidney issues and my vet recommended this food, she loves both the dry and wet food!
October 14, 2016
Rated

5

out of

5
 by
Laura21
Cats Love this food
I celebrate cat birthdays with this food and they clean up their dishes.
October 13, 2016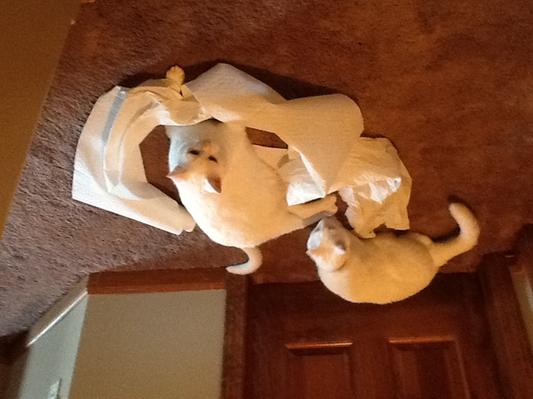 Rated

3

out of

5
 by
BillNic
bye products
My cat didn't like the food at all. I called twice once about the can size , no smaller can is available and my cat will not eat left over stuff. I also called about the term chicken bye products, I did not like the answer. hate to say this but my cat is back on Blue Buffalo again and loves it.
October 3, 2016
Rated

5

out of

5
 by
Wildzcody
My cat loves this food
My cat is 15 yrs old and was diagnosed a little over a year ago with Kidney issues and was put on this diet. It seems to be working great for her as her last labs showed that things were stable and in some areas had improved. I was getting the food from the Vet's office but I was having to stop frequently and it was becoming a real hassle to get the food she needed. I started ordering the canned food from Chewy and found out how easy it was to get it delivered to my door that I decided to continue getting it delivered and even started getting the dry food also. Not only is it convenient having it delivered but it was less expensive than getting it at the Vet's office. I plan on continuing to order from Chewy for as long as I have my kitty as I like being able to save time and money.
July 7, 2016
Rated

5

out of

5
 by
elise
Good food, don't know why it needs a prescription
I have purchased a variety of Hill's prescription cat foods over the years and I have always been satisfied with the products. I don't understand the need for a prescription other than some kind of financial gain but the product is good.
September 29, 2016
Rated

3

out of

5
 by
litter21
Why chicken when you can have tuna in gravy with vegetables?
My elderly cat was diagnosed with kidney failure after having a blood test to see if his body would tolerate anesthesia for root removal on a rotting tooth. We have fed him kibble all his life. (Truth be told, he refused for the longest time to eat anything but.) He had been losing weight, because it hurt him to eat his kibble. As a result, we decided we needed to take the wet food route. I thought by purchasing this product I would have something "not quite so rich" for my older cat. It also comes in bigger cans which is a boon volume/cost wise. We can get two meals from one can. I figured wet food is wet food; what will it matter? Apparently, it matters. While the prescriptive benefits are there, he prefers the texture and flavor of the tuna and vegetable stew with gravy in this same brand. This product (Chicken) is not eaten well, and I am having to mix some Fancy Feast Signature in with it so he will "take his medicine." This defeats the purpose for which it was purchased. I'm having to double up on food so he will eat the one he needs. Spend the little bit extra for the "fancier" yet smaller cans of this brand. You will feel your money more well spent.
May 23, 2016
Rated

3

out of

5
 by
PussandBoots
My cats like it.
I mix it up with the ocean k/d. They like it better that way. Some batches smell fresher than others. I think they added more moisture to the recipe than what I've seen a year ago. And that's a good thing for a kidney patient.
August 30, 2016
Rated

4

out of

5
 by
lmhbgsu
Good product
The food is a little smellier than regular moist cat food, but my cat did enjoy it at first. After a few days, he refused to eat though. My other cats seem to love it, though they don't need it.
August 18, 2016
Rated

5

out of

5
 by
stacey46
Hill's Prescription Diet k/d Kidney Care with Chicken Canned Cat Food
My Laser loves his Chicken canned food he likes pate cat food,easy for him to chew due to his age Laser is 16yrs young. Happy I found your website. I now see your commercial on TV , like the Auto ship and the price. Don't have to leave the house just go online. Great communications. Thanks chewy
August 5, 2016
Rated

5

out of

5
 by
Lorrie
Just what the doctor ordered
My vet recommended this food when it was discovered my cat's kidneys were not optimally performing. The ease with which I was able to order, and definitely the price will keep me coming back!
August 11, 2016
Rated

3

out of

5
 by
KayleeW
Great customer service, cat just doesn't like it
Chewy is amazing. Great customer service.. Food came in 2 days. Unfortunately my cat doesn't like this soft food. He just will not eat it. My other cats who don't need it will eat it. He likes the Hills kd hard food though. It must be a hit or miss with this product.
July 15, 2016
Rated

5

out of

5
 by
Lauren1812
Great product and even better customer service!
I have a 14 your old male cat who has been living with chronic kidney disease. He loves this food! I alternate with a high quality conventional non-prescription food every few days, but this is his main brand. Even better than the food was the service I received from Chewy when I goofed and accidentally bought a type of food that bothered my cat's allergies. :-/ In less than 30 minutes Doug had heard my problem, refunded my costs for the case of allergen-laden food, asked me to donate the remainder to a shelter, helped me pick out a food that my cat could tolerate, called my vet for approval, and shipped it to me in less than 24 hours. I'm so impressed. Thank you, Doug!
April 11, 2016
Rated

5

out of

5
 by
danalu
Moe loves it!
I was afraid to spend the money if she hated it so I got one can of each flavor from my vet. She ate it so ordered in bulk. Great price and fast shipping!
June 28, 2016
Rated

5

out of

5
 by
George
Cat loves it!
Our cat is over 15 years old, and the Hill's K/D chicken canned cat food is new to him. He loves it and will not stop begging for more. A prescription from our vet is required for purchase as this cat food is designed to help kidney function in older cats. So far, so good!
June 8, 2016
Rated

5

out of

5
 by
jezzwell
Pricey, but cat does very well on it.
It's the only prescription canned cat food my cat will eat - he likes it a lot. Good, because he's 13 and has a number of health problems. He needs canned cat food because additional meds need to be mixed in
June 14, 2016
Rated

5

out of

5
 by
turtlebee
this product seems appealing to my cats
Product seems pleasing to my cats. They seem to enjoy it
June 13, 2016
Rated

3

out of

5
 by
Venicefemme
Uneaten
My cat literally would have starved rather than eat this. Thanks goodness for the chicken and veg. Stew.
June 7, 2016
Rated

5

out of

5
 by
Clmor
Can't Get Enough
My kidney diet kitties can't get enough. They love it!
May 31, 2016
Rated

5

out of

5
 by
Ccontr17
My picky eater loves it
My older cat was recently diagnosed with kidney disease. The vet gave us Purina NF but he wouldn't touch it. I purchased the Hills based on customer reviews & it was a hit.
May 2, 2016