Hill's Prescription Diet k/d Kidney Care with Chicken Dry Cat Food
List Price:

$55.79

Price:

$46.49 FREE 1-2 Day Shipping over $49

You Save:

$9.30 (17%)
Description
Kidneys are important because they remove waste substances from the blood, and maintain the normal balance of fluid and minerals within the body. Once kidney damage occurs, the consequences are usually irreversible. Hill's nutritionists and veterinarians developed Prescription Diet k/d, clinical nutrition especially formulated to support your cat's kidney health. In fact, k/d is clinically tested nutrition to improve and lengthen quality of life.
Key Benefits
Targeted levels of high quality protein work to reduced levels of protein to help reduce kidney workload and reduced phosphorus helps maintain healthy kidney function and minimize stress on kidneys
Reduced sodium to help maintain normal blood pressure while increased levels of omega-3 fatty acids support kidney health
Increased levels of B-complex vitamins compensate urinary losses
Boosts vitality and energy while supporting appetite and eating enjoying
Protects vital kidney & heart function and sustains healthy body condition
Special Note
Hill's Prescription Diets require a veterinary prescription. This product will not be shipped until a copy of a valid prescription authorization is faxed to 1-800-619-7973 or e-mailed to rx@chewy.com.
Item Number

69843

Weight

8.5 pounds

Brand

Hill's

Food Form

Dry Food

Lifestage

Adult

Made in

United States

Special Diet

Prescription Food
Nutritional Info
Ingredients
Brown Rice, Corn Gluten Meal, Chicken, Pork Fat, Whole Grain Wheat, Cracked Pearled Barley, Wheat Gluten, Chicken Liver Flavor, Pea Protein, Egg Product, Fish Oil, Lactic Acid, Potassium Citrate, Calcium Sulfate, L-Lysine, L-Arginine, Choline Chloride, Calcium Carbonate, vitamins (Vitamin E Supplement, L-Ascorbyl-2-Polyphosphate (source of Vitamin C), Niacin Supplement, Thiamine Mononitrate, Vitamin A Supplement, Calcium Pantothenate, Pyridoxine Hydrochloride, Biotin, Vitamin B12 Supplement, Riboflavin Supplement, Folic Acid, Vitamin D3 Supplement, Menadione Sodium Bisulfite Complex (source of Vitamin K)), L-Threonine, Taurine, Iodized Salt, DL-Methionine, minerals (Ferrous Sulfate, Zinc Oxide, Copper Sulfate, Manganous Oxide, Calcium Iodate, Sodium Selenite), Potassium Chloride, L-Carnitine, L-Tryptophan, Mixed Tocopherols for freshness, Natural Flavors, Beta-Carotene
Caloric Content
521 kcal/cup
| Guaranteed Analysis | |
| --- | --- |
| Crude Protein | 24.0% min |
| Crude Protein | 29.0% max |
| Crude Fat | 19.0% min |
| Crude Fiber | 4.0% max |
| Calcium | 0.5% min |
| Phosphorus | 0.3% min |
| Phosphorus | 0.75% max |
| Sodium | 0.29% max |
| Magnesium | 0.1% max |
| Taurine | 0.08% min |
| Vitamin C | 85 ppm min |
| Vitamin E | 550 IU/kg min |
Feeding Instructions
Adjust feeding amounts as necessary to maintain optimal weight. If you are unsure, ask your veterinarian. For best results & safety practices: Gradually transition to your pets new food over a 7 day period. Exclusively feed the recommended Prescription Diet dry food, canned food & treats. Keep fresh water available at all times. Have your veterinarian monitor your pets condition.
Transition Instructions
A gradual transition to a new pet food is important to avoid digestive upset. To transition, mix your pet's current food with the new food. Over 7 days, gradually decrease the amount of the current pet food while increasing the amount of new pet food. In some cases, your veterinarian may recommend no transition or a shorter transition time.
Pet lovers also bought...
Customer Reviews
Rated

4.8

out of

5

 by

233

reviewers.
Rated

5

out of

5
 by
Nikkicole
AMAZING PRODUCT!!!
We took our 12 year old male Maine Coon, Ike, into the vet because of significant weight loss, and vomiting. Come to find out he had lost 3 lbs, and had a terrible UTI/bladder/kidney infection. Before the Vet got the results back about the infection, he gave us a sample of this food to help him get his kidneys into optimum health. WHAT A DIFFERENCE!!! He immediately scarfed down this food, and has at every meal since. Just from a month of feedings, he has gained back almost all of his weight, and is thriving. He is also no longer urinating outside of the litter box, but that could be due to the infection clearing up. Never the less, he LOVES this food, and has not thrown up ONCE since we started him on it. Also, we mix it with the k/d canned food, which makes it much easier for an older kitty to eat. Prescription needed, keep in mind if you are reading this review.
August 26, 2016
Rated

5

out of

5
 by
Tbear
Great product been using it for years.
Glad im able to order this thru you as I've recently relocated out of state and haven't found a new vet yet. Also like knowing I can order regular food too and not have to venture out. Thank you.
November 24, 2016
Rated

5

out of

5
 by
JK22
My elderly cat absolutely loves her kibble.
I was impressed at how easy it was to use your website and how quickly my cat"s food arrived! And yes, she played inside her new "box toy!"
November 24, 2016
Rated

5

out of

5
 by
niets351
Well liked by both cats
I was concerned about switching over to k/d because both my cats had been eating their other dry food so well. I didn't want to switch but my oldest kitty needed the prescription diet. The vet said there was no problem switching them both due to the fact that even my younger kitty isn't all that young either. To my delight, I shifted gradually and there was no problem AT ALL. In fact, I find a nice side effect is fewer hair ball incidences. I am very pleased with this food. Of course it's more expensive but they don't go through a bag as quickly as they did the Purina indoor cat food I bought previously.
October 31, 2016
Rated

5

out of

5
 by
montage
My cat is doing very well on this food....I'm happy and so is he!
This is the best cat food....as a matter of fact I love chewy because they are so on target for all my needs for my cat! Thank you so much chewy!
November 20, 2016
Rated

5

out of

5
 by
luvmybabygirl
Picky girl
My baby girl is picky but she loves this food. Our vet says cats usually prefer soft kidney diet food but she loves this. Has been eating for years after we tried about 10 different kidney diet food. So far so good! Definitely recommend.
November 14, 2016
Rated

5

out of

5
 by
kaylace
Rex approved
Renal diets are hard to find in GA. The folks that do carry them don't carry some bags, Rex is a small cat so the 4 lb bag is just the right size to keep all feeding fresh and tasty. Rex eats this food with no hesitation...
November 15, 2016
Rated

5

out of

5
 by
Maxi1
necessary K/D food, extremely efficient ordering, fast delivery, exceptionally friendly service!
Chewy goes up, over, and beyond any customer's expectation! I ordered the necessary K/D food and litter pans for our 18.5 yo cat. I just mentioned at ordering time (Tues.) that I needed to receive Saturday. It was to be New Year's Holiday on Friday. Chewy said they could ship following day (Wed.). Not only did they, instead, ship the same day (Tues.) (I ordered late on Tuesday), but also the order was received at our home on Thurs. !!! WOW, Chewy! You even have a super huge heart! This is the service I receive time after time, when ordering with Chewy! They hire only the friendliest people, most helpful too. Chewy is a model company for other companies to try to work toward. Best pricing too! And if a customer (or their animals) are not satisfied, or if Chewy sends wrong product, they say don't send back but donate to local Humane Society. WOW, again, Chewy! Bravo! I continue to tell many friends and acquaintences to order from Chewy.
January 12, 2016
Rated

5

out of

5
 by
Jamie
I don't recommend this product as it is under prescription, but your service is outstanding !
Please see above comment for my review. To reiterate, your service is excellent and I will keep on ordering from Chewy!
November 17, 2016
Rated

5

out of

5
 by
Polly
This helps keep my kitty alive.
My cat has been diagnosed with end stage renal failure. A few months ago she was near death, and her lab results supported that. The vet taught me how to give subcutaneous fluids, and said I should feed her Hill's prescription K/D dry food. Between the two treatments, she has had her lab results come close to normal, and she is obviously a happy cat, playing with me, purring, eating and drinking well. Thank you, Chewy, for offering this product, and for contacting my vet for me.
October 31, 2016
Rated

5

out of

5
 by
Deb5137
It works
Vet prescribed for Kidney problems. Both my cats love the taste even though only one has kidney problems. Keeps the weight on my ailing, aging cat. Keeps my young one plump, but we just play more with him and give him less treats.
November 10, 2016
Rated

5

out of

5
 by
Micki
good product.
My kitties love the food. I have one kitty on the special kidney diet but both kitties love the food.
November 8, 2016
Rated

5

out of

5
 by
Shirl
High quality ingredients for specific needs diet
This has been a great supplement to the moist food regimen. My feline is a picky eater but he dived into the bowl immediately!
November 2, 2016
Rated

5

out of

5
 by
Spanky
She likes k/d dry
16 year old female cat with kidney problems. Vet says this will help her. So far so good and she eats it with no problem. It was easy to order and 'Chewy' took care of the prescription with our vet with no problem
October 26, 2016
Rated

5

out of

5
 by
Karen15
We are very pleased with this product.
After having difficulty finding kidney-friendly dry food that our cat would eat, this product has produced surprising results. Both of our cats consume this food without the fuss and indifference we have dealt with in the past.
October 20, 2016
Rated

5

out of

5
 by
Barbara
It is a hit!
Glad I bought Hill`s brand of k/d food. Kibble is staple to the diet. Jack loves this chow. Thank you for a chow that Jack does not get tired of eating.
October 20, 2016
Rated

5

out of

5
 by
Parisbeans
Saved My Cat's Life
Ally is 17 next month, kidneys are slowing down AND she got two spider bites. Very sick, lost weight down to skin and bones so tried many prescription foods and this was the one she ate. She started to regain her health once she started to eat again so now also wolf's down Hill's k/d dry as well. Acts like she is a kitten again. AMAZING!
October 16, 2016
Rated

4

out of

5
 by
donk1546
Great Kidney Care Food
Our cat loves this food. I forgot to use my $15 off coupon on my purchase.
October 16, 2016
Rated

4

out of

5
 by
Geomatty
Good, but why prescription????
Cat likes the food. I'm assuming it works. I wish I didn't need a prescription to purchase. It's not cheap.
October 12, 2016
Rated

5

out of

5
 by
Violet
Worth the money!
One of my kitties was prescribed this diet to help protect her kidneys. Luckily, all 3 of our cats love it! It's spendy, but worth it. She's doing great, and all the cats can now have healthier kidney function.
October 7, 2016
Rated

5

out of

5
 by
Yellows
homerun
My 16 year old cat usually turns his nose up at dry food, but he loves this brand. I think because it has a softer texture like treats.
October 10, 2016
Rated

5

out of

5
 by
Melissa
Cats gobble it up
My vet prescribed this food for my cat's kidney failure. Since he had eaten only one food for 15 years I feared he hate it. Well, he loves it and the other cats are all angling to get in his bowl too!
October 8, 2016
Rated

4

out of

5
 by
BillNic
good product
even though I don't like the bye product issue, my cat loves the dry food, and I do need to help her out.
October 3, 2016
Rated

5

out of

5
 by
Missiepoo
Good stuff.
We changed the Princess Missie-poo's food at her vet's suggestion. She likes this so much that it's replaced her treats. She just eats a few kibbles from my hand instead of treats, even tho there's a bowl full available. Cats! lolz
September 29, 2016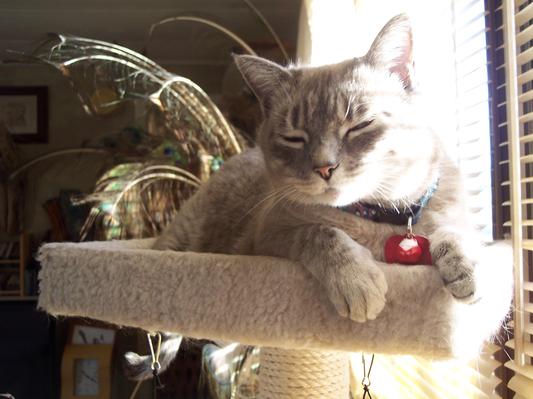 Rated

5

out of

5
 by
Samlap
Looks great and Bertha goes crazy for it
Can't say I've tried it but the vet recommended we give Bertha this food as she has gotten older and her kidneys are strained a bit more. She seems happy when her bowl of food arrives. She squawks with delight and goes to work on her prescription food.
September 25, 2016
Rated

5

out of

5
 by
Blue18
Needed nutrients
This cat food is very much needed for my 18 yr old cat that is having some problems with his kidneys. My cat has some kidney stones (very small) but are not causing any blockage and I want to keep it that way. This food has Omega 3 fatty acids and Omega 6 that will help his health and kidneys. He loves this food and has no problem keeping it down with his sensitive stomach.
September 11, 2016
Rated

5

out of

5
 by
3catsandakitten
My cats loved the taste
Unfortunately, I started it too late for Genghis, who already had kidney failure. I should have been feeding him high quality food from birth. He was only 12 years old. I will feed it to my other 3 cats now. I'll have to change my user name to 2cats and a kitten.
September 23, 2016
Rated

5

out of

5
 by
Zooter
works great for my cat!
Just what I needed when my cat really needed it. Great service!
September 30, 2016
Rated

5

out of

5
 by
GreenBayCJ
It's Hills Prescription Diet
It is what it is; Hill's KD. The food itself seems to effectively manage chronic renal failure. I had one cat live for 10 years on this, and now have been "blessed" with another poor, sweet baby who [at age 14] has entered renal failure. This has stabilized his condition, and he seems to have returned to his normal demeanor and activity level. The food has been readily (actually,eagerly) accepted by both of my cats who've required it. The price here is not any big savings over the vet's price, but it's much easier to order here than to try to get to the vet on my time off from work to pick it up during their limited hours of availability. I placed the order and provided my vet's name and contact info as requested on the Chewy site, and they apparently called to make the needed verification of the Rx. The food arrived (with the other items on my order) quickly. The package is freshness-dated, and the date is fine, not old or nearing expiration. I like the convenience and will probably continue to buy this food from Chewy instead of breaking my neck to get to the vet to pick it up.
November 18, 2014
Rated

5

out of

5
 by
Nikki
If your cat doesn't eat it mixed with old food, try giving 100% prescription food before giving up on this food.
My cat was diagnosed with kidney disease. He's not usually a picky eater, but the vet warned me that cats tend not to like the kidney prescription foods. They gave me a free sample of this food and he ate it right away, so I ordered a larger bag from Chewy. I followed the instructions on the bag and began mixing it (25% new prescription, 75% old food) with his old food to ease him onto the new diet. He refused to eat the mixed old/new food. At first I assumed the vet was right about just having to try a few different brands to figure out what he liked, but I thought this was weird since he seemed to like this Hills prescription food just fine when I gave him the sample from the vet on Day 1. So after a couple days of seeing his food bowl go untouched, we gave him a bowl of 100% prescription food again and he ate all of it immediately. Since then we have just given him the prescription food every day and skipped the mixing step and he seems to love the prescription food. So if you are following the instructions on the bag of mixing the old/new food for a month and your cat isn't eating it, I would suggest giving a bowl of just the prescription food and skipping that step altogether before giving up and trying another food.
June 29, 2016