K&H Pet Products Thermo-Kitty Deluxe Hooded Cat Bed, Mocha
Was:

$78.00

Price:

$57.92 FREE 1-2 Day Shipping on this item

You Save:

$20.08 (26%)
Description
The Leopard Thermo-Kitty Bed has a dual thermostat, 4 watt heating unit buried within its thick premium polyfil pillow base. It warms the surface 10-15 degrees above ambient air temperature when not in use. When your pet lies in the bed it warms to your pet's normal body temperature to keep them cozy warm. Indoor use only.
Key Benefits
Soft micro fleece with a thick, premium polyfil pillow base
Includes a dual thermostat 4‐watt heating unit to make this the perfect warm and cozy hide away
When your pet lies in the bed it warms to your pet's normal body temperature to keep them cozy warm
Features a 5.5-foot cord that's MET listed for safety for indoor use. Easy-to-clean, just remove the heater and wash the removable cover on gentle cycle with cold water and hang to dry or use the no-heat cycle on your dryer
Available in 2 different sizes to accommodate cats of any size
Item Number

69581

Dimensions

20 x 20 x 14 inches

Bed Type

Covered, Heated, Pillow
Pet lovers also bought...
Customer Reviews
Rated

4.7

out of

5

 by

64

reviewers.
Rated

5

out of

5
 by
LOVESQUALITY
THE HOOD STOPS DRAFTS
Well, which kitty is in line next to get in this very nicely sized hooded, heated cat bed? The hood not only keeps other kitties from sneaking up on the kitty using the bed, but it keeps winter drafts away too! This bed is PLENTY big for the largest of cats. We have a seventeen pound cat which has plenty of room left! But our tiny, full grown nine pound female loves this bed too! The leopard print is understated and the dark mocha on the outside makes this a NON-TACKY way to keep your kitties nice and warm and happy. These beds by K and H are wonderful. We have seven smaller heated round beds by K & H and several warming strips under covers for other places in the house. We, nor our wondrous kitties, are ever disappointed with either K & H or Chewy!
December 18, 2016
Rated

4

out of

5
 by
mrstiggywinkle
Happy Cats!
All paws up for this bed - everyone approves! Have not attempted to wash it yet, but with multiple cats, hope it will wash well and easily.
January 1, 2017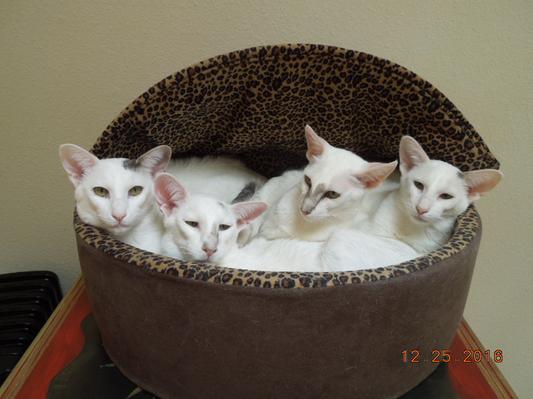 Rated

5

out of

5
 by
CatHaven
All our cats love this bed
The large bed is roomy enough for 2 cats. All 4 or our cats love it, so we had to purchase a second bed so they all could cuddle in a bed. It keeps them toasty while we enjoy a cooler temperature in the house. This is a really nice cat bed.
December 28, 2016
Rated

2

out of

5
 by
Steff
Bed surface is overly squishy amorphous shape kitties hate!
Not recommend. Will return. Wish I knew before ordering.
December 31, 2016
Rated

4

out of

5
 by
Chinakidmom
She loves it
The heated kitty bed is a hit with our cat. We can hardly get her out of it. We did add an extra warming pad to boost the temperature. But this is well made and a great place for kitty to hang out.
December 27, 2016
Rated

5

out of

5
 by
Woofy
Ideal for Elderly Rex: Far exceeds expectations
Great bed. I have an 18 year old Devon Rex male with Kidney Failure issues that frequently has "accidents" while sleeping so I needed a heated pet bed that could withstand frequent trips through my front loader washer without self destructing. This bed does that and more. The foam that gives structure to the sides cleans beautifully over and over without any foul odor retention whatsoever. The rest of the bed washes beautifully, too! Assembly is easy and the whole thing zips together. The zippers were a little obstinate at first but now glide smoothly with use. My poor little old kitty loves the warmth so much it's often a challenge to get him out of it. The backside hood is great as it adds support for a small microfleece blanket that covers the open part of the bed like a cozy tent. If your kitty wets the bed, just make sure to have a GFI cord to plug the bed into to prevent shocks in the off-chance that the heating pad shorts from the moisture. I'll buy another. In fact I might just buy a couple more!
January 5, 2016
Rated

5

out of

5
 by
Sandy
Lucy Loves It
Perfect size and the heat feature are great. Hope it will be easy to dismantle and wash.
December 19, 2016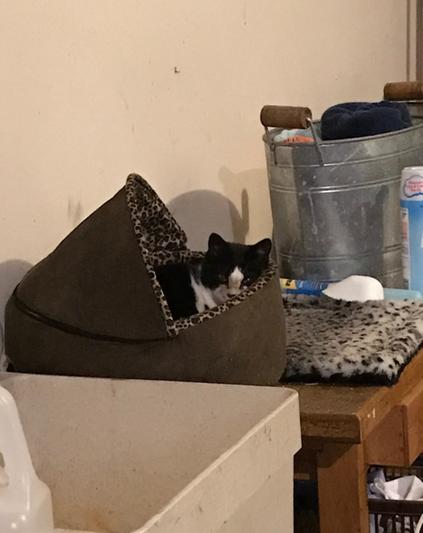 Rated

5

out of

5
 by
Charlie98
Cat loves the bed
Jackson is an outside cat. We placed it our store room which is outside and she seems to love it. Most days we find her settled in her bed. So, far so good.
December 9, 2016