Nature's Miracle JFC Litter Box Odor Destroyer Spray, 24-oz spray
Was:

$10.99

Price:

$2.94 FREE 1-2 Day Shipping over $49

You Save:

$8.05 (73%)
Description
If there's one thing every kitty's guardian knows it's this: litter boxes are yucky. Nature's Miracle JFC Litter Box Odor Destroyer breaks down foul odors from feces and urine on contact and keeps working to maintain a clean, fresh box. The gentle, unscented formula won't irritate paws or cause clumping in the litter. Suitable to use on any surface your cat comes in contact with, or to spray in the air.
Key Benefits
Permanently and instantly eliminates litter box odors, leaving a fresh, clean smelling home. Won't just mask odor!
Unscented formula won't upset cat
Advanced triple-action formula eliminates airborne, fabric, and hard surface odors
Will not clump cat litter
Safe for use around pets and children when used as directed
Cautions
Keep out of reach of children. Do not apply directly to pet.

Instructions
For Use on Litter Box: Liberally spray into the litter box after cat use. Litter box does not need to be litter-free.
For Use on Airborne Odors: Liberally spray into the air.
For Use on Fabric Odors: Spray lightly and evenly onto fabric surfaces until slightly damp. Not recommended for use on silks, suede, leather, or dry-clean only fabrics.
For Use on Hard Surface Odors: Lightly spray on object until slightly damp. Wipe excess with a cloth.
Pet lovers also bought...
Customer Reviews
Rated

4.3

out of

5

 by

27

reviewers.
Rated

5

out of

5
 by
NealS
Nature's Miracle litter box order destroyer
This is great stuff!Safely kills bad odors in and around the cats litter box. Without leaving any other scent behind. Highly recommended!
January 22, 2017
Rated

5

out of

5
 by
ETay
Great product
I've been spraying this after every scooping for years, and wouldn't dream of scooping without it.
January 21, 2017
Rated

5

out of

5
 by
Riley
Work really well
Chewy is so awsome they always have what I need for my 2 dogs and rabbit. They also have great cat products i would get for my old cat 28th health issues sorry to day but they both died this year from being old cats we miss them dearly. I love there customer service they are always so helpful
December 4, 2016
Rated

5

out of

5
 by
Kitttymom
Excellent product
It is a huge part of my routine while cleaning litter boxes. I have a tall cat that occasionally urinates up the inside of the box. I always have a roll of paper towels and this product to wipe and clean all the way around the sides and inside bottom of litter box by shifting litter from side to side in box. I use it to clean inside of lid too. Great product.
November 10, 2016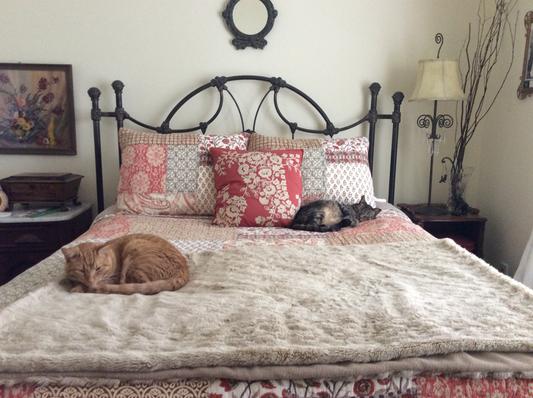 Rated

4

out of

5
 by
kittiesrus
Helps with odors
I spray this on the litter and it seems to help control the odor when the litter is used. Anything that can improve the air is good.
November 12, 2016
Rated

5

out of

5
 by
John
Unbelievably fast shipping.
The litter box spray works just fine. Chewy is truly amazing! The cost was 1/3rd of what I'd have paid in a pet store. (Amazon's price was comparable but they only sell it as an 'add-on', meaning you've got to buy something for about $25, only then they will allow you to buy this item.) Most amazing was how fast Chewy got it to me. I ordered it one evening and it was on my porch the next afternoon. How do they do that???
October 21, 2016
Rated

5

out of

5
 by
Mks111
Removes the ugly smell of the litter box!
I ordered this product because my daughter's bedroom always smelled like the litter box. (Not a good smell). I never smell that horrible smell anymore. I suppose it is called Nature's Miracle for a reason!
October 17, 2016
Rated

2

out of

5
 by
D7357
Am I missing something.
I have 3 cats. I follow directions. Does it help, yes. Odor destroyer? I'd say not. It still smells like a cat box and I use 5 for my 3 cats. Now I have an even bigger problem. One of my cats decided that he doesn't like the smell or something and won't go into his boxes. I still have to take out the boxes 1 by 1 and give them a thorough cleaning, soak and hose. So try one see if it works for you. I bought 3 because the smell comes through the cat door into my house.
August 27, 2016