Nature's Miracle JFC Urine Destroyer
Was:

$36.99

Price:

$20.41 FREE 1-2 Day Shipping over $49

You Save:

$16.58 (45%)
32-oz bottle

1-gal bottle
Description
Sometimes, a cat's got to do what a cat's got to do. Including urinating in suitcase being packed to discourage pet parents from taking a weekend trip to the beach. Nature's Miracle JFC Urine Destroyer gets rid of stains and odors left behind from the family cat's urine by breaking down and eliminating urea—the main source of odor and stains from spray and urine—and leaving behind a scent that's as fresh as flowers.
Key Benefits
Targeted Bio-enzymatic formula
Eliminates strong cat urine & ammonia odors, yellow stains & sticky residue
For use on carpets, floors, furniture, clothing & more
Guaranteed to permanently eliminate stains and odors
Formula continues to work until all traces of urine and urine odor are eliminated
Cautions
Keep out of reach of children. Do not apply directly to pet.

Pet lovers also bought...
Customer Reviews
Rated

4.6

out of

5

 by

58

reviewers.
Rated

5

out of

5
 by
Sue57
Male cat problem
My cat Tigger stands up to urinate and even if I have a high back litter box he makes it over to the wall and then under the box itself. JFC urine destroyer kills all odor and the other cats are not trying to duplicate Tiggers mistake. This product has saved my life, and has made my bathroom suited for company.
January 4, 2017
Rated

5

out of

5
 by
Emily
Seems to work great!
As a renter, I am very paranoid about my cat peeing somewhere repeatedly; apartments always replace carpet (expensive!) if they find pet urine, and cat urine is especially noticeable due to the chlorine smell and staining. While my buddy is a very good kitty with limited problems, he does have his occasional accident. And once a cat pees one time outside the box, his pheromones tell him to keep peeing in that same spot outside the box. I am happy to report that Nature's Miracle Urine Destroyer not only smells extremely pleasant to the human nose, but I have never seen my cat repeat-pee after I have treated the spot with this product. I have not noticed any staining of the carpet, either from pee or this product. Most importantly, this product gets rid of the notorious "cat urine smell". Disclaimer: I have only used this product on relatively new pee spots--I have not had the pleasure of attempting to treat older or set-in pee spots, so I cannot comment on how this product works for older stains or frequented pee spots.
March 9, 2016
Rated

5

out of

5
 by
Greeneyesnfurry
Works quick and that's what counts.
We are a multi cat household and I have 1 cat Frank we got as a rescue at 7 yrs old and is now 14 that over shoots the box occasionally onto the floor. So I don't catch it right away but as soon as I do I use this on the area let it sit for a few minutes then clean up. I have used on hardwood floors and laminate also. No damage occurred. The best part is you don't smell any urine odor. This is important since 1 of our boxes is in a guest bedroom. I had tried the natural method with vinegar and found the vinegar was strong and lasting and offensive to the other cats. Natures Miracle doesn't deter them from using the boxes which is important. I have the 32 ounce size but I put a spray squirt type top from an old window cleaner bottle to make it easier than the squirt top it comes with and keep it handy under my kitchen sink. This also comes in handy to treat the towels that I use in my pet carriers since accidents sometimes happen when they ride to the Vet for check ups and are nervous. It works great for kitty cacks .
February 17, 2014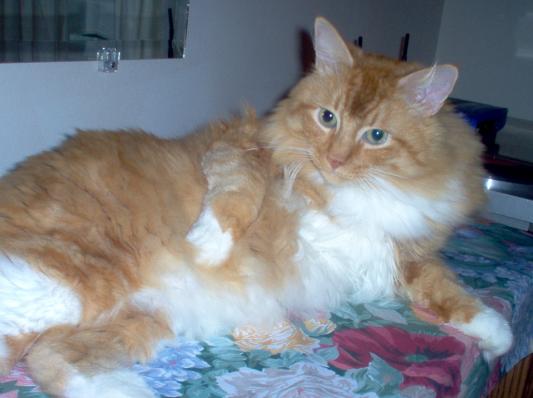 Rated

4

out of

5
 by
Tina
Strongest urine destroyer out there. Kennel recommend
We found out because ofsudden and frequent accidents that our cat had diabetes. I could have killed him for wetting on my couch. Until I found out it really wasnt his fault. The smell was still an issue after trying other recommendations. We used this directly on the couch and now, no one even notices the smell when sitting on my couch
November 21, 2016
Rated

5

out of

5
 by
Lori515
Works great! Best product on the market.
This is simply the best product available to remove the smell of cat urine. It's an enzymatic cleaner, which is absolutely and completely necessary to remove the smell. DO NOT USE VINEGAR. Regardless of how many times you hear that, don't use it. Don't waste your time with baking soda either. If Nature's Miracle Urine Destroyer doesn't work, nothing will. Simply put. Completely soak an area bigger than the stain (when it absorbs, it also spreads), and let it air dry. That's also very important. I use it with my Bissell Spotbot Pet (which is a lifesaver for any pet owner) and it really really works great. The Spotbot scrubs and soaks at the same time and when the area is dry, the smell is gone. And it discourages cats from using the same spot again. I've had cats for 23 years and this is the best product I've ever used.
September 17, 2016
Rated

4

out of

5
 by
2CatMom
A Really Tough Job
There's nothing worst than a carpet saturated in cat urine. Even worst when it saturates down into the floor board! The carpet was easy to get rid of - but the smell in the floor boards was awful. I brushed on Nature's Miracle JFC Urine Destroyer on all the stained/smelly areas of the floor. The room was immediately better smelling. After a few days when the floor was totally dry, I took a bucket of water, wet some old towels, and wiped over the areas again to get as much of the residue off. I would say that I removed about 70% of the odor. As our situation was probably as bad as it gets, I plan to redo the same procedure again.
October 28, 2016
Rated

5

out of

5
 by
JBalonzo
Nature's Miracle JFC Urine Destroyer
Six cats and I use only Nature's Miracle products. No other brands have ever worked as well. The fresh clean smell is also a huge plus. Chewy pricing on this product is excellent.
November 2, 2016
Rated

5

out of

5
 by
strtsfr1
Works well
I used this with my spot bot and it seems to work very well to help eliminate odor and any stains.
October 9, 2016