NaturVet Digestive Enzymes Plus Probiotic Dog & Cat Powder Supplement
Was:

$48.99

Price:

$38.84 FREE 1-2 Day Shipping over $49

You Save:

$10.15 (21%)
Description
Naturvet Digestive Enzymes Plus Probiotic Powder was especially formulated to help support diet change and a healthy digestive tract in dogs and cats. This supplement is a source of alpha-Amylase to hydrolyze starch, Protease to hydrolyze proteins, Cellulase to break down cellulose, and Lipase to hydrolyze triglycerides.
Key Benefits
Especially formulated to help support diet change and a healthy digestive tract
A source of alpha-Amylase to hydrolyze starch, Protease to hydrolyze proteins, Cellulase to break down cellulose, and Lipase to hydrolyze triglycerides
Helps with food transitioning, sensitive stomachs and flatulence
Easy to administer powder formula
Formulated by veterinarians in the US
Item Number

63793

Brand

Overby Farm

Lifestage

Adult, All Stages

Made in

United States

Supplement Form

Powdered
Nutritional Info
Ingredients
Fructooligosaccharide, Dried Aspergillus Oryzae Fermentation Product, Dried Aspergillus Niger Fermentation Solubles, Dried Trichoderma Longibrachiatum Fermentation Product, Carica Papaya, Dried Bacillus Coagulans Fermentation Product, and Maltodextrin.
Pet lovers also bought...
Customer Reviews
Rated

4.6

out of

5

 by

150

reviewers.
Rated

5

out of

5
 by
kaos
Firm
I've been using this product for 5 yrs now with enormous success. I have a Black Russian Terrier with a weak stomach. My female can eat anything my male, not so much. We've had lyme disease several times now and both dogs have been treated and stools remained the same. My male switched to a salmon based diet at 14 months old along with probiotics and enzymes. His turnaround took a few months but it's been amazing. He is now almost 7 yrs old eats pretty much any protein I give w/perfect stools. When you use this product or anything similar give it at least 3 months to work-min. It takes time. I saw huge results in about 5-6 weeks. Stools are perfect. I also never stopped using salmon based food. I also use wild salmon filets to spice it up for them. -walmart- sells them. Synovi G4 - Digestive enzymes and a good food....I promise you see a major difference in their movement and digestive tracts. Don't just use it a few times or a few weeks keep using it. - Digestive systems take time to stabilize.
October 9, 2016
Rated

5

out of

5
 by
Elle
Happy Customer
My 10 month lab mix pup has always had digestive issues and a weak stomach where loose stools and vomiting were a common occurrence. She also had terrible smelly puppy farts that would literally clear a room! After having a severe bout of diarrhea for several days, I looked into a probiotic that could help. Other products had ingredients I wasn't ecstatic about, so I thought I would buy a small batch of this probiotic powder to test. It's seriously worked wonders along with the stella and chewys salmon mixers! I don't know if it's one or the other, but I'll definitely continue to buy both since I'm super happy with the results!
January 18, 2017
Rated

5

out of

5
 by
bigbear8807
Great treat. Dogs love them.
Treat is good for the dogs and the love them. The subscription program is difficult to control. This has led to many premature shipments.
January 20, 2017
Rated

3

out of

5
 by
Roadtripper
Product Good, Follow-through Poor
The NaturVet digestive enzymes bought through Chewy.com works great for my 19 year old dog. It has certainly helped with her digestive tract and eliminated the diarrhea that plagued her daily.
January 15, 2017
Rated

5

out of

5
 by
Dmm2
Huge help for my dogs digestion issues
I have two that have sensitive stomachs and when I added the Digestive Enzymes in their food the eating grass and forcing themselves to throw up completely stopped!!! Highly recommend!!!
January 11, 2017
Rated

5

out of

5
 by
Christian
Saved my rescue dog
We recently rescued a pit bull that was being neglected and living in a cage his entire life. He's 3 years old and was 38 pounds when we got him. The vet didn't know how he was still alive and frankly, I wasn't sure either. We followed what the vet prescribed him, the food they gave us helped tremendously but it was extremely expensive. We researched online for things to help since his stomach still wasn't accepting food like it should and his diarrhea had only improved a little. I found this product and decided to give it a shot. We feed him 7-8 small meals (it took a month to work him up to that, eating 1 cup every 2ish hours) a day so I add it to every bowl. It only took a few days before I noticed a huge improvement. I could tell my dog was finally feeling better. I add it to Rachael Ray Nutrish dog food, something that's higher end - but doesn't break the bank. The first weight in after his initial vet visit was only a pound. I then started him on this and took him again 2 weeks later. He gained 5 more pounds! His poop is a soft solid, his gas problems have decreased by about 75%, he's like a new dog! We tried a lot of things, and I know this is what helped him the most. When we get sick, we're told to eat yogurt for the probiotics, makes sense that dogs could use it too. He's due back to a weigh in on Friday, I can't wait to see how much more he's gained!
December 20, 2016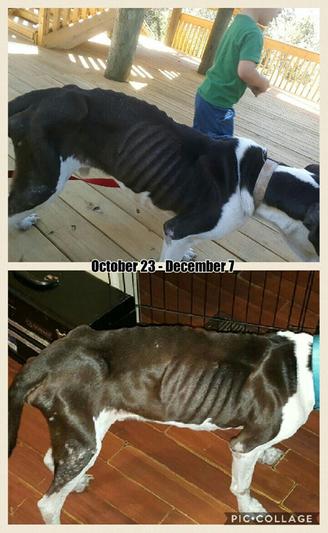 Rated

5

out of

5
 by
Annybells
Worked within a few days
Worked very well on eliminating the dog's gas. No more stinky house!
January 7, 2017
Rated

5

out of

5
 by
Blondebomber
Very happy with product
We rescued our lab mix when he was about 2 months old, he was on medication cause of giardia(not sure spelled right), but anyway, he has always had trouble with having a solid stool, I've tried every kind of food and it might help a little bit ultimately, he still had very soft stools, would throw up his food, and it seemed like he was popping about 4-5 times a day. I came across this product when ordering some dog food and read the other reviews, and thought what could it hurt I've tried everything else. I feed him twice a day and he gets two tsp at each meal, he now has solid poops, not throwing up and is only pooping twice a day. I would definitely recommend to anyone who has a dog with digestive issues. Oh, also I was having to have his butt glands done, because his stools weren't hard enough, since starting, and I'm only halfway through our first container, i have not had to do his glands and we were doing them about every 3 weeks. Thanks again for this product I will continue to buy!!!!
February 28, 2016