Nutramax Cosequin Capsules Joint Health Cat Supplement
Was:

$19.99

Price:

$16.60 FREE 1-2 Day Shipping over $49

You Save:

$3.39 (17%)
Save an extra $2.16 today
Automatically applied when you add to cart
---
Description
Healthy articular (joint) cartilage is crucial to joint utility. Cosequin helps support cartilage production and protect existing cartilage from breakdown. The only joint health supplement brand shown effective, safe, and bioavailable in published, controlled U.S. studies, Cosequin is manufactured following standards similar to those practiced by the pharmaceutical industry. Cosequin has been proven safe in cats. Cosequin, a nutritional supplement, safely and effectively provides joint cartilage support while maintaining your cat's comfort level. Some veterinarians also recommend Cosequin to help support urinary bladder health.
Key Benefits
\#1 Veterinarian recommended joint health supplement
Cosequin helps support and maintain the health of your cat's joints and cartilage and can also help support urinary bladder health
Supports cartilage production and protects existing cartilage from breakdown
Use Cosequin to help your pet be healthy to jump, pounce, and play
Great for cats of all sizes
Cautions
Store in a cool, dry area. Keep out of reach of children.

Item Number

73542

Brand

Cosequin

Lifestage

Adult

Made in

United States

Supplement Form

Tablet/Capsule
Nutritional Info
Ingredients
Each Capsule Contains: Glucosamine Hydrochloride* Minimum (125 mg), Sodium Chondroitin Sulfate* Minimum (100 mg), Manganese Minimum (1 mg**). *Cosequin Contains Fchg49 Glucosamine and Trh122 Sodium Chondroitin Sulfate, Nutramax Laboratories Proprietary Veterinary Researched Specifications. Reported On A Hydrous Basis. ** from Manganese Ascorbate.
Feeding Instructions
| Weight | Initial Period (4-6 Weeks) Daily Feeding |
| --- | --- |
| Under 10 lbs | 1 capsule sprinkled on food |
| Over 10 lbs | 2 capsules sprinkled on food |
Once desired response is obtained, capsules may be given every other day for maintenance. Number of capsules given may be increased at any time depending on your cat's needs.
Pet lovers also bought...
Bringing Relief to Your Cat's Joints
Cosequin is a specially formulated, scientifically researched joint-heath supplement that helps pets maintain healthy joints and cartilage. And it's effective, making Cosequin the #1 veterinarian recommended retail joint-health supplement brand!
Watch for the Warning Signs
If your cat displays the following warning signs of joint pain and cartilage breakdown, Cosequin can help decrease or even eliminate them — allowing your kitty to move around pain-free, while enhancing her quality of life.
Lower activity level
Difficulty sitting or standing
Stiff or uncomfortable when moving
Trouble getting up or down stairs
Decreased interest in interacting with toys, other animals or even you
Can Your Cat Benefit From Cosequin?
All cats can benefit from Cosequin, not just those with joint pain and cartilage breakdown. In fact, even younger cats and those with no warning signs can supplement with Cosequin to help prevent future cartilage breakdown and enhance recovery when injury occurs. It even supports urinary bladder health by fortifying the bladder's protective lining.
Quality Ingredients, Real Results
Cosequin is manufactured in the USA using a proprietary combination of the highest quality ingredients — including high-purity glucosamine and low-molecular-weight chondroitin and manganese for enhanced absorption — following manufacturing standards adopted by the pharmaceutical industry.
Manufactured under strict quality standards
Each batch is tested to ensure it meets label claims
Available in a variety of formulas to meet your pet's needs
Triple Threat of Ingredients That Work
CHONDROITIN SULFATE
Blocks the naturally occurring enzymes that break down cartilage.
GLUCOSAMINE HYDROCHLORIDE
Acts as a building block of cartilage by keeping cells healthy and working properly.
MANGANESE ASCORBATE
Helps to optimize the production of cartilage components in joints.
About Nutramax Laboratories
Nutramax Laboratories has been researching and developing products for people and their pets since 1992. In that time they've become an industry leader, setting the bar for manufacturing and quality control, and creating products that make lives better — human and animal alike.
Customer Reviews
Rated

4.7

out of

5

 by

215

reviewers.
Rated

4

out of

5
 by
lyone
Effective Medicine
This medication for arthritic cats is VERY effective. The kitty that this was purchased for has a very hard time getting around. He usually appears to be limping, and I had always believed that he had some sort of accident in the past. But one dose of this medication, and he was going up and stairs with ease, walking normally, and even scampering around quickly!! I do have one major complaint, though (hence the four stars). The meds come in capsule form--and these caps are too large for a cat to swallow--ie: to big to pill. So I opened them up, and tried sprinkling the powder on his food--well, no dice! This stuff tastes bad, apparently. And even when I try to mix it in with the yummy wet food, half a dose at a time, he will not eat the food! Now I have to grab kitty, force open his mouth, and sprinkle in half a powdered dose at a time, while he struggles in terror. Something needs to be done about improving the delivery system!
January 11, 2017
Rated

5

out of

5
 by
Jane
Be darned if it dosn't seem to make a difference already
Tibs is 14 years old this month. Two years ago he was diagnosed with serious diabetes. Thank goodness I did some online research and was able to put him into remission without expensive insulin shots. Something he would have hated. All that being said, I do think his kidneys took a bit of a hit from the diabetes. I purchased Cosequin because he wasn't jumping up on the bed and couch without effort and/or assistance. It's only been about two weeks on this product (one capsule sprinkled on his wet food twice a day) and I can already notice the difference in his mobility and the litter box. His pees seem less frequent. Tibs is a sweet 'ol boy and I call him my soul kitty. It cheers me that overall he just seems happier. He will be given Cosequin for the rest of his years. THANK YOU CHEWY FOR GREAT PRODUCT OFFERS, SUPER PRICING, AND ABOVE-AND-BEYOND CUSTOMER SERVICE!!
January 8, 2017
Rated

5

out of

5
 by
MitziB
Has really helped our senior cat
I purchased the Nutramax Cosequin Capsules Joint Health Cat Supplement a few days ago for our nearly 17 year old cat. We live in a multiple story home so it is very hard for our senior kitty to climb stairs. We could tell his little arthritic joints were aching. I am very happy so far with the results of this supplement. He has perked up and is more vocal. Thanks for an awesome product.
January 14, 2017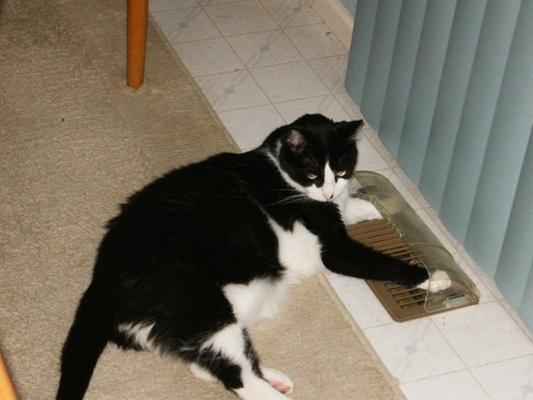 Rated

5

out of

5
 by
Tunasmommy
Great product
We have been adding Cosequin to our 17 year old cats food for almost a year and she is visibly more comfortable and less stiff than she used to be.It is easier for her to get up and get around.We have started giving it to our next oldest cat to help with arthritis before the fact.
January 15, 2017
Rated

5

out of

5
 by
Bobbi
My cat loves this
The flavor must be something very tantalizing cause my cat never hesitates to eat his food after I sprinkle this on it. As a senior cat, he is so much more "alive" while he is taking this...much more agile and all over happy.
January 8, 2017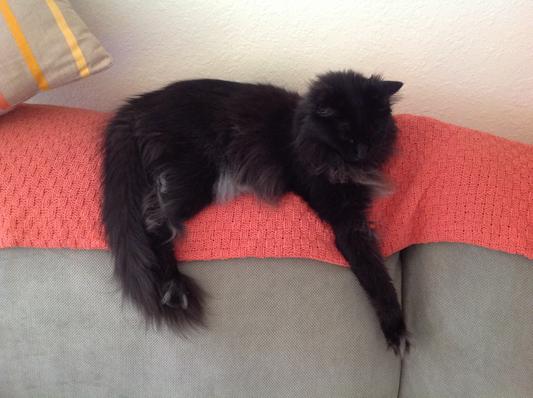 Rated

5

out of

5
 by
Funszed
Was skeptical but really works!
I used this with my cats and I was initially skeptical at how well it would work. It's exceeded even my best case scenario. I used it for joint discomfort in my cat. she's a jumper and I noticed that she wasn't jumping as much and visibly tensed when she would jump off something higher than the couch. I gave as prescribed on bottle and while she doesn't jump as high as she used to when she does she doesn't show any discomfort. I also used it with my cat with urinary tract inflammation issues. My old vet was unable to give him nothing but temporary relief with painkillers. It definitely reduced the number of "accidents" outside the box, by maybe 50%, though I maintain him at 2 a day. If your pet has any inflammatory issue, this is definitely worth a try, especially if you can catch the problem early on.
November 25, 2016
Rated

5

out of

5
 by
Michelle89064
Fantastic product
My two older cats are having some arthritic changes and my vet recommended we try a supplement . I researched quite a few and chose this one and am very happy I did. I open the capsule and sprinkle the contents into wet pate canned food and my cats devour it.
December 31, 2016
Rated

5

out of

5
 by
Cupcake
Easy on the joints
As my cats get older this keeps their joints happy... Easy open capsules ...so I can just mix it in their food...they are 13 this year, and still jump up on things like they were kittens
December 29, 2016