Pet Gear AT3 Generation 2 All-Terrain Pet Stroller, Red Poppy
Price:

$149.99 FREE 1-2 Day Shipping on this item
Description
While dog sledding remains a popular sport in many snow-heavy lands, spoiled pups say it's their turn to be given the ride. The Pet Gear AT3 Generation 2 All-Terrain Pet Stroller is up for whatever sidewalk, trail, or shopping mall you put in its way. While your pet enjoys a cozy cave on wheels, you'll appreciate the storage basket, pet parent's tray and 12" wheels with shock absorbers for a jostle-free ride. Available in multiple colors.
Key Benefits
Inside is made with a fleece pad and waterproof tray making it easy to keep clean
Large storage tray with cup holder for water, treats and toys
Shock absorbers, swiveling wheels, and wheel brakes for safe, smooth operation
Stroller is easy to fold and can be done with one hand for convenience
Keeps your pet safe with a large protective pet compartment with zippered opening for easy access
Pet lovers also bought...
Customer Reviews
Rated

4.2

out of

5

 by

18

reviewers.
Rated

1

out of

5
 by
Skobasmom
This is not the stroller I expected
This is not a pet gear stroller I thought it was NOT worth $200 I bought the stroller in the past and it had inflatable tires this one has cheap plastic tires I want my money back or the stroller that is advertised with all terrain tires This same stroller I bought before for $60 and would not pay a cent more I am totally dissatisfied
November 11, 2016
Rated

5

out of

5
 by
May60
Puppy Approved! This product is just wonderful!
My puppy loves this stroller! I received it two days ago and it is just what I needed for her. The wheels go over all kinds of terrain and the quality of it is 100 percent! I truly recommend this stroller!
October 25, 2016
Rated

5

out of

5
 by
Elle99
Dog approved!
My dog is only able to run about a mile with me. She does her mile then sits in the jogger as one happy camper. She appears to smirk at the other dogs at the park. We both love the convenience of the jogger. It's easy to get in and out of the car. It allows us to have more fun together!
October 13, 2016
Rated

5

out of

5
 by
Scotties2
Wonderful Stroller!!!!!
This stroller was extremely easy to assemble and our two Scottish Terriers fit in it perfectly, and they love it and so did we! Very easy to push up hills and over bumps and crevices in the road and on the street. VERY PLEASED with this stroller!
August 31, 2016
Rated

5

out of

5
 by
Kenneth
Excellent stroller for an aging dog
We bought this for a dachshund with Congestive Heart Failure. He loves to go with us but has limited stamina so he loves to ride. Comes apart easily for even more compact folding. Excellent product and much less than anyone else was charging
June 11, 2016
Rated

5

out of

5
 by
Crist
I call it: The furbaby mobile 5000
Ha I love this stroller and seriously I spent 3 weeks searching before purchasing. I tested out my friends pet stroller with the smaller wheels and i hated how the wheels kept getting stuck on every crack. I then measured everything accordingly to fit my two rabbits and a dog and my purse in this stroller and I am totally happy with my purchase. The wheels can take on anything shock proof and all. The basket is a little hard to get too but I like that it is kinda closed off from easy grabby hands. My only complaint is that the cup holders could be larger for a bigger cup to fit in it but a standard cup would fit. I love this thing!! You wont regret it!
March 18, 2015
Rated

4

out of

5
 by
JezabelsMom
Great product for running!
I would have given this product a five but for one reason. Though it is sold as an 'all-terrain' stroller, it doesn't do well on all terrains. They recommend that you lock the front wheel in place when running, but at some point I find I need to make a turn - which is very difficult when the front wheel is locked into place. This weekend I used the stroller twice - once on a relatively flat 10K course (it did wonderfully - front wheel not locked) and again for a 5K on a hilly, gravel trail (front wheel unlocked, multiple issues with wheel wobbling). Both of these courses had LOTS of turns, so locking the wheel in place wasn't an option.
December 2, 2013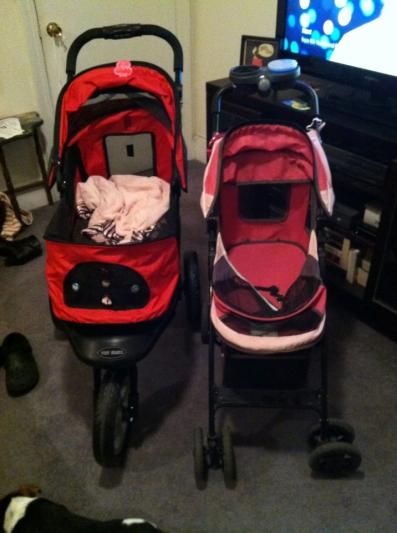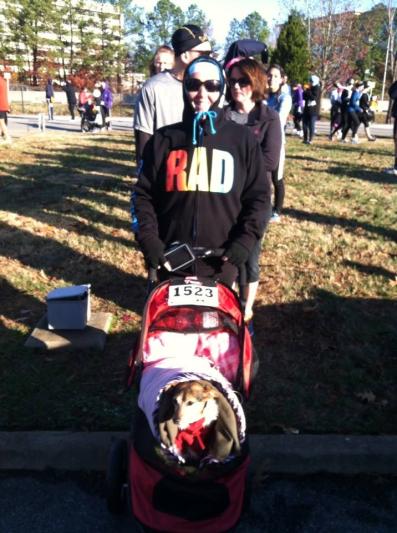 Rated

4

out of

5
 by
OBXgirl
Fabulous construction and quality
Got this for my 20 pound terrier so we could all stroll through towns and shops while traveling (me, spouse and dog), instead of taking turns holding the leash. Probably a bit too big for puppy, but the less expensive models seem cramped and flimsy. Only reason I gave 4 and not 5 stars is that the stroller takes up a lot of trunk space. But you get what you pay for and this stroller is rugged, steady, easy to push and will last forever. I do think though that I will have to put a blanket/cover over the bonnet to provide shade for puppy, as the sun beats down through the mesh. Simple adjustment. Very happy with my purchase and worth the price.
October 8, 2013