Pet Gear I-GO Plus Traveler
Was:

$105.35

Price:

$85.79 FREE 1-2 Day Shipping on this item

You Save:

$19.56 (19%)
Black

Ocean Blue
Description
Is it a car seat? Yep. A roller bag? Of course! What about a backpack? Sure thing! No matter how you use it, one thing's for sure: Princess is going to be traveling in style! The Pet Gear I-Go Plus Traveler will keep your pint-sized pup cozy and safe wherever your travels take you. With telescoping handles, storage pouches, and tethers to secure your pup, it's perfect for using in the car or rolling through the airport.
Key Benefits
Telescoping handle stores out of the way just like a suitcase
Easily converts to backpack, carrier, or roller bag
Features two side storage pouches for your pet's extras
Interior dimensions: 16 x 13.5 x 22 inches
Included tether can be attached to your pet's harness for extra safety
Item Number

64480

Dimensions

16 x 13.5 x 22 inches
Pet lovers also bought...
Customer Reviews
Rated

4.5

out of

5

 by

17

reviewers.
Rated

5

out of

5
 by
fredf
very good fit for my dog
haven't use it but my service dog fits in it well and likes the fact his head has room.
December 23, 2016
Rated

1

out of

5
 by
MillieP
A Bit Of A Let-Down...
I got this carrier because I wanted to be able to carry my 6-month old cockapoo from the vet after he was neutered. It was the perfect size for my dog even with a 17" cone around his neck. He was able to sit and lie down comfortably. That said, it kept sticking/stopping on the sidewalk and I had to lift it each time I wanted to get on/off the sidewalk. Worse, my puppy managed to get the zipper open and almost jumped out! The top and sides are not firm so it folded in every time I had to lift it and it didn't revert to its original shape.
November 18, 2016
Rated

4

out of

5
 by
PetMomma
Exactly as promised!
I bought the Pet Gear I Go Plus Traveler for my 11 lb ragdoll cat. I wanted something she could travel comfortably in with a cone after surgery and generally for long trips. The shipping was free and very fast! I was able to run the seat belt through the back loops. She has plenty of room to turn around and look out of any of the three screened panels, or curl up and go to sleep. The back pack straps were useful for a short carry, but this size is really too big to carry for long. It did roll well on the smooth vinyl at the Vets. For the car or rolling it is perfect. My only suggestion is to reinforce the top structure a bit. It is a little flimsy for packing or carrying. I'll have to get something a bit smaller for that. My cat definitely enjoyed being able to sIt up and look around. Something she could never do in any of the typical hard or soft carriers. Thanks so much!
July 24, 2016
Rated

5

out of

5
 by
Carole4
Perfect for Large Cats!
I have been looking for a wheeled carrier large enough to fit my 20 lb cats for some time. And this is it! I have a 20 lb. Bombay cat that is very long and muscular and he fits in this carrier with plenty of room to spare. He can sit up and his ears do not touch the top of the carrier and has lots of room to move around. The product is very well built, but could use some more padding on the bottom. I will probably purchase a crate liner to make the bottom more comfortable for travel. Overall this is a great product, for a reasonable price, and has solved my problem of getting my "big boys" to the vet without cramming them into a carrier that they really do not fit into. I have attached pics of Sambuca sitting in the carrier to show how much room is inside. It is hard to see, since the inside of the carrier and the cat are both black, but you can get the idea. I am sure you could get a Maine Coon into the carrier with room to spare.
September 29, 2015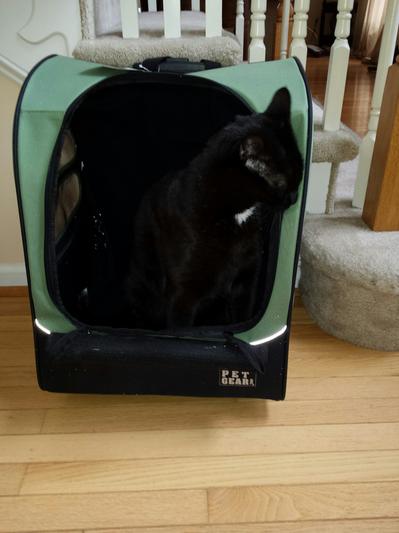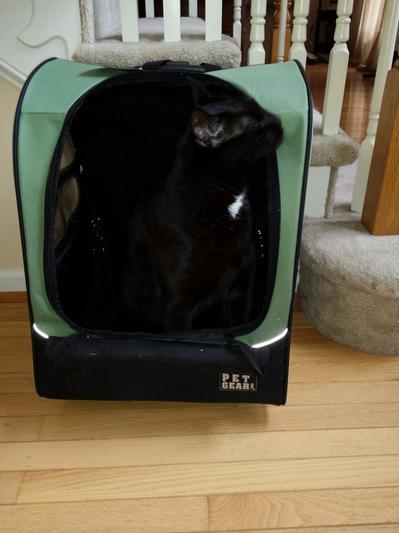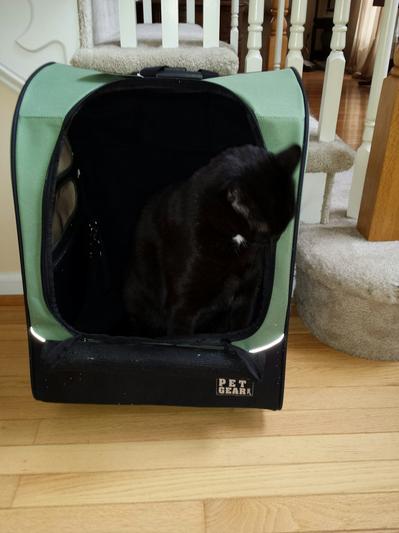 Rated

5

out of

5
 by
Anna
Just what I needed for my Bichon
For months, I have been looking for a carrier for my Bichon that would fit in the front passenger seat of my car and protect my little show dog. I have a 12 pound Bichon that did not fit in the smaller one because the front curves inward. This one is perfect and I can see my little girl extremely well. When we are traveling, she looks up at me endlessly and is not restricted as she holds up that precious head. There is also room in the base for her to sleep nicely. It locks into the car seat belt at the bottom and the strap tightens around the back of my seat to hold the carrier steady. It has double wheels on each side which I will probably never use; I definitely will not use it as a back pack as I am not that strong. But I love it as a car seat that will keep my little dog protected.
August 2, 2016
Rated

5

out of

5
 by
sheltiemom
great to take a very large old cat to the vet
My 20 pound 17 year old cat fits in this sitting up. She can lay down in it but with a tight fit. Much easier now to take her to the vet. Wheel the carrier in, unzip the large opening.....easy in and easy out.
August 23, 2016
Rated

5

out of

5
 by
Fergie
This carrier has many great features: ease of loading via the unzipped mesh front;great visibilty throgh the mesh windows on both sides
I ordered this carrier because the entire front unzips and I don't have to pick up my 22 lb ,15 year old cat I haven't tried wheeling him yet (too much excitement :0) The bottom is not really well padded so I put in an old square feather pillow Great visibilty through the mesh door and mesh windows on both sides My sister who lives in Denver has two elderly mini "hot dogs". She likes to hike but the girls don't enjoy anything more than a brief hike. She recently used the back pack mode and they rode along. Along the way she brought them out for little hikes. She did mention that it had bothered her back but when I suggested maybe padding would help she said that it wasn't really uncomfortable and she would see...
May 16, 2016
Rated

5

out of

5
 by
JAP107
Great Product!
This bag is great. I have a small cavapoo and we use this bag all the time for car trips, sporting events for our kids and while staying away from home. Our dog loves the cozy interior and does not cause a fuss. It is well made and sturdy. He loves being able to travel with us wherever we go. We have not used the backpack feature yet. This is a perfect purchase for a small dog, I would imagine a large dog might be able to tear through the mesh front if they didn't like being in there.
May 19, 2016