PetFusion SmartGrip Cat Litter Mat, Sage Twist
List Price:

$23.94

Price:

$19.95 FREE 1-2 Day Shipping over $49

You Save:

$3.99 (17%)
Description
Keep the litter off the floor with the SmartGrip Litter Mat! This soft, flexible, stylish mat is the perfect solution for any litter box. Your cat will no longer want to jump out of the box, preferring to relax her paws and release trapped litter on the soft material. The litter is held in place by small indentations, while the outer channel catches litter that tries to escape. It's durable enough to prevent sliding and flexible enough to fit in tight spaces.
Key Benefits
Helps keep your house clean by trapping litter and prevent tracking.
Made to cover a large surface area.
Manufactured from flexible material that allows it to fit in tight spaces.
Stylish design flows with your home.
Easy and hassle-free cleaning.
Item Number

63363

Dimensions

35 x 24 x 0.25 inches
Pet lovers also bought...
Customer Reviews
Rated

4.3

out of

5

 by

9

reviewers.
Rated

5

out of

5
 by
SuperSylph
Elegant Litter Mat
This litter mat classes up the litter box area. It also does It's job well of keeping most of the litter off of the floor. The cats love the feel of this mat too!
December 12, 2016
Rated

5

out of

5
 by
Laurie
Excellent litter splatter control
I am very pleased at how this product performs. Would recommend.
September 3, 2016
Rated

5

out of

5
 by
TwoBoys
Pretty perfect for my 2 cats.
Very amazing product. It has done what it promised to do. It manages kitty litter run-off from the litter box. It's easy to clean and more importantly, my cats don't seem to mind it! Karen
July 21, 2016
Rated

5

out of

5
 by
rooneyandmuldoon
Really helps keep litter from spreading
I personally think this is the best litter mat I have tried. It has a little channel around the edge that helps to keep litter on the mat, rather than the floor. It's not perfect. We still get litter on the floor. But we're talking three cats, and I don't vacuum as often as I should. And that brings us to the other feature. It is super easy to clean. I wouldn't put a full size vacuum on it (haven't tried it though) but I have a Dyson stick broom that sweeps everything right up. Now if I could just make myself sweep more often (like twice a week)...
September 28, 2014
Rated

4

out of

5
 by
Catmama
Pretty and practical!
I love the aesthetic design of this mat. It helps to catch a lot of the loose litter when my cats come out of their boxes and it looks good with my other decor. I do wish it was machine washable but it's not hard to wipe down. No mat catches all the litter but I've certainly been sweeping up less!
January 15, 2016
Rated

5

out of

5
 by
Reno1
This product works
This litter mat traps most of the litter on the mat. I'm very pleased with its' performance. I only have one cat, but before, I would have litter tracked into several rooms in the house. This is a rare occasion now. I use the Precious Cat Long Haired Cat Litter and it has larger pieces of litter. Step on one of these, and you feel it. It did have a chemical smell when I first got it, but I left it in the garage a few days and it was fine. Reno, my cat, likes it too.
September 18, 2015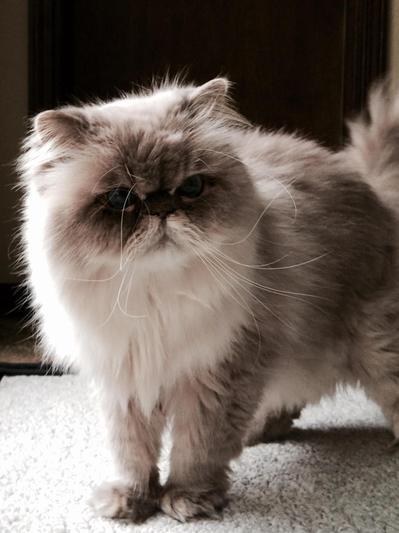 Rated

5

out of

5
 by
Janet12
Not perfect, but best I've found
Short of buying a Roomba and assigning it full time to litter box duty, this is the best thing I've found for containing tracked litter. With four big cats using one giant litter box in my tiny, tiled bathroom, it would be unrealistic to expect a maintenance-free solution. This comes as close as it's gonna get.
August 17, 2014
Rated

1

out of

5
 by
SallySkellington
disappointing
Had such a strong chemical odor had to air it out before I could even use it. A few days with 3 cats and its already falling apart :(
September 2, 2015