PetSafe Boundary Wire Break Locator for In-Ground Fence Systems
Was:

$59.99

Price:

$52.95 FREE 1-2 Day Shipping on this item

You Save:

$7.04 (12%)
Description
Helps easily locate wire breaks within your in-ground fence system. Temporarily replace your transmitter then trace your fence configuration. Audible tones help discover each side of a broken wire. Locates complete breaks only; partial breaks will not be detected by the system.
Key Benefits
Helps easily locate wire breaks within your In-Ground Fence™ System
Radio mounts to an extendable pole so it can comfortably be held close to the ground
Frequency: below 620kHz when possible. Adjust the tuning dial to a location where no radio stations are broadcasting and the output of the radio receiver is producing a static noise. Audible tones help discover each side of a broken wire
Includes: 50 feet of boundary wire, 2 grounding stakes, 4 gel-filled capsules, 4 wire nuts and 2 cable ties
Works up to 10 acres. (It may work beyond 10 acres, but the tone will get weak and inaudible)
Item Number

67079

Breed Size

Extra Small, Small, Medium, Large, Giant
Pet lovers also bought...
Customer Reviews
Rated

4.4

out of

5

 by

11

reviewers.
Rated

5

out of

5
 by
Houndmom
Money saving product!
Once we got the hang of what to hook up to what, it helped us find two breaks and saved us a visit from the Fence company!
January 2, 2017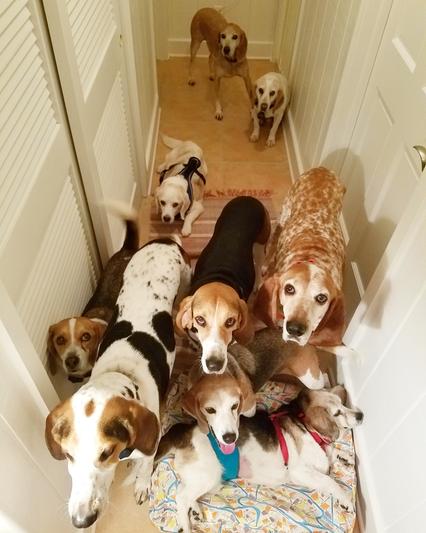 Rated

5

out of

5
 by
Thomas
Read this review first
I ordered the kit at 5 pm on a Monday evening, standard shipping, got an email that evening saying it had shipped, the package was on my porch at 2 pm the following afternoon. WOW!!!!! I had tried using an AM radio with an RF choke hooked up to the transmitter, I would recommend to not waste your time, just buy this kit. It works hundreds of times better than the AM radio without this kit's transmitter. I used the kit after a long period of heavy rain, so the ground was soaked where I put in the ground stakes-this is critical, you need to saturate the ground where you put the stakes in. I believe this may be where the gentleman who posted a negative review ran into problems. Great kit, easy to use, I highly recommend it!
September 28, 2016
Rated

5

out of

5
 by
Kimberly57
Glad this was available!
Was easy to use and found my break! Would highly recommend.
October 18, 2016
Rated

5

out of

5
 by
Packmule
simple and easy to use
I saved a couple hundred dollars using this detector. It was an inherited property and I had no real idea where the boundary was. Set up is quick, signal is strong when scanning. Break was fixed in less than an hour including first time set up.
October 11, 2016
Rated

4

out of

5
 by
Bob64
Saves huge effort
Bought it several days ago and it shipped right away. Worked as advertised. It saved me about two days of work because I would have had to dig up the entire yard. Only issue is that it takes a while to set up. 30 minutes of set -up is really worth it.
August 25, 2016
Rated

4

out of

5
 by
gunnysmom
This product worked for me.
The product worked, however the instructional video showed that it came with a white wire that you were supposed to wrap around the transmitter. Mine did not come with this wire. But it still worked. So it could just be that it was a different model than what was in the video.
June 6, 2016
Rated

5

out of

5
 by
Cokeman
Worked perfect
This made repairing my invisible fence quick and easy. found the break in less than 5 minutes.
February 6, 2016
Rated

4

out of

5
 by
GSPx1
Problem Solved in IL
When our neighbor brought our dog, Fritz, to our front door, we knew we had a problem with our Pet-Safe in-ground fence. Investigating the problem, we discovered that after 12 years of faithful service, there was a break in the wire. We called the local Pet-Safe provider and they said they could find the break for us and they could schedule a visit for sometime next week. NEXT WEEK!?! Fritz needed his problem solved now! I ordered this break locator from CHEWY.com on Wednesday and it arrived Friday afternoon. Watched the video on YouTube. Followed the instructions. Discovered the break under a maple tree were the expanding root system had broken the wire. It took about 15 minutes to cover 1 acre. The Pet-Safe break locator is not a professional grade tool, but worked well for an amateur like me. It saved me a lot of money and time. The locator uses a standard AM radio to receive two different signals sent down the two legs of the loop. The design behind the tool is great. The execution of the design gets the job done, but is sort of cheap. Also, the repair wire included in the kit is not comparable to the 18 gauge solid copper that I have installed. Chewy.com was great in delivering the break locator quickly at a great price. The locator worked to identify the break quickly. Yes, I had to listen to the AM radio station in the 600kHz range while I searched for the break, but the product worked as promised. If you can manage the repair yourself - Buy this product. It works. Friday evening, Fritz was once again a happy dog. Free to run at will in his domain. Look out all you squirrels, Fritz is back.
August 30, 2014