Petstages Twinkle Ball Cat Toy
Price:

$3.79 FREE 1-2 Day Shipping over $49
Description
Cats in the wild are largely nocturnal hunters, with a preference for dawn to dusk, when their natural prey species are more active. Their hearing is ultra sensitive and, as the sun sets, their sight and hearing become much more acute, allowing them to be effective hunters in the dark. Domestic cats retain these natural instincts and are often playful and active during the night. Petstages nighttime toys offer quiet, interesting play that appeal to the changes in their key senses after sundown, yet won't disturb your sleep!
Key Benefits
Quiet, fun way to keep your kitty entertained at night
Ball is silent, has a flashing light inside that is touch activated
Inspires your kitty's natural instinct to chase and bat
Fun for daytime play too
Remove clear tab to activate flashing light
Pet lovers also bought...
Customer Reviews
Rated

3.5

out of

5

 by

8

reviewers.
Rated

2

out of

5
 by
Princess54
Ball with light not interesting to cat
I got this ball for my cat that loves balls and is wild about laser lights. She didn't show much interest in this ball. Takes a really strong wack from the cat to make the lights to go on so it hardly lit up and it doesn't make any noise she wasn't interested in it.
August 8, 2016
Rated

5

out of

5
 by
Sassy
Not good for most kittens
My kitten who is 4 months old, loves to play with her balls. But this one was to big for her. Also, she didn't get the idea of what it did. I tried several times to show her but she was just not interested. Maybe when she gets older she will really like it.
July 20, 2016
Rated

3

out of

5
 by
PinkyIL
Not getting played with!
I was hoping this would be a nice alternative to the flashing Bergan hard ball that he so likes to knock around. So far though, all attempts to get him interesting have fallen flat. I guess he likes the sound of the other ball loudly banging into the furniture & walls?! CATS! ... gotta luvem! :D I like it a lot! Perhaps I will hide the other toy & hope he might forget it & begin to play with this one :)
April 18, 2016
Rated

5

out of

5
 by
ELLA
ELOISE'S TWINKLE BALL
ELOISE IS THE YOUNGEST OF MY 5 CATS. SHE LOVES TO PLAY IN THE TUB-THIS IS A RUBBER LIGHT-UP BALL THAT SHE LOVES. BEST OF ALL IT IS QUIET AS IT BOUNCES OFF THE SIDES OF THE TUB.
February 3, 2016
Rated

3

out of

5
 by
ABAB23
cat LOVED this toy, but it broke within a week :(
I will try to find another like this one as my cat loved it while it lasted. Very disappointed it only lasted a week. There is a dime sized plug like thing that is glued on and it fell off, I am lucky my cat didn't swallow it.
January 21, 2016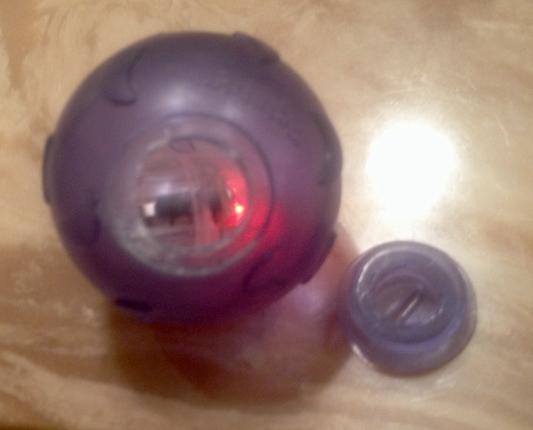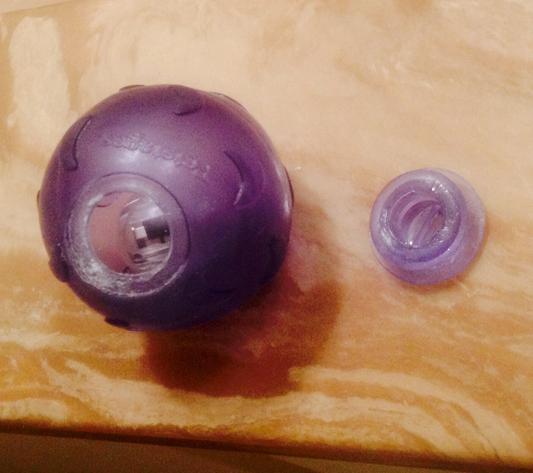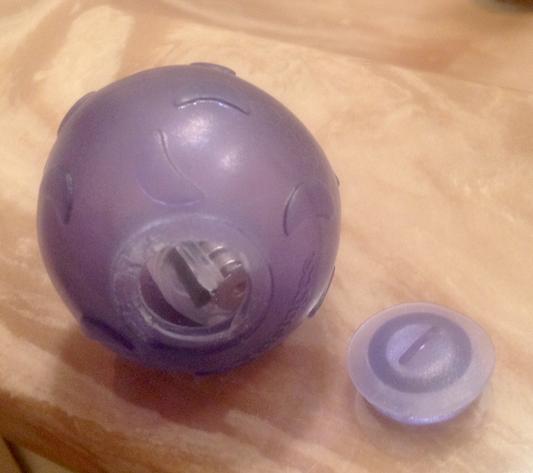 Rated

3

out of

5
 by
Angelene
Noisy
Cat would start playing with it, but would not keep on playing because the light bulb inside would make noise when hitting against the side of the ball. If it was somehow connected to the ball so it would not be rolling inside, she probably would play.
July 8, 2013
Rated

2

out of

5
 by
JerseyJOE
good toy but
I like it. Its a really good toy. I just wish the lights continued to flash for a little longer than it does.
December 24, 2013
Rated

5

out of

5
 by
Susie27
My cats loved it!
It's very cute and my little hunters love the flashing lights.
April 12, 2014