Solvit Tagalong Pet Bicycle Basket, Wicker, Brown
Was:

$59.99

Price:

$47.27 FREE 1-2 Day Shipping over $49

You Save:

$12.72 (21%)
Description
For pet owners who don't like leaving their pets behind, Solvit offers great options to keep pets of all ages active.The Tagalong Pet Bicycle Baskets provide the ultimate ride for your active pet. The Wicker Tagalong has a unique bracket system makes it easy to take the basket on and off a bicycle in seconds with just one hand. Three-way adjustability on the bracket allow for a good fit on any bicycle, without interfering with brake cables.
Key Benefits
Full sheepskin liner for added comfort
Removable sunshade keeps pets cool
Synthetic Rattan construction is durable and weather-resistant
An adjustable safety leash keeps pets secure while riding
Holds pets up to 13 lbs
Item Number

68824

Dimensions

15 x 11 x 9.5 inches

Breed Size

Small, Extra Small
Pet lovers also bought...
Customer Reviews
Rated

4.6

out of

5

 by

20

reviewers.
Rated

5

out of

5
 by
BeachTom
Replacement
We lost our last basket in the hurricane. This is the third Pet Basket we have had. Our Havanese, Izzy, knows exactly what "want to go for a ride" means and is very eager to get into the basket. The ride usually lasts an hour or more. The basket is simple to install and is exactly the right size for both the bike and Izzy.
December 27, 2016
Rated

4

out of

5
 by
pawsinn1
Sage's "wizard of oz" doggy basket
Had some difficulty in putting it together, but it's durable and really pretty. Nice deep basket, but your dog has to be really small to put it in the basket, with the sun top on. My dog and I enjoy riding around with this basket; it gets a lot of compliments.
December 22, 2016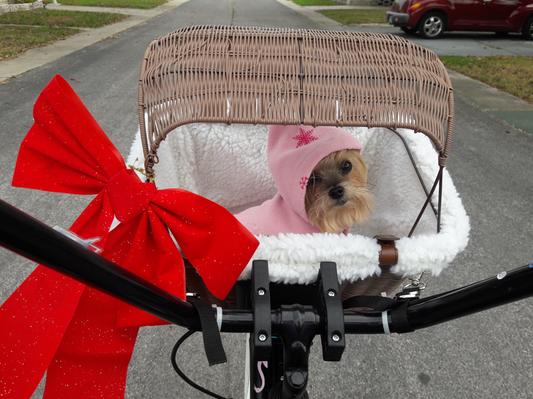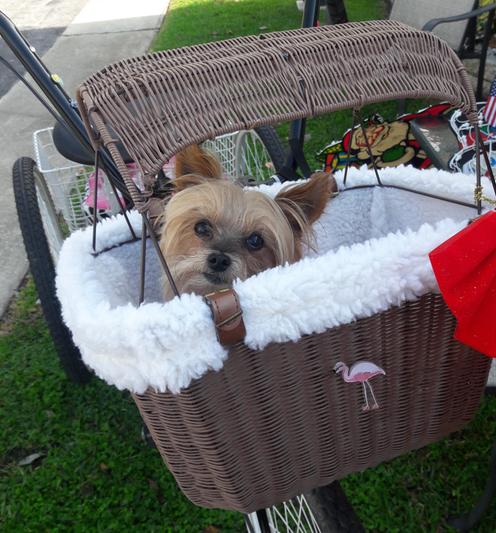 Rated

4

out of

5
 by
Killer
very nice, but
Very nice, but the safety strap is much too short! my 13 lbs. Sheepoo must lay down with her head well into the basket for connection. Doesn't work.
December 5, 2016
Rated

5

out of

5
 by
SatisfiedPupMom
LOVE THIS BASKET
My little 10lb yorki-poo loves going on walks but she has always hated sitting in any kind of cart or basket. I was a little surprised when we went on our first bike ride together because I thought she'd be scared and have to get use to it. But man was I wrong!! She absolutely LOVED IT!! And she looked so cute in it! It was really easy to install, took me about 5 to 10 minutes and fit nicely on the front of my bike. It has a little adjustable hook to clip on to a harness and it was just long enough to let her stand up on the side to look out but not long enough for her to get the momentum to jump out, had she tried to. She was so content the whole time! I haven't used the sun shade yet but it fits nicely over the top of her for when I choose to. It was a little hard for me to spend almost $50 on this but it's SO worth it. I would definitely recommend to anyone.
August 13, 2016
Rated

5

out of

5
 by
Judy719
A real quality product
Was thrilled with this purchase. Well made and good size. My dog is only 2.8 pounds so she is tiny and has plenty of room even to lay down if she wants. Wanted it for the sunshade as it is usually very sunny here in Florida and I try to keep her protected. The basket is very nice, and also has a lambs wool liner that it so easy to remove to wash. Strap is there to keep her tethered. Believe that it will hold a larger dog and would guess even 5-6+ pounds so many small breed dogs will enjoy this product. Highly recommend.
August 21, 2016
Rated

5

out of

5
 by
Lovecharlie
Best money spent EVER
This is a wonderful basket! I absolutely love it and so does my mini long haired dachshund! He fits in it perfectly and loves going for rides at the park. There is a small leash to attach him to the basket which allows home to turn completely around if he wants to but he can't get momentum to jump out. It is very easy to take it off if you want to leave puppy at home for a faster longer ride! Highly recommend this product! Love it!
June 7, 2016
Rated

4

out of

5
 by
Sismyn13
Cute basket for small dogs.
The box came and my husband had to help put it together and attach to the bicycle properly. The way the basket attaches worried me since you just slip it on the metal brace. However, this has not been an issue. My Bella weighs 7 pounds and loves to go with me regardless of where we are going. She has a stroller and LOVES it but I wanted to start riding and she wanted to go. I like how there is a latch on the inside that you attach to her collar so that she can not jump out. Although she has not made any attempt to get out, she has flopped back and forth while I turn corners and go uphill. After a few uses I still can not tell if she likes it. She wants to stand with her paws on the edge but I am afraid she will fall out so I make her sit. When she sits she seems to be pushed around by my pedaling. I think she is getting a bit banged up and therefor does not like it but will never stay home so she is just dealing with it. I am going to add a blanket for side cushion and over the rim so that when she does hit the edges it will not hurt her. I really like the basket. It is adorable and I love that I can just pop it off when I need to. I do not think it would hold up to a heavier dog. I think the basket would bend.
October 2, 2014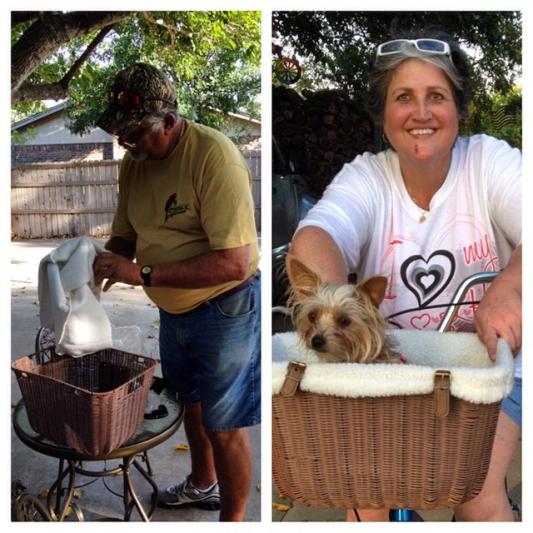 Rated

5

out of

5
 by
Nancy46
This product is well made
This product is well made, easy to install on a bike.
June 21, 2016